For nine-year-old Aiden McAfoose, the game of hockey has been a nice distraction and way to keep him busy while both of his parents serve in the military (Air Force). Aiden wrote an essay on why he loves the game so much that his parents submitted on his behalf for an Upper Deck promotion. Upper Deck partnered with the NHL® and the Defending the Blue Line Charity to surprise one youngster with an incredible weekend of All-Star activities. Aiden's essay made him the clear choice. Here are some portions of his essay:
"Both my mother and father are in the military. Being a military dependent makes me feel proud.  I really miss them when they get deployed.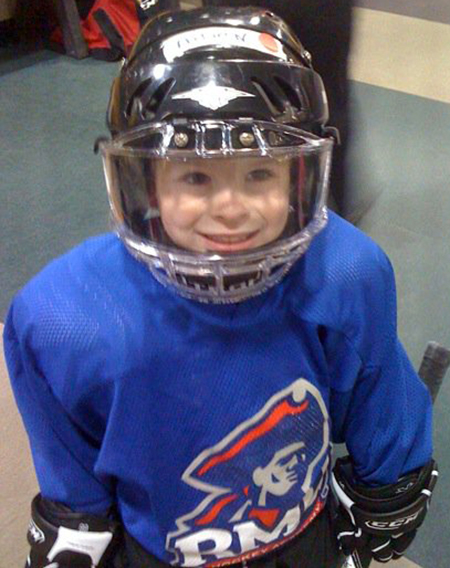 "My biggest passion has always been hockey. As long as I can remember I have wanted to play. My mom started teaching me how to skate when I was two. I started to learn how to play ice hockey when I was four, but before that I played at home every day for hours. My favorite team is the Pittsburgh Penguins and I have attended many of their games since I was a baby. My favorite players are Kris Letang, Sidney Crosby, Evegni Malkin, David Perron and Max Pacioretty.
"I have a lot of hockey cards and memorabilia. I have three books and also signed jerseys, pucks, mini helmets, sticks, hats and posters. My dream is to become a NHL® star."
Aiden will get the opportunity to see what it's like to be a NHL® All-Star this weekend. He came out with his grandfather under the guise they would try to scalp some tickets for some of the events, but when he arrived, Upper Deck and Defending the Blue Line staff let him in on the surprise. This weekend, Aiden and his grandfather will enjoy complimentary tickets to the NHL® All-Star Fan Fair, Skills Competition and All-Star Game. On Saturday he will go behind the scenes with a special VIP locker room tour. Additionally, Upper Deck took care of their hotel accommodations and gifted Aiden with some collectibles that will surely become the centerpieces of his collection.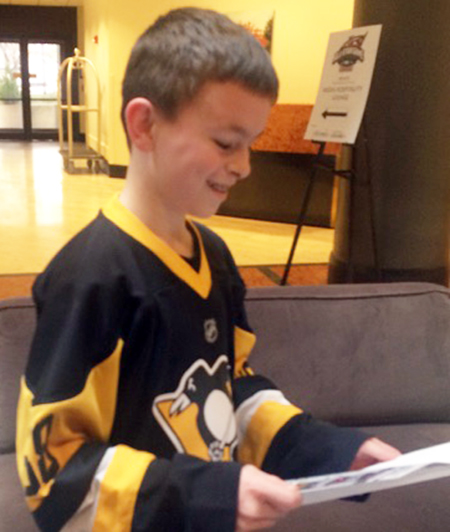 Upon hearing the news Aiden simply said, "Wow, just wow. All I can say is thanks! This is like a dream."
Check out the video of Aiden being surprised with the news.
Aiden ended up having the time of his life with one of the best moments coming from meeting many of the players. Upper Deck had him over to the player's hotel and helped him meet his heroes. The best moment came when he happened to be at the Upper Deck booth and met his favorite All-Star Marc-Andre Fleury. His mother said, "He came home and talked about it for hours. He couldn't even remember all the stories because he said so much happened."
This is not the first time Upper Deck has worked with helping out the military. Upper Deck partnered with Defending the Blue Line for the NHL® Draft and during the holidays while also doing activations around Veteran's Day, Operation Gratitude, and more. It is just part of the company's continuing effort to be recognized at the military's choice for trading cards.