Archive for Featured Retailers
A big initiative in Upper Deck's 25th Anniversary celebration is getting on the road and visiting hobby shops that have helped us be so successful over the last quarter century. Other than providing these shops with the Hobby's best products, we support them with the best service and plenty of support. I recently did a round of surprise visits to some very loyal shops in the Pacific Northwest to talk to them about their businesses, the future of Upper Deck and of course to surprise them with some goodies to celebrate our anniversary.
It was a fun road trip to say the least. Here is who I saw:
Card Exchange
14020 Aurora Avenue North
Seattle WA 98133
Ph. 206-440-5467
Mon-Sat 10-8, Sun 10-5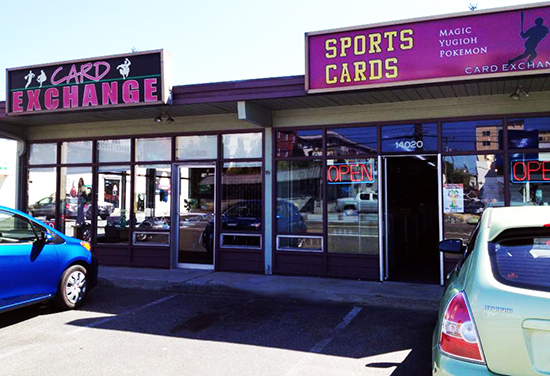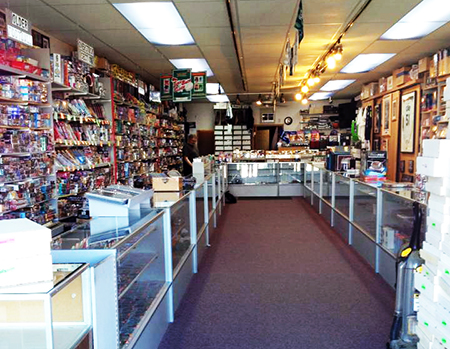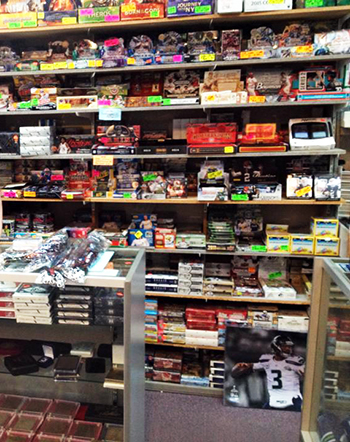 My first stop was the Card Exchange. Owner Ryter VonDiFloe was on-hand to talk about the hobby and his store. He has also been in the hobby since 1989 and this is his second store, having moved into this present building in 1994. Card Exchange is chock full of boxes and singles alike, of both the sports and entertainment card varieties. They have secured the neighboring business as a separate gaming area and they run tournaments five days a week. The overall square footage, including the gaming room, is a massive 3200 square feet!
Card Exchange prides themselves on sales and service and the best variety of sports cards around. They have over 6,000 different sealed box titles of different products, going back to 1986 launch dates. They sell on Beckett on eBay, and occasionally have autograph guests.  This is definitely a shop worth visiting if you are a sports fan or gamer!
World of Collections
22611 76th Avenue West, #101
Edmonds, WA 98026
Ph. 425-778-2678
Mon-Thurs 10-7, Fri 10-10, Sat-Sun 10-6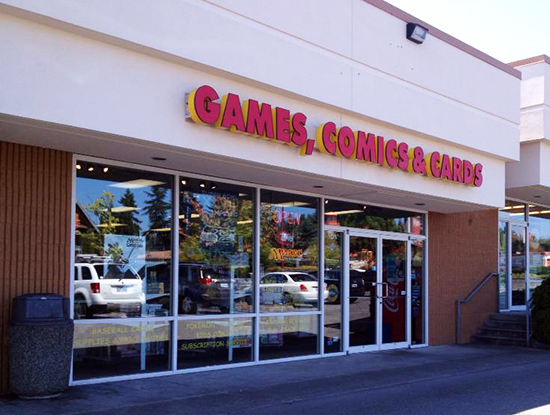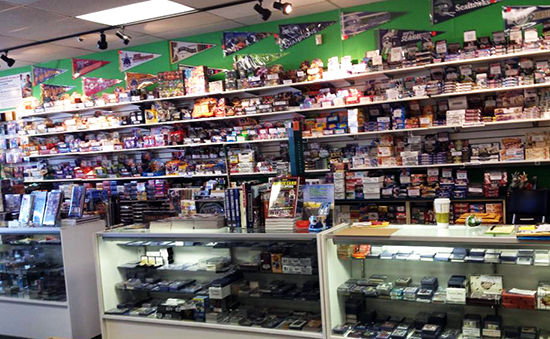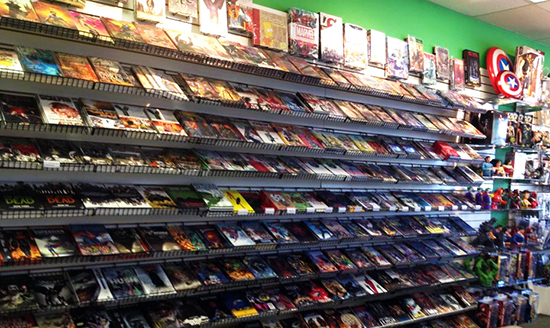 The layout of World of Collections is amazingly unique. It is split down the middle with sports dedicated to one half of the store and entertainment (comics & gaming) on the other half. They have been in business since 1986 and in this location since 2012. They sell all brands of sports cards, have display cases of must-see singles, a bevy of card supplies, licensed merchandise, memorabilia, pennants and sports novelties. Other cool items adorn the walls including signed jerseys of both Tony and Phil Esposito, and owner John Strazzara shared some stories about the famous hockey-playing brothers that I recommend you ask him about when you visit.
For the die-hard gamers, they sell board games, roleplaying games, card games, puzzle games, dice games, CCG, TCG, CMG and gaming supplies. They have graphic novels, magazines, comic-related memorabilia, t-shirts, figurines, toys and action figures. They offer a comic subscription service to their customers, and they hold gaming events in their store 2 days a week.
Mill Creek Sports Cards
15704 Mill Creek Boulevard, #5
Mill Creek, WA 98012
Ph. 425-742-8500
Mon-Sat 11-6, Sun closed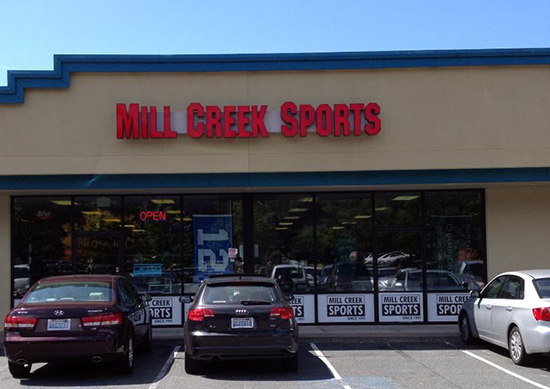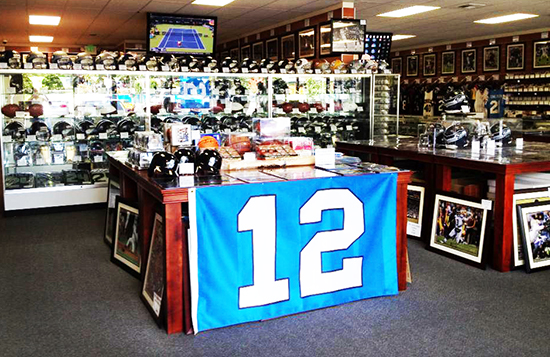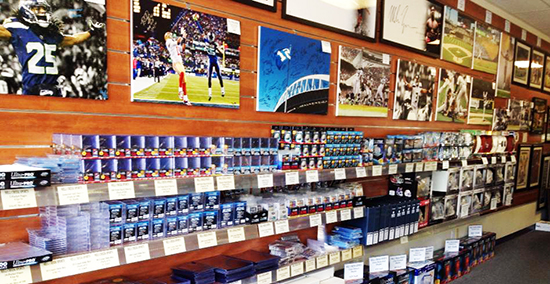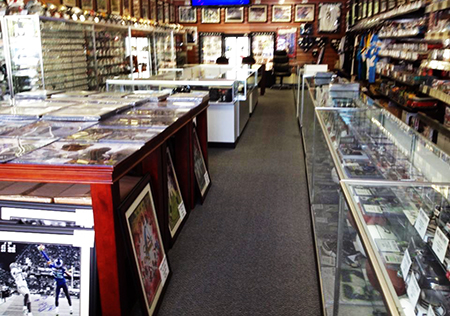 Mill Creek Sports Cards has been open since 1991 and they specialize in certified authentic memorabilia. Owner Scott Mahlum states they house over 36,000 unique autographed items in their retail store, as well as trading cards and supplies. They have exclusive representation on memorabilia for players like Russell Wilson, Marshawn Lynch, Felix Hernandez and Ichiro Suzuki. They have one of the largest collections of memorabilia I have ever seen, and it is impressively organized in their warehouse.
While there, I could see customers dropping off their items to be autographed by athletes who will be coming in for future signings. Their organized staff easily pick orders and they had a slew of fresh items packaged and awaiting carriers for shipping.
DJ's Sportscards
1630 Duvall Avenue North East
Renton, WA 98059
Ph. 425-235-4357
Mon-Fri 11-7, Sat 10-6, Sun closed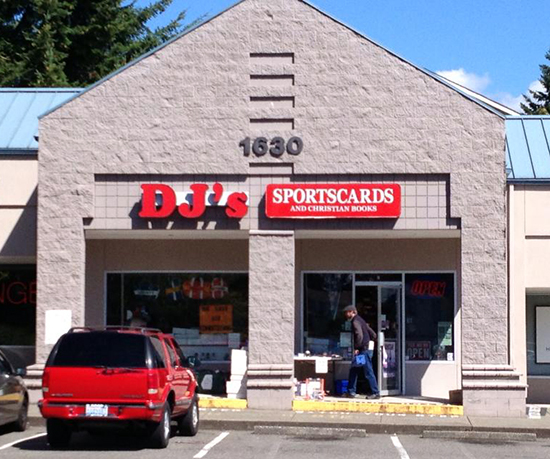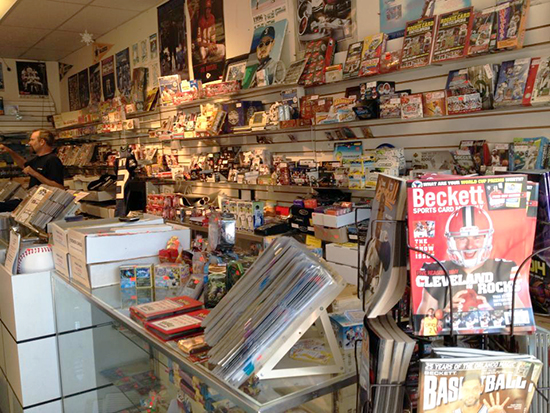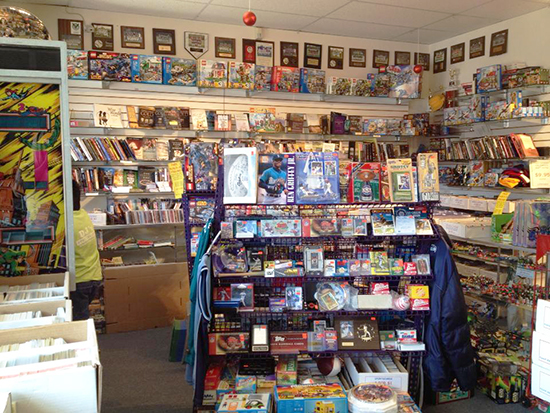 Owner Don Joss has a great family-owned store and has been collecting since 1985. He officially became a store owner in 1988 by buying out a portion of an existing hobby business, all while he was still in high school. His store has been in its present location since 1990. They have a ton of singles and sealed boxes, selling both in store and online. Their main focus has been sports from inception, though they have dabbled in beanie babies and other items during boom times. They do athlete signing on occasion, as well. DJ's Sportscards boasts the most singles – vintage and modern. They buy a lot of collections of both cards and collectibles, and sell at reasonable prices to keep the rotation of inventory fresh.
DJs' sells on eBay and Beckett, but their shop is definitely worth seeing and their service is excellent. Come and visit this family-oriented shop and check them out for yourself.
Pastime Sports and Games
20378 Fraser Highway
Langley, BC V3A 4G1
Ph. 604-530-5507
Mon-Tues 10-6, Wed-Thurs 10-10, Fri 10-midnight, Sat 10-11, Sun 11-9
Pastime Sports and Games
Central City Shopping Centre
Surrey BC V6B 6N9
Ph. 604-584-5507
Mon-Tues 10-6, Wed-Thurs 10-10, Fri 10-midnight, Sat 10-11, Sun 11-9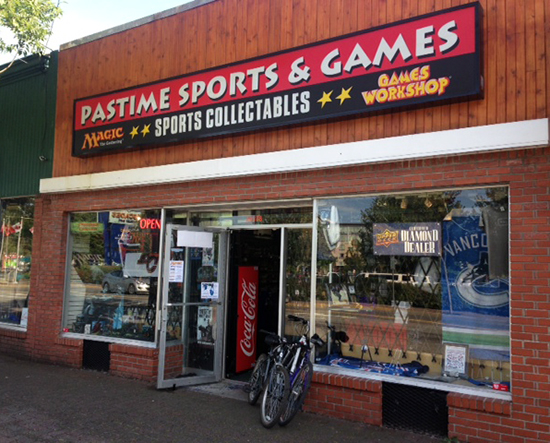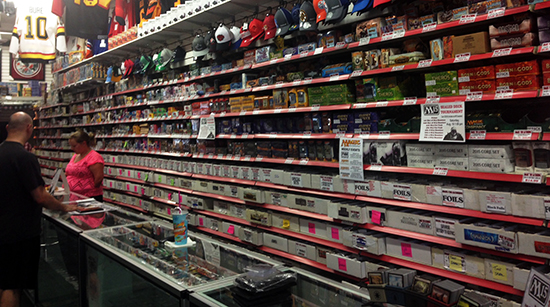 I visited the Langley Store location which was awesome. Owner Ken Richardson has been working in card shops since he was 11 years old. He moved from doing shows in 1988 to owning his first store in 1990 and opened the Langley location in 1993, followed by the Surrey location in 2011. This store is packed full of product, with something for everyone.
For sports and sports card events, Pastime Sports has trade nights, group breaks in store, and occasionally set up at local hockey arenas for events. They have a tremendous amount of autograph guests that come to the store, many players being Hall-of-Famers. They also sell on eBay, Beckett, and Amazon.
Gaming has become a large part of their business and they run organized play for many product brands. What they really do well is events and taking care of their customers however. Recently they ran a Customer Appreciation weekend where they had live bands, barbecue, autograph guests, group breaks and the Langley Rivermen hockey team even came by with their mascot.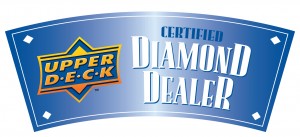 So when you make your way up to the Pacific Northwest, make sure to pay these shops a visit! Let me know how it goes and if you've ever done a Hobby Shop Road Trip like this, let us hear about it!