Archive for Hockey
St. Louis Blues fans will notice something different about forward Jaden Schwartz this season. No, the young star hasn't really made any changes with regard to his game, and at first glance, the change may not seem like a big deal, but to Jaden it most certainly is. In a touching, heartfelt tribute to his late sister (Mandi) Jaden Schwartz changed his number in the offseason to #17. It's the same number Mandi wore when she played for the Yale University women's hockey team.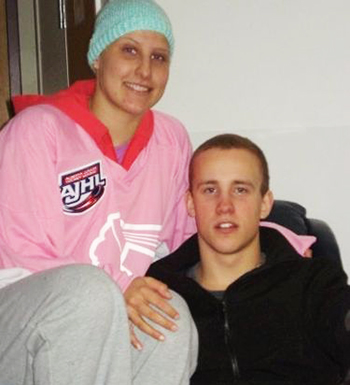 A promising prospect for Canada's national women's hockey team, Mandi Schwartz passed away from acute myeloid leukemia in 2011. She was 23.
On opening night, in his first official NHL® game for the St. Louis Blues wearing #17, Schwartz scored a goal.
Last year Upper Deck created a special Heroic Inspirations game-worn jersey card of Mandi Schwartz that her charity (The Mandi Schwartz Foundation) is currently offering as a gift with donations. Upper Deck used additional patch pieces to create two other unique collectibles to share with the Schwartz family. Both were blow-up versions of her cards the company had framed. Her parents received a blow-up with the "Y" patch for Yale and her brother Jaden of course received a blow-up with the "17" patch. Since the family donated the jersey to Upper Deck, we just felt it was appropriate to do something special for them to help have a memorable keepsake from that jersey.
Recently Upper Deck was able to get an exclusive interview with Jaden to talk about the role Mandi played in his life and how her legacy lives on in with the Heroic Inspirations Upper Deck game-worn jersey card.
Q: When you think of having watched your sister in a #17 jersey, what comes to mind?
Jaden Schwartz: I watched Mandi play hockey her entire life and I always noticed how hard she worked and how dedicated she was. She always wanted to get better and improve, I really looked up to her. I'm extremely excited to wear number 17 for her, it will be emotional but a special moment for me and my family.
Q: What are your fondest memories of you and sister related to the sport of hockey?
Jaden Schwartz: My sister and I were really close so we spent lots of time playing numerous sports together, including hockey. Mostly, it was at the rink in Wilcox, Saskatchewan, but we also spent hours on the backyard pond at our house as well. Mandi loved being active, whether it was working out, spending time outdoors or spending time in the rink, she was always happy.
Q: If your sister ever helped you with your hockey game, be it in a technical or philosophical sense, what lessons or advice did she give you, or how did she help you?
Jaden Schwartz: Mandi always helped me whether she knew it or not. I always admired how focused and determined she was. She helped me in school when I needed it and she helped me in hockey, but I always learned from her by just watching and being around her.
Q: Can you describe the dynamic of relationship with your sister, and in what ways you were close with her outside of sharing the common interest of hockey? What other shared interests did you have?
Jaden Schwartz: Mandi and I always had the same interests and we spent lots of time together, along with our brother Rylan. Family was always very important to us so we were always close. Whether it was sports, school, vacation time or just relaxing most of the time we did it together.
Q: What would she think of these Heroic Inspiration cards of her, and how would she react if you were able to give her one of her own cards?
Jaden Schwartz: Mandi was always a humble, hard working person who earned all of her achievements and accomplishments. She wasn't always the most talented, and maybe didnt have the most skill but she was always the most dedicated and always went the extra mile. Mandi would be all smiles and it would make her day if she was able to see one of her hockey cards.
Q: What was the significance of No. 17 to Mandi? 
Jaden Schwartz: Mandi wore number 17 for a long time in hockey, including Notre Dame and Yale. When my brother Rylan and I were growing up we wore number 17. Mandi switched and decided to wear it as well because she was our biggest fan and wanted to be like us.
Q: How does it make you feel that her game-worn jersey card from Upper Deck outsells your game-worn jersey cards?
Jaden Schwartz: I am really happy that her card has been selling and people want to buy them because it's for a great cause. The Mandi Schwartz Foundation has, and will continue to help families in need. Going through something that our family went through is the hardest thing that anyone could ever go through. I have learned so much about cancer awareness since Mandi got sick, and I hope to raise more awareness for other people.