Archive for Entertainment
Collecting trading cards has been a great hobby for families to enjoy together. However, with younger kids, sometimes they are not all that interested in sports so parents who enjoy collecting cards have to wait until their kids get older to share the hobby with them. One thing that kids do enjoy is dinosaurs, especially boys. From books to television shows to movies, kids gobble up dinosaur content and this summer youngsters will enjoy "The Good Dinosaur" movie from Disney & Pixar and older kids will find "Jurassic World" from Universal Pictures totally polarizing.
Upper Deck has produced some trading card sets that feature dinosaurs in the past that cater to youngster and the young at heart. Fans have absolutely loved them. Here's some feedback on what collectors have thought about these dinosaur themed trading cards from Upper Deck.
"I got a Wooly Mammoth molar, I love the design! Thanks Upper Deck." – Brian Koester
"I think these cards are awesome. I think people get tired of regular sports cards and they need something special to shake them up a little. These cards sure do that!" – Matt Coudriet
"Pretty unreal what you are doing with cards now. Very cool that you're able to share history like that." – Luke LePlant
"I think this is a great idea and you guys have always been known for pushing the envelope and being one of the best most innovative card companies around! I would love to pull one of these unique cards! " – Nick Gauder
"I love these cards!" – Dustin Heino
"These cards are just amazing. It's like owning a museum piece…" – Derek Chaiken
"It's great to have something to get my kids excited with the past. Great job Upper Deck!" – Ernie Villalobos
Another summer blockbuster featuring dinosaurs will come courtesy of Upper Deck where the entire set will include content from the world of dinosaurs called appropriately enough; 2015 Upper Deck Dinosaurs. The product will have something for everyone with a version in a collectible tin catered to the youngsters and a hobby version primarily for serious dinosaur collectors.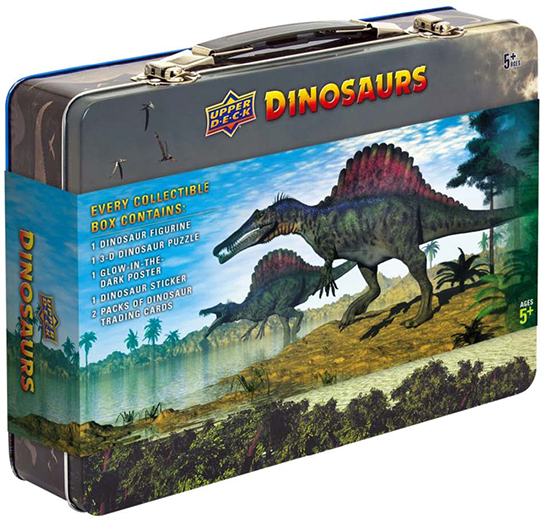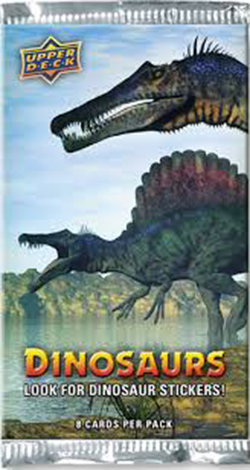 Here are some of the key cards and inserts to look for from the set!
Artists are creating incredible one-of-one sketch cards that will be found in packs with different themes. These cards are designed primarily for a younger audience, but they are pretty incredible that an artist can create works of art like this on such a small canvas (a 2.5" x 3.5" trading card).
Don't miss 2015 Upper Deck Dinosaurs when it arrives in stores in May 2015!