Archive for Brag Photo
Upper Deck had a lot of amazing items on display at the most recent Industry Summit, but the cards that got the greatest response were the 2014-15 NHL® Black Diamond Quad Rookie Gems cards. Collectors have the opportunity to score one of these cards by finding one of 25 exchange cards in packs of the 2014-15 NHL® Black Diamond.
There are a number of factors that make these cards so compelling:
Each card is a one-of-one card. These are the only copies that exist.
Every card is incredibly thick with a shadowbox type of display that includes four actual one carat diamonds.
The cards will only be available through an interactive draft event which means anyone who pulls and redeems one of these cards has the same ability as any other customer to get the first pick in the draft and choose the player they want. Check out the event from last year:
These cards are so unique and compelling, that they are in HIGH demand with collectors, usually going right into private collections. When they do make an appearance on auction sites, the prices for them are right in line with authentic high-end jewelry. Take a look at these links for two cards:
Morgan Rielly 2013-14 NHL® Black Diamond Quad Rookie Gems card
Nail Yakupov 2013-14 NHL® Black Diamond Quad Rookie Gems card
What is most compelling is that less than 10 of the 25 cards have been redeemed so far which means there are still plenty more waiting to be discovered in packs of 2014-15 NHL® Black Diamond. Collectors have until April 9, 2015 to get their redemptions entered to participate in the interactive online draft event.
Take a look at the incredible cards available in this event.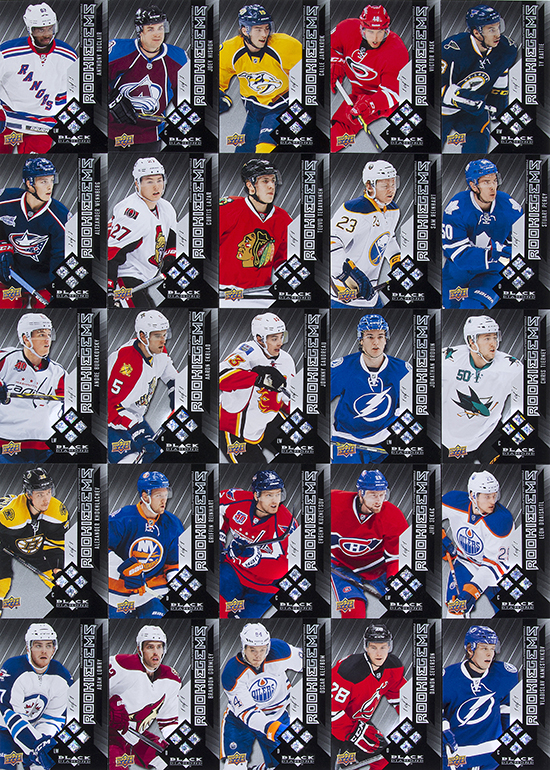 Which player would you take first in the draft???