Archive for Brag Photo
People often ask me, "What is the next big thing for trading cards?" It is incredibly difficult to constantly innovate a 2 ½" x 3 ½" piece of card stock, but time and time again Upper Deck has done it. We were founded on making a better trading card and that drive continues here today. So as we brainstormed, "What is the next big thing for Black Diamond Hockey?" we had a couple ideas that we put into place.
The first thing we looked at was creating a super-premium, high-end driver for the set which we have done with the "Quad Diamond Rookie Gems Relics" trading cards. Now diamond cards have been tried before, but collectors have been, "ho-hum" about them as they have either contained small pieces of glass or even smaller diamonds. Long story short these cards were not much to look at and were all too readily available. They were not special.
Upper Deck's "Quad Diamond Rookie Gems Relics" cards were recently completed and suffice it to say, they are absolutely gorgeous with four huge one karat diamonds embedded in the trading card. They look like something that you would see in the men's section of a really cool Tiffany's. I was surprised we didn't have a security guard watching over them. We debuted them at the 2014 Las Vegas Industry Summit and shop owners were in awe of the quality and beauty of these cards.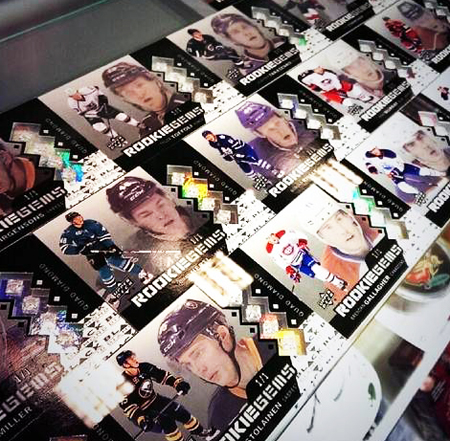 The second thing we wanted to innovate was how we deliver these cards to our fans. Obviously given the fact these cards are incredibly thick, they would stick out like a sore thumb in a pack of trading cards so we had to use redemption cards for them. We felt however the redemption process has gotten a little tired and lazy so we wanted to create a different way of delivering these cards to our fans. We came up with the Diamond Draft. We ran the event the day before the NHL® Draft Lottery LIVE on Breakers TV where fans watched it all go down. Customers lucky enough to pull and register these cards were entered into a ping pong ball lottery event. We pulled their names from the lottery ball device and called them LIVE to see which player they would take in the Diamond Draft. Take a look at how it all went down:
Collectors who pull one of these redemptions can still score one of the diamond cards, only it would be at random from the remaining inventory. The purpose of the draft was to give collectors an opportunity to experience the product and scout which players they would want to select after a full hockey season.
| | | |
| --- | --- | --- |
| 226 | Nail Yakupov | TAKEN |
| 227 | Tomas Hertl | TAKEN |
| 228 | Elias Lindholm | Carolina |
| 229 | Nathan MacKinnon | TAKEN |
| 230 | Morgan Rielly | TAKEN |
| 231 | Brendan Gallagher | TAKEN |
| 232 | Cory Conacher | Ottawa |
| 233 | Justin Schultz | Edmonton |
| 234 | Mikael Granlund | Minnesota |
| 235 | Vladimir Tarasenko | TAKEN |
| 236 | Zemgus Girgensons | Buffalo |
| 237 | Alex Galchenyuk | TAKEN |
| 238 | Jonathan Huberdeau | TAKEN |
| 239 | Jonas Brodin | Minnesota |
| 240 | J.T. Miller | New York |
| 241 | Dougie Hamilton | Boston |
| 242 | Boone Jenner | Columbus |
| 243 | Tyler Toffoli | Los Angeles |
| 244 | Aleksander Barkov | TAKEN |
| 245 | Rasmus Ristolainen | Buffalo |
| 246 | Ryan Murray | Columbus |
| 247 | Valeri Nichushkin | TAKEN |
| 248 | Mikhail Grigorenko | Buffalo |
| 249 | Jacob Trouba | Winnipeg |
| 250 | Sean Monahan | TAKEN |