Author Archive
Many collectors keep their favorite Upper Deck cards in a closets, displays, safety deposit boxes and safes. There are some collectors however who like to take their favorite cards with them wherever they go and share them with those they meet. The industry term for the cards these types of collectors carry is the wallet card (#walletcard).
During Mardis Gras this year we saw a collector on Twitter who goes by the handle @Teejnola having a lot of fun with his 1989 Upper Deck Ken Griffey Jr. rookie card in New Orleans. We asked T.J. to share his story on his wallet card along with some of the fun pictures he took during the annual Mardis Gras party and parade. This is his story:
"Being that I live in an especially photogenic city I like to get pictures and having my favorite card in the photos seemed like a no brainer. For my wallet card I chose what is universally considered among the greatest modern-day baseball cards ever produced; Ken Griffey Jr.'s 1989 Upper Deck rookie card. I catch a little flack for picking a card with real monetary value as my wallet card, but I just couldn't imagine using any other card.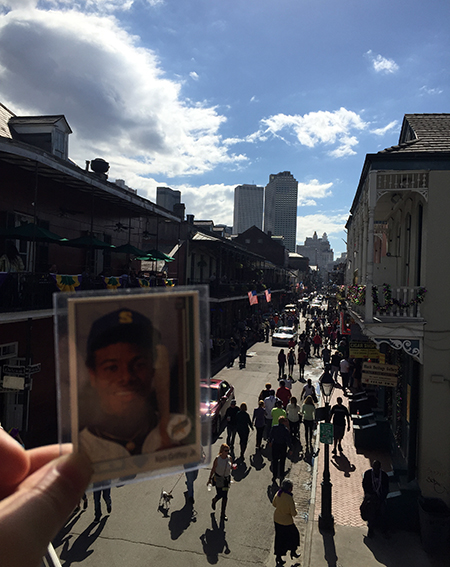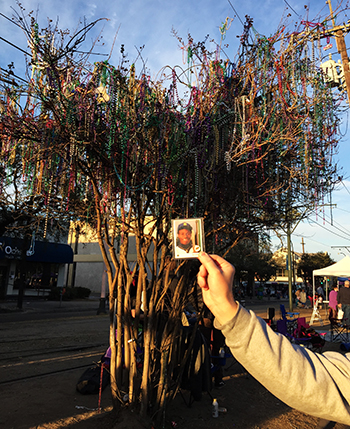 "I live in New Orleans, but my most popular wallet card post so far was that from my trip to the Canadian Yukon where my wife and I went in search of the Aurora Borealis. I have shots of the Griffey on a snowmobile, ice fishing, miles above snow-covered mountains, and with the world's largest collection of Donald Duck figurines. We finally got a glimpse of the Aurora on our last night there, and while the pictures are a little blurry (photographing the Aurora is hard, it turns out) you can tell it's the Griffey.
"Only weeks later began the Carnival season here in NOLA which is just the sort of thing wallet card was made for. You probably know that this season is defined by massive parades and weird traditions that culminate in the big party on Mardi Gras Day. This year was unique in that I was actually riding in a parade for the first time in several years, but I did manage to make it to sixteen other parades including the 'superkrewes' of Endymion and Bacchus.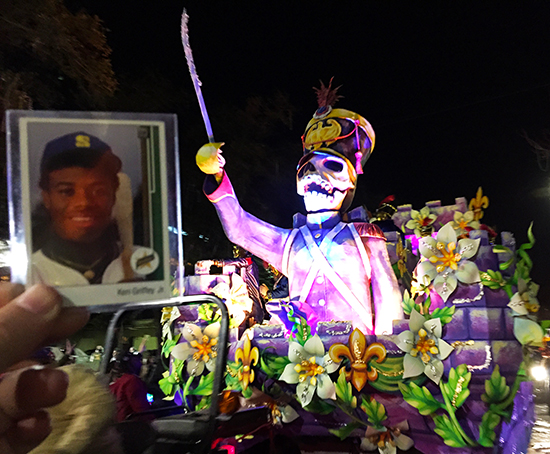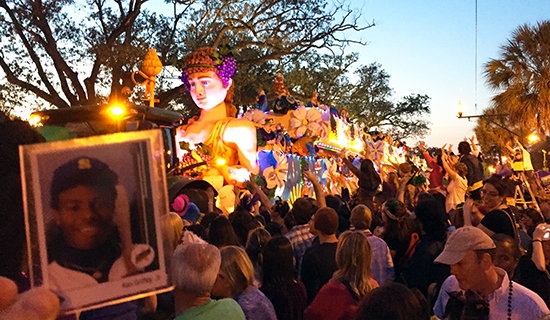 "Simply put, Mardi Gras is a two-week city-wide party. The day before Mardi Gras (Lundi Gras) the King of Rex literally asks the Mayor to suspend law, tax, and business for one day in the name of frivolity, and the mayor ceremonially obliges. Of course the parades last for weeks before that even happens. It's so ingrained in our culture that I was ten before I learned that this was not a national holiday.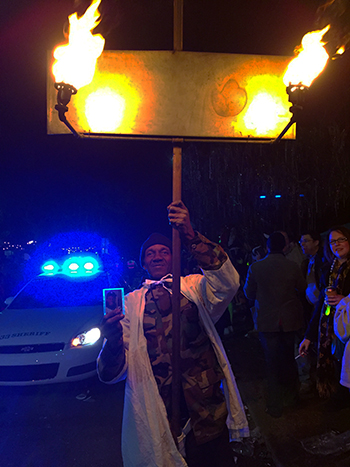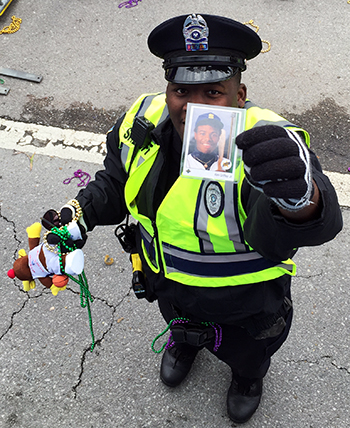 "Each parade is put on by a 'krewe' and consists of floats, bands, marching groups, and fleets of shriners in dune buggies. Highlights include the Budweiser Clydesdales, The Citadel, the U.S. Marine Corps marching band and color guard, and countless jazz bands, horses, cheerleaders, and fire-wielders (which we call flambeaux).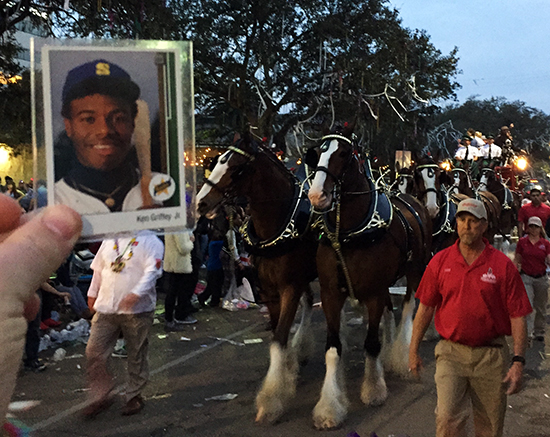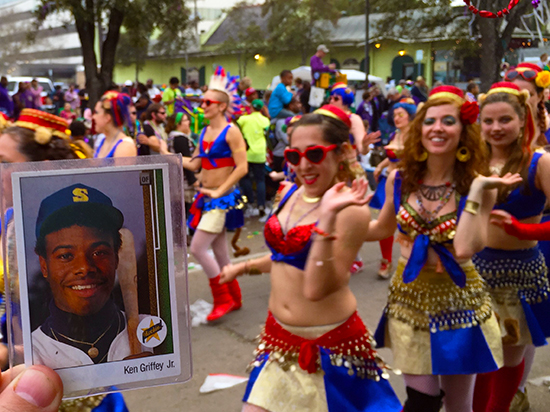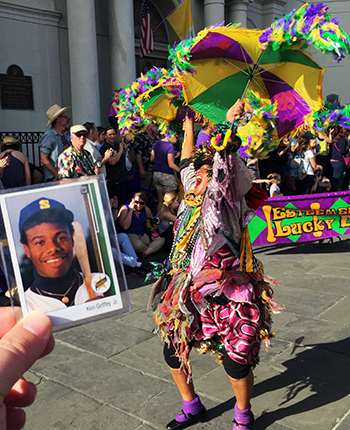 "Of course Mardi Gras is probably best-known for the float riders hurling free stuff into the screaming crowds. Go to any parade and you'll be amazed at how easy it is to go home with a bag loaded with beads, candy, trinkets, doubloons, clothing, and even rubber dog poop. At least I hope it was rubber.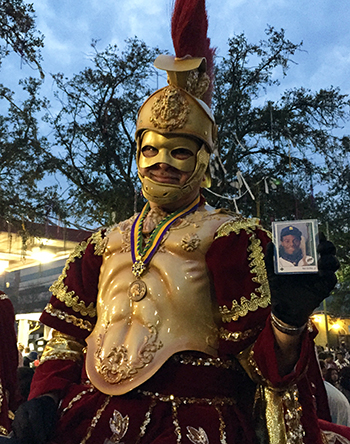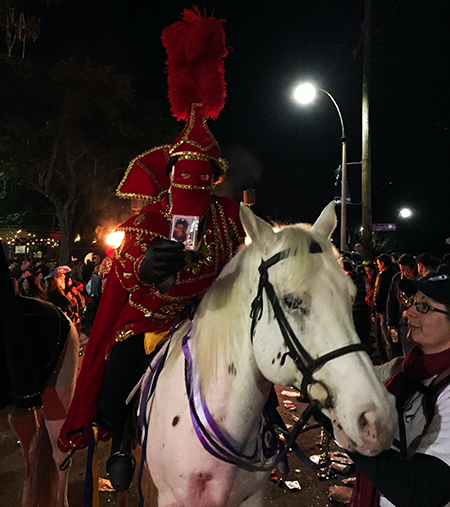 "In the two weeks of Carnival I took 1,500 wallet card photos, not counting the much bigger number I deleted. I'm now in the process of whittling them down to a digestible group to be showcased on my card blog, The Junior Junkie (thejuniorjunkie.blogspot.com). The blog has been on a bit of a hiatus (understandably) during the two-week Mardi Gras season. I've also posted a lot of #walletcard shots on Twitter on my account and I will continue to do so all year long. So make sure you give me a follow so you can see where Griffey goes next before he heads to Cooperstown in 2016!"
Thanks T.J. We love this idea and want to encourage more fans to have an Upper Deck wallet card and share images of it using the hashtag #walletcard and tagging us @UpperDeckSports on Twitter and Instagram. Think you can outdo T.J.? We'd love to see you try. Pack up your Upper Deck wallet card, have some adventures and share what happens with us. You could score an Upper Deck Random Acts of Kindness mail day for your efforts!