Upper Deck Uses a Variety of Tactics to Make Kids a Priority at a Recent Trade Show
By
In the hobby of sports trading cards, much of the revenue is driven from high-end hobby releases that focus on serious collectors. Many collectors these days ask, "What is being done to cultivate the next generation of collectors?" For the last few years, Upper Deck has worked hard to make kids a top priority at trade shows and events.
Parents who brought their children with them to the National Sports Collectors Convention found refuge at the Upper Deck booth as we continued our kid-focused marketing efforts by having an extensive Kids Zone set up. Here in the Kids Zone, youngsters could take part in all sorts of fun entertainment designed specifically for them.
Draw Your Own Trading Cards – Kids could sit down with markers and blank card to create their very own trading cards. Upper Deck rewarded creative kids with trading cards for their efforts!
Games – We had air hockey, foosball, pop-a-shot basketball, sports video games and more. What do those have to do with trading cards? Admittedly not much, but what they did do was give parents a breather, allow kids to do something they enjoy and give us the opportunity to talk to them about the hobby and share cards with them.
Upper Deck Puzzle Game – Throughout the day we had kids compete in a fun 25th Anniversary puzzle game where groups of kids competed against each other to put together puzzle versions of blow-up cards. It was a lot of fun to see their smiles as they raced to be the first to finish the puzzle correctly. We heard repeatedly, "Let's play again!" Kids could win t-shirts and other prizes for their efforts.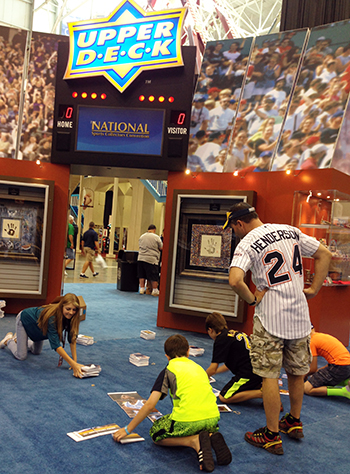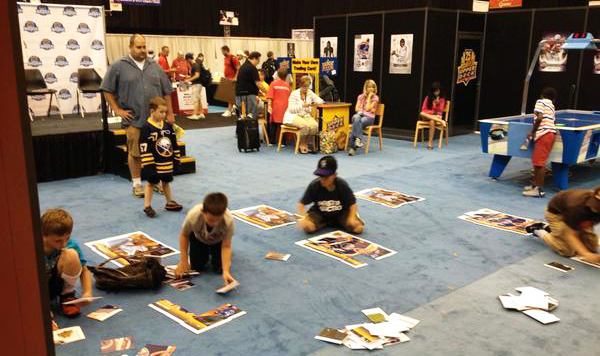 FREE Cards – We strategically placed the case breaker promotion near the Kids Zone so that we could encourage these larger customers to share the hobby with the next generation of collectors. And they certainly did donating an estimated 5,000 cards to kids during the show.
Personalized Cards – What kid doesn't dream of being on a trading card when they grow up? We made that dream a reality for thousands over the weekend including a LOT of kids. One father pulled a Johnny Manziel autograph card, but to him, the card of his son was clearly his favorite from the show!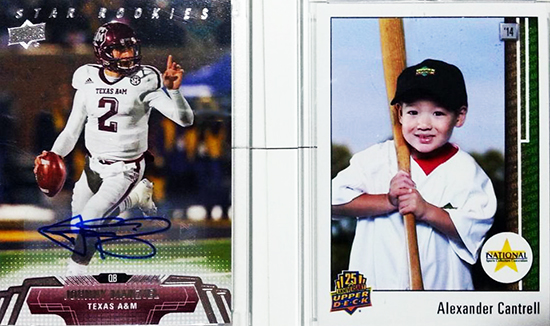 Breaks with Parents – Attending a show together is so very special as families forge memories that will last a lifetime. There were dozens of great stories this week about kids and parents collecting together, finding something incredible during a wrapper redemption promotion or being invited to join our Exquisite case break. Collecting truly is a hobby for the family and we will continue to work to come up with engaging programs for them!
Leave a Comment