Upper Deck Throwback Thursday Create the Caption Promotion – P.K. Subban
By
It's that time again! It's Throwback Thursday so let's go back through Upper Deck's trading card history and come up with a fun giveaway. The 2014 NHLPA Rookie Showcase is around the corner. It's the sixth year of the Showcase and the event provides Upper Deck with an exclusive opportunity to photograph many of the game's top young prospects/rookies in their official NHL® team uniforms, in shots that will be used for upcoming trading card and memorabilia launches- Upper Deck is the official trading card partner of the NHLPA and NHL. So let's put up a throwback card of P.K. Subban from last year's showcase and see if our fans can come up with some great captions for the card! Please share your comical caption to this card for your opportunity to score 10 packs of 2014-15 NHL MVP cards!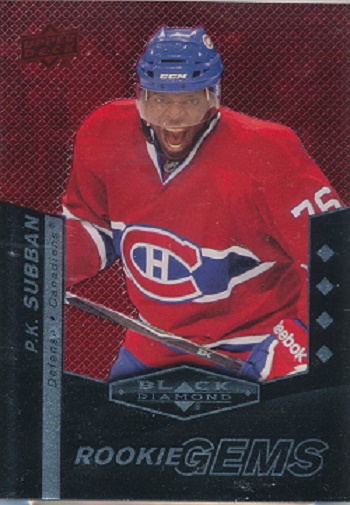 Important Promotion Guidelines:
You can only submit one comment per email address so think about it before you post.
Comments are moderated so keep them clean and in good taste as we have a lot of youngsters on these pages. Comments deemed inappropriate will not be posted or eligible to score card set(s).
Make sure to review other caption before you post. If you have the same comment as someone else or make slight improvements to it, the credit will go to the first person who posted the comment.
You have until Friday morning, August 22nd at 8:00 a.m. PT to post your caption before this promotion is closed.
Upper Deck will review the captions posted and select one (1) fan who most skillfully share a comical comment to coincide with this card.
Only the customer selected to receive the card set will be contacted via email, so please make sure to provide an accurate email address when you leave your comment.
Leave a Comment