The 2014 NHLPA Rookie Showcase Gives Upper Deck the Opportunity to Introduce Future NHL® Stars to Fans!
By
Upper Deck's hockey and marketing teams work very hard to make the NHLPA Rookie Showcase a memorable event every year as we work hand-in-hand with our partners at the NHLPA. It is our first opportunity to spend time with future NHL® stars and also the first time many of them will wear their actual NHL® uniforms so to say it is a special event for all involved is an understatement.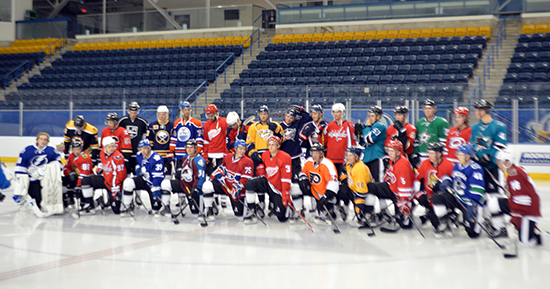 The 2014 event was one of the best the NHLPA and Upper Deck have ever put on, primarily because all the participants were so great to work with. Collectors have some high-quality players to chase this season who are very conscious of how important their fans are to the game. You should expect big things from participants at the 2014 event like Vlad Namestnikov (Tampa Bay), Teuvo Teravainen (Chicago), Evgeny Kuznetsov (Washington), Aaron Ekblad (Florida), Sam Bennett (Calgary), Sam Reinhart (Buffalo) and more!
Day one at the NHLPA Rookie Showcase is pretty laid back. The guys start to come through after breakfast and we have a signing session with them where they provide autographs for new trading card sets, promotional items like pucks & sticks and then we have a photo session with them.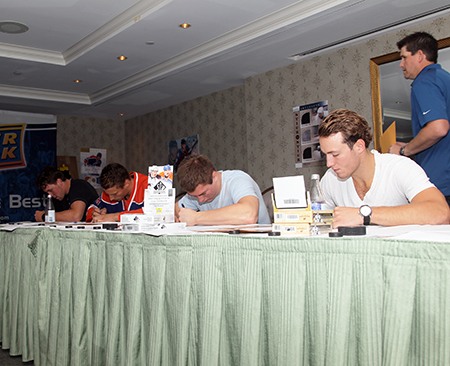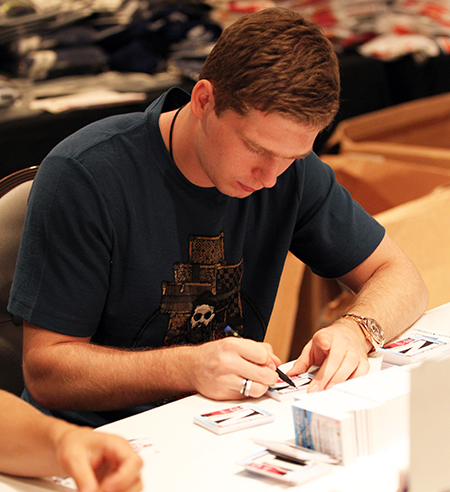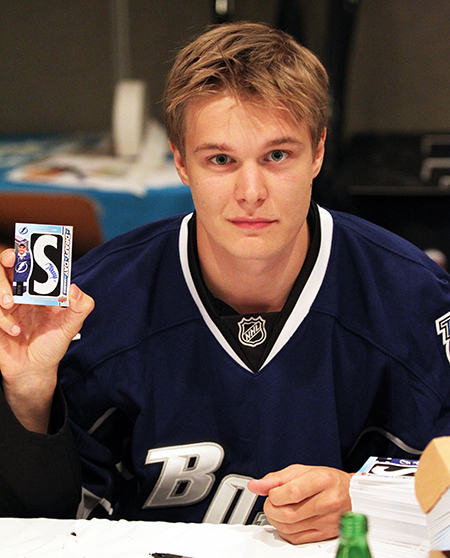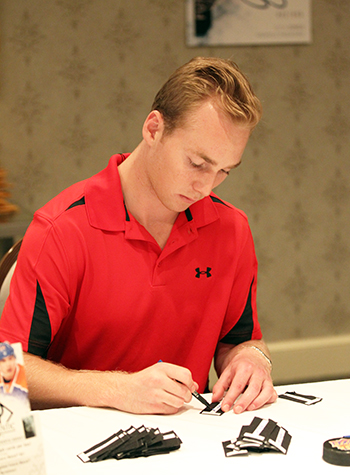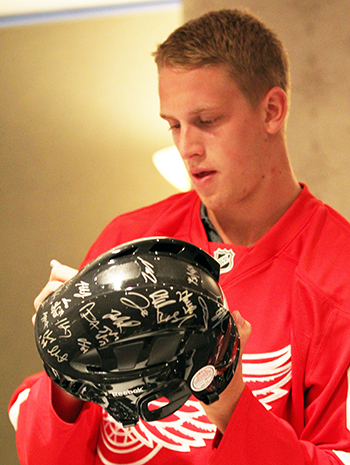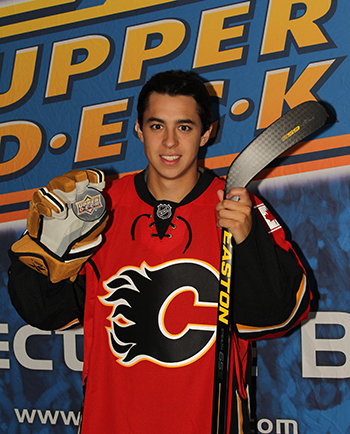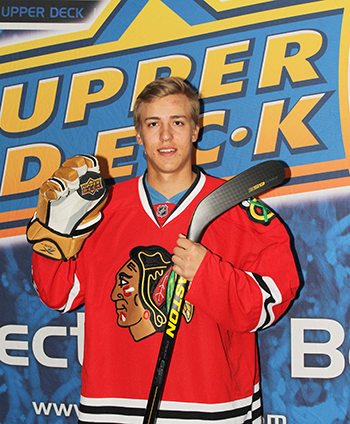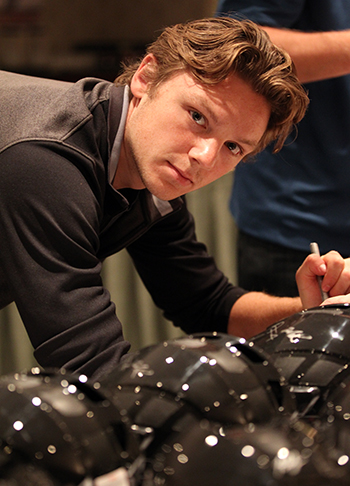 New this year, we worked with rookies on viral videos on Friday to help us introduce them in a fun way to fans. We also invited in Brad Krysko from CloutsNChara to open Upper Deck packs with the guys to get their thoughts on the hobby.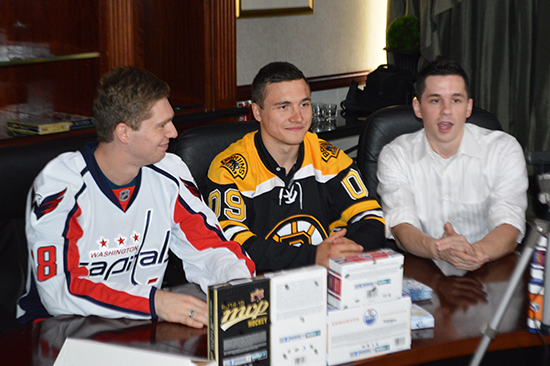 Friday night was very special as we held a private dinner at the Hockey Hall-of-Fame in the great hall for the players and some of their guests. Martin Biron addressed the young prospects on behalf of the NHLPA and shared thoughts on his career, what to expect in the NHL® and the importance of signing for Upper Deck and the fans. Then rookies we allowed to tour the Hall which was quite an exciting opportunity for many who had never been.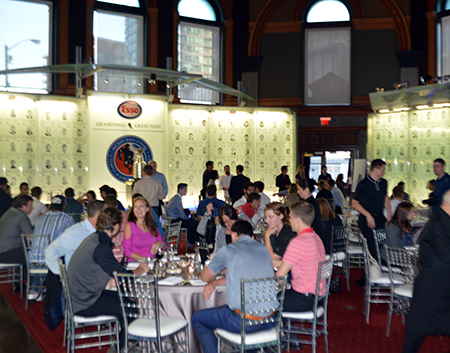 Of course, along the way, there was also fun to be had as Aaron Ekblad faced off against Upper Deck's Drew Mills in the gaming area of the Hall. Not surprisingly, Drew did not fair well against the #1 pick in the 2014 NHL® Draft.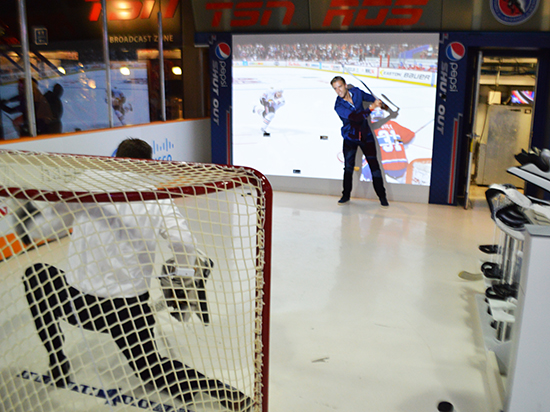 Day two began at the Mattamy Centre (the old Maple Leaf Gardens) with media interviews and many of these young stars were able to provide insight on their goals for the season and how they hope to fit in with their teams.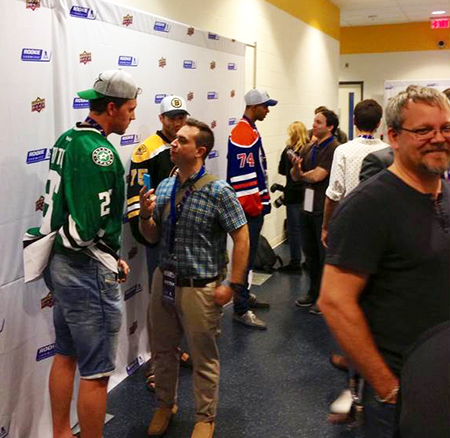 And then there were a variety of stations for the rookies to work through primarily to get photography of them in their team uniforms.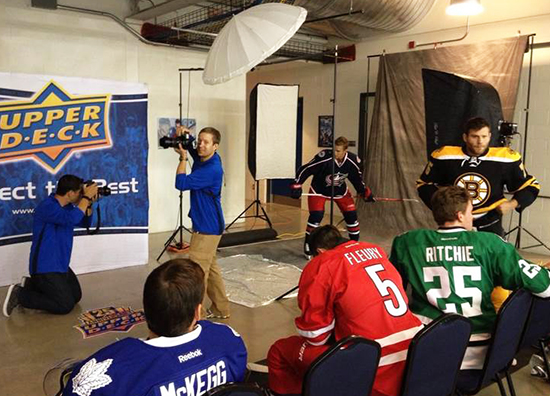 We also had stations set aside to acquire a few more autographs from them as well for those who were unable to finish the day prior.
The station rookies had the most fun at however was our video station where we again hope to create some fun videos to introduce these rookies to our fan base. They did trick shots and their best celebrations, but the thing that had everyone watching and laughing was when they worked with a figure skater we brought in to learn to be more graceful. The results and images we shared via Upper Deck's Hockey Twitter account had fans wondering what was going on at this event.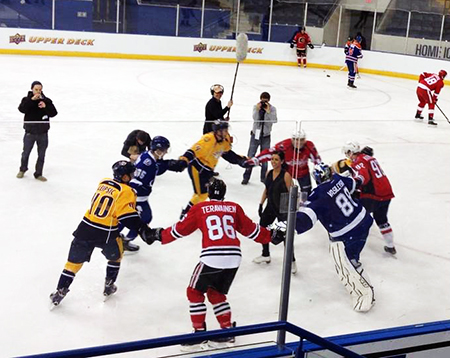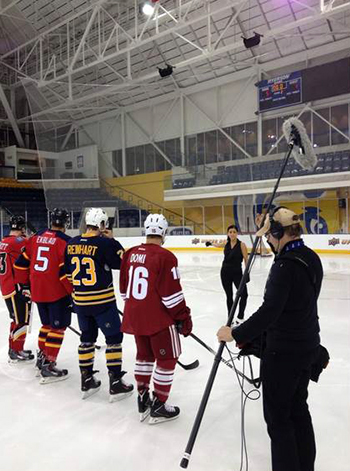 During lunch rookies watched and laughed as they saw previous year's videos from the event that Upper Deck has created for YouTube.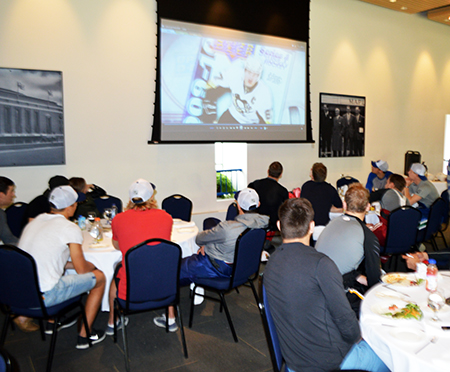 The highlight for them however had to be the shinny game at the end of the day where they go to do what they love; play hockey. It was awesome to watch these future stars give us a preview of what we can expect from this season. They all looked VERY good. It should be a great year to be a collector and NHL® fan!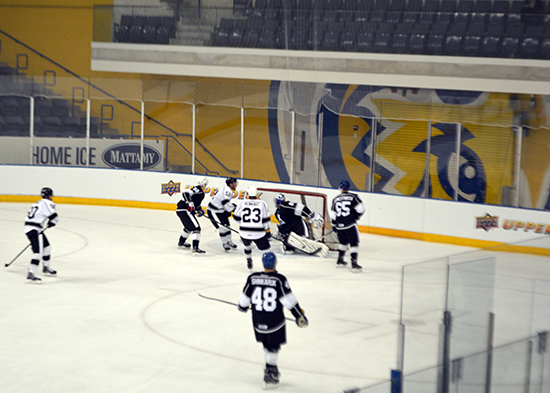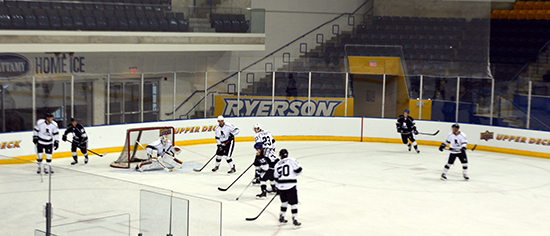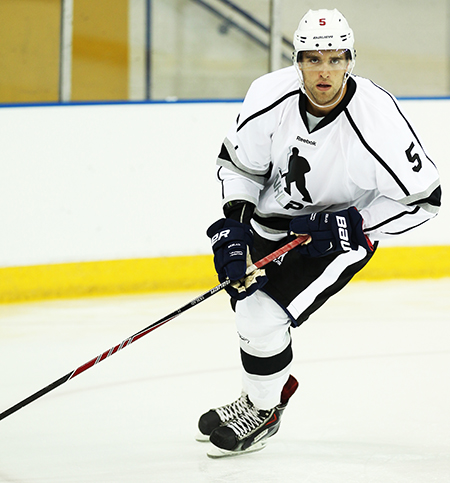 Upper Deck selected one player to win a special Wayne Gretzky autographed shawdowbox memorabilia item and that went to Max Domi. Not only was Domi great on the ice and at various stations, he took time to sign for kids and Arizona fans should be excited to have him!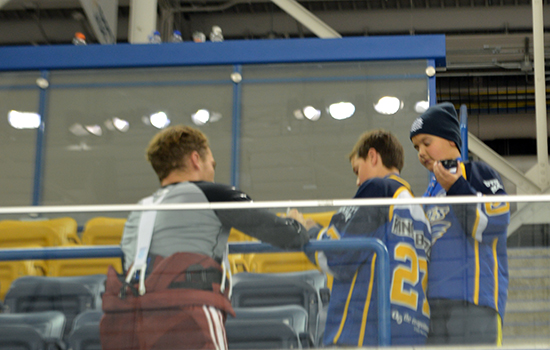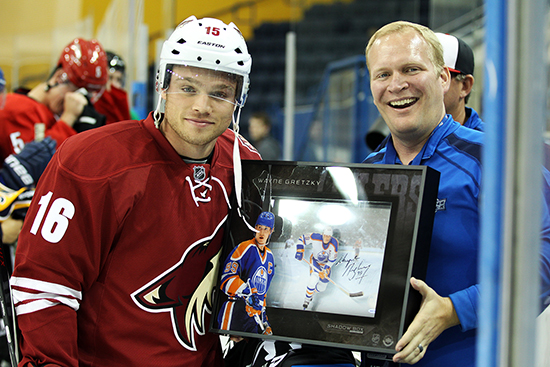 Leave a Comment