Everyone Wins: Upper Deck Honors Every Card in the 2014 National Sports Collectors Convention Expired Redemption Raffle
By
Fan who participated in Upper Deck's most recent expired redemption raffle at the 2014 National Sports Collectors Convention are in store for great news; everyone who submitted a card will receive a prize card! Due to a slight logistical snafu, we have added more prize cards to this pool and will honor every card received with a random prize card.
We believe a portion of the cards received in at the show were unintentionally placed with some packages being shipped back to headquarters. We did continue to receive cards in throughout the show and had a spreadsheet of everyone who sent in cards prior to the event. Since some cards were not on hand however, we were unable to conduct a full raffle as scheduled. We made the decision to assist customers who had dropped off expired redemptions at the show with a random selection of cards (1 prize card for every expired redemption submitted) and we will award a prize card to every customer who submitted expired redemption cards for this draw even though there were more than 100 in the pool.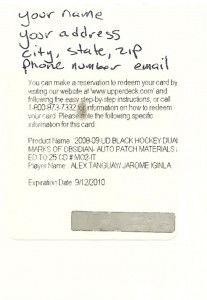 If you sent in expired redemptions for this promotion, please reach out to our Customer Care team at (800)873-7332 or via email at GeneralQuestions@upperdeck.com to confirm what you sent in and to confirm your email address so we can let you know what you won when we conduct the remainder of the draw. Again, we are adding prize cards to this draw (including premium cards) and every card submitted will be a winner.
We apologize for any inconvenience and we look forward to getting you your prize card(s) soon!
Leave a Comment