Upper Deck & Mike's Stadium Sportscards Host a Memorable Event for Jack Miller
By
A 9-year-old got the star treatment recently at Mike's Stadium Sportscards as fans waited in line to score his rookie card and autograph. Jack Miller is a very brave young man who has been battling brain cancer for several years who was 'adopted' by the Colorado State Football Team. Upper Deck recently honored Jack with his very own rookie card and at this event was his first chance to see how they turned out. Donations made went to the Friends of Jaclyn Foundation which partners children with pediatric brain cancer with teams where both inspire each other.
One of the best moments was when three members of the Colorado State Football team showed up to get Jack's autograph and get one of his rookie cards. Check it out:
After the event, Bernard Blake shared on Twitter, "I was speechless on camera. Words can't explain his impact." He also called Jack his hero.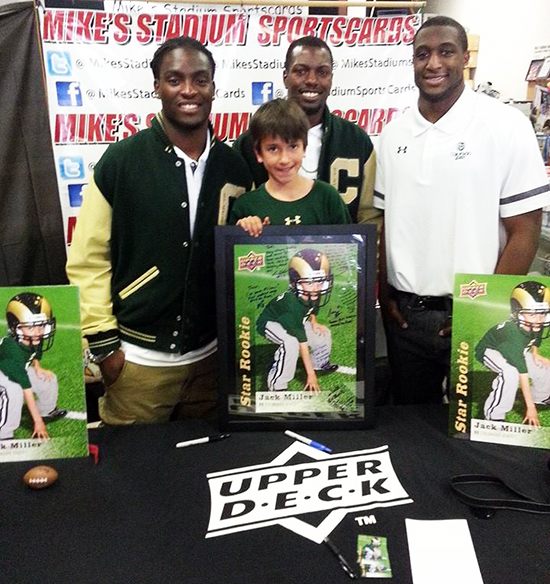 Another memorable moment occurred when the team presented Jack with a special gift from Upper Deck. We had former and current Colorado State Rams sign a blow-up version of the card for Jack and then had it framed.
Collectors were also inspired by Jack and in a true random act of kindness, one of Upper Deck's Diamond Club members shared a special card with Jack.
Jody Miller, Jack's mom had this to say about the event, "Wow — what a great event today! Thanks so much to everyone who made this happen for Jack. The card looked amazing, the store & Michael were so nice and welcoming, and the three CSU players who made the long trip down brought a huge smile to Jack's face. Jack has already hung the framed large autographed card in his room — front & center. I can't think of anything that would have made the day better. We really appreciate all of the planning that everyone put into this! Thank you!!!!"
There is a saying that good brands make good products, but great brands improve lives. Upper Deck is dedicated to be a great brand and we look forward to other good works we can do with organizations like Friends of Jaclyn in the future where we leverage the power of our brands to tell some great stories.
Leave a Comment