Off the Clock: The 2014 Upper Deck Mini-Basketball Championship Game
By
Last year we pulled back the curtain on a game that takes place here at Upper Deck during March and April, of course I'm talking about the Upper Deck Collegiate Sports March Madness Mini-Basketball Pop-A-Shot Challenge™ or the "UDCSMMMBPAS" for short. Over 70 competitors started out in the annual tournament playing games during lunch time and we slowly worked that number down to just two hungry competitors. And they are hungry because a win would mean a pizza party for their respective departments.
Today Robert "Jordan Jr." Partlow from the Prepress department took on Drew "Sign Your Dang Cards" Mills from the Athlete Relations group and what we witnessed was a match for the ages. Luckily, I happened to have a video camera handy and caught the whole match that went down to the final shot. Check it out!
Both these players played well enough to take the title today, but in one shining moment Drew Mills stepped up to take his place at the top of the Upper Deck Summit. Until next year!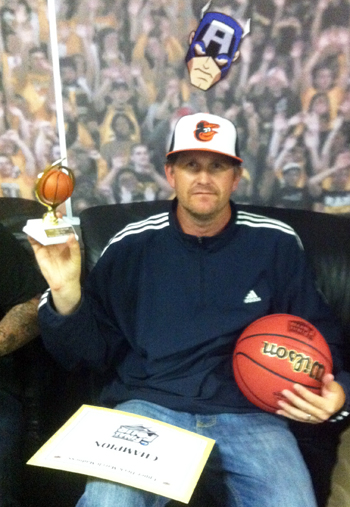 Leave a Comment