Upper Deck Announces a Random Acts of Kindness Reward Program Designed to Give Back to Collectors During the Company's 25th Anniversary!
By
Can you believe it has been 25 years since Upper Deck delivered the first case of 1989 Upper Deck Baseball to a hobby shop in Tulsa, Oklahoma? How much innovation has Upper Deck brought to the industry since those first packs back then? From autograph inserts to memorabilia cards to video trading cards, the journey Upper Deck has taken collectors on as the hobby has evolved has been amazing to watch.
One constant that has made collecting Upper Deck trading cards a hobby that has endured over the last 25 years is the kindness of collectors. We have talked before about how collecting trading cards is one of the friendliest hobbies in the world. It is important for the future of the hobby that we do things to encourage that kindness in the collecting community, especially as we look to develop the next generation of collectors through kids. Upper Deck has spent a lot of time working to make the hobby of collecting cards something kids will be interested in, but as we look back at our 25-year history, we think it is important to thank the good guys (and girls) out there who helped make this hobby so kind.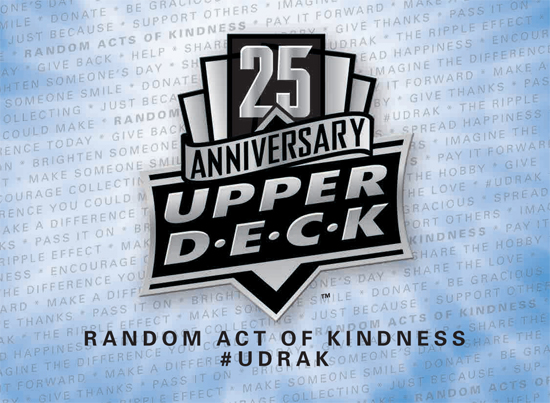 Throughout Upper Deck's 25th Anniversary Celebration (beginning now through the end of 2014) we are excited to announce Upper Deck's Random Acts of Kindness program (#UDRAK) where we will surprise loyal fans and supporters with packages that contain trading cards, packs, boxes, Upper Deck Authenticated memorabilia, personalized collectibles, UD apparel or tickets to events. And when we say "surprise," we mean it. These special packages will be sent out as a surprise to collectors meaning that FANS CANNOT REQUEST THEM FOR THEMSELVES OR HAVE OTHERS REQUEST THEM ON THEIR BEHALF.
Upper Deck is watching hobby message boards, social media platforms like Twitter, Facebook and YouTube while also talking with loyal shops about who some of their best customers are. We are not necessarily looking for the collectors that spend the most with those shops, but rather fans who have been positive advocates for Upper Deck and the hobby throughout the last 25 years. We want to tell some good stories of giving back to great fans. Upper Deck's Customer Care, Sales and Marketing teams will be the primary eyes and ears for the program who will work to share that nice collectors finish first by sending out these surprise mail days.
Upper Deck Certified Diamond Dealers are invited to nominate one (1) customer or family they feel is worthy to receive a Random Act of Kindness package from UD. To do so they simply need to email us and share the following information:
Contact information for the individual (Name, home address, email and phone number).
Why they are deserving of a Random Act of Kindness package and what they like to collect.
The Certified Diamond Dealer contact information for the customer referring them.
Upper Deck will review those submissions and schedule worthy requests between now and the end of the year. There is no telling when it will happen or what will be contained in this special mail day from Upper Deck, but it will be fun to watch throughout the year. Fans who receive a package will find an Upper Deck Random Acts of Kindness sticker on the outside and are encouraged to share what they receive using #UDRAK on Twitter in particular.
In the meantime we encourage fans to also look at how they can make the hobby better by helping other collectors. If you hear of a collector who is one card short of completing a set and you can help, reach out to them. When you hear of a kid who could use a wholesome hobby, share some of your extra cards with them. If you can help a shop run an event to get more collectors excited about the hobby, do so. Give back to the hobby you love and you may be surprised by how good you feel about what you get back. And maybe, just maybe, you may earn a surprise mail day from Upper Deck's Random Act of Kindness program. Imagine the difference you could make and remember, we are watching!
Leave a Comment