Upper Deck Surprises Washington Capitals Video Coach and Part-Time Goalie with his Very Own Upper Deck Rookie Card!
By
Brett Leonhardt has worked for the Washington Capitals as the team's video coach for several years now, but he also is pretty good on the ice. In fact, this former goaltender actually suited up in an emergency situation back in 2008 and again this season. We thought Brett's story was very unique as he pulls double duty for the team so we decided to create his very own Upper Deck Young Guns Rookie card. Recently the team presented a blow-up version of the card to Brett and he was very appreciative with the honor.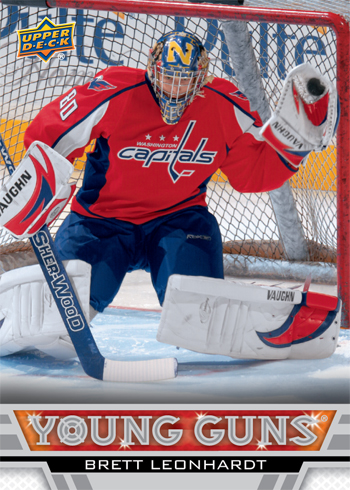 "Words can't describe the surprise I was given when one of our players along with head coach Adam Oates presented to me the Upper Deck Young Guns blow-up cards  before our team meeting with my image on them," said Brett Leonhardt. "As a card avid card collector my entire life, this was truly a dream come true. My father, brother and I attended many card collecting expos and spent countless hours through our youth collecting hockey cards and completing sets. You really created a highlight in my life by putting this together and I don't know how to thank you enough!"
Happy to help a hard-working player/coach such as yourself Brett!
Leave a Comment