Upper Deck Helps the Ladies Score this Valentine's Day
By
They say the path to a man's heart is through his stomach. Some savvy ladies know there is another path; through his collection. When Upper Deck shared with fans we were looking for a way to make Valentine's Day memorable for collectors, we received quite a few ideas from fans, but two ladies in particular stood out with us and we wanted to do something to make today special for them.
Brittany Shepherd was saddened to find out she would not be able to spend Valentine's Day with her boyfriend Pete as he would be traveling for work. Wanting to do something special for him, she knew he would enjoy adding some NHL® cards to his collection and hopefully pulling one of his favorite players like Nail Yakupov. Upper Deck hooked her up with a sweet mail day that she snuck into his bag before he left. He was thrilled when he discovered the contents.
"Upper Deck always goes above and beyond for their collectors," said Brittany. "Valentine's Day will be extra special for Pete with three boxes of Upper Deck products to open!"
Meggin LeVeaux's husband is a big fan of the Colorado Avalanche and in particular, red hot rookie Nathan MacKinnon. Upper Deck had shared some promotional items signed by MacKinnon with shops in the area that her husband had tried to win through various promotions, but to no avail. She contacted us about buying a MacKinnon signed item for her hubby, but we wanted to do something special for her. So we shipped her out an Upper Deck Authenticated MacKinnon signed puck and needless to say when she gave it to her husband, he was overjoyed. And now she will simply be known as, "BEST WIFE EVER!"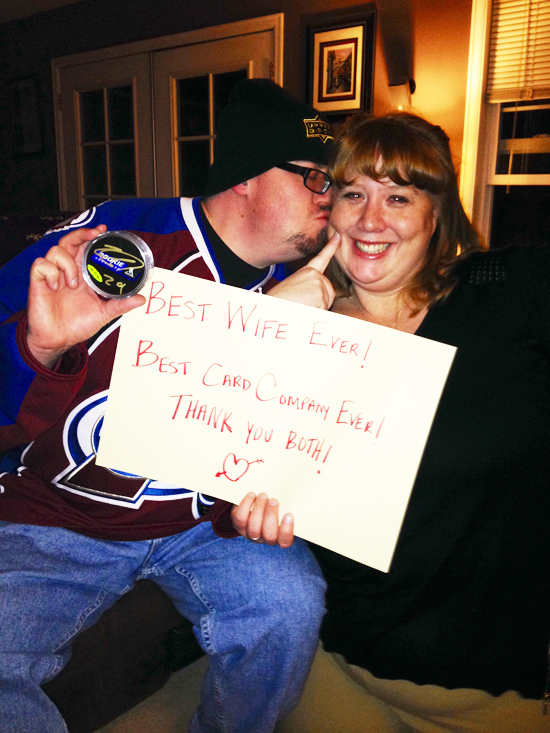 Happy Valentine's Day to Brittany, Meggin and all the girlfriends and wives who care enough to give the very best; Upper Deck!
Leave a Comment