Tim Carroll Does Unthinkable Things to 1989 Upper Deck Baseball Cards and We Love It!
By
Fans have done a variety of tributes to show their love for Upper Deck cards over the years, but nobody does it like Tim Carroll who does the unthinkable to trading cards; he butchers them. That's right, when Tim is feeling inspired he cuts up trading cards, but it is all in the name of art.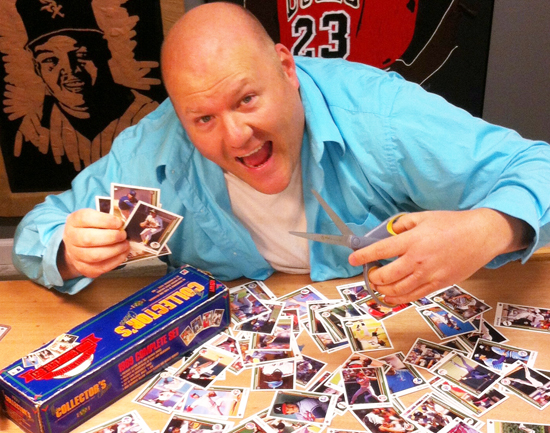 Tim's creations have become well known in the industry, but it is his piece titled, "The Kid" that stands out for us as we celebrate our 25th Anniversary this week. For this piece Tim recreated Ken Griffey Jr.'s memorable Upper Deck rookie cards using 1989 Upper Deck trading cards entirely. And it is a piece that is amazing to behold. Tim is offering it to Upper Deck on loan for the next few months to share with fans at trade shows and other events so we are excited to see reactions to the piece.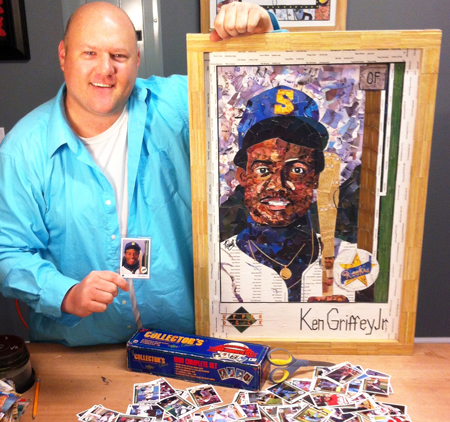 Recently we had the opportunity to check in with Tim about creating the piece and what that 1989 Upper Deck Baseball set meant to him.
UD: What do you remember about the 1989 Upper Deck Baseball set when it first came out?
Tim Carroll: I was 11-years-old back in 1989 when I first heard about the Upper Deck set. Dealers at shows were abuzz about some new set that had some sort of counterfeit-proof holograms on the back and tamper-proof packs. A few months went by before I was able to actually get my hands on some. We were lucky to be at Wal-Mart right as an employee was cracking sealed cases. My brother and I only landed a couple Griffey Jr. rookies, but we made a killing on the Jerome Walton, Dwight Smith, Nolan Ryan (throwing the football), Jim Abbott (3D), and Todd Ziele to name a few. The Griffey is so iconic, but my secret favorite is the Gary Pettis card. A picture on a card of the player holding the same card? Genius!
UD: Do you still have one of those Ken Griffey Jr. 1989 Upper Deck rookie cards?
Tim Carroll: I still have the one Griffey rookie from the set I cut to recreate his rookie card and I still have one from that fateful trip to Wal-Mart 25 years ago.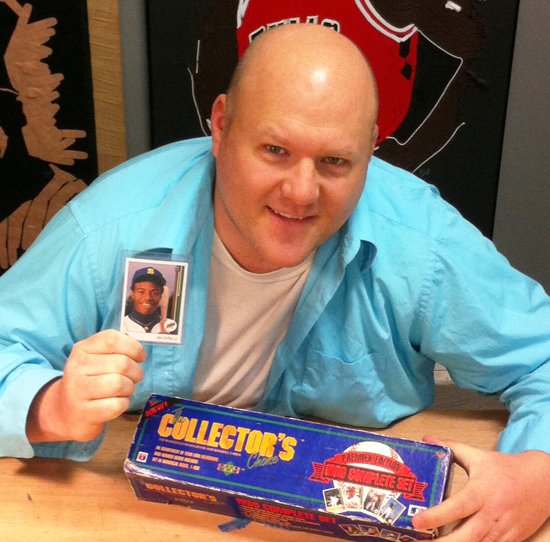 UD: When did you start doing this unique form of art?
Tim Carroll: I started making the card art pieces back in 2009 to commemorate the 100th anniversary of the Honus Wagner tobacco card. A few months later, I created "The Kid" in honor of the 20th anniversary of that historic card. I have since created over 30 pieces in which I used cut baseball cards as my medium. Although I like to make portraits of athletes, musicians, and celebrities from items tied to the star, the cut trading cards have become my niche.
UD: Can you share a little bit about how you brought "The Kid" to life?
Tim Carroll: Making the Griffey out of one set was a bit challenging, as I wasn't sure in the beginning if I had enough of a "palette" within the set. It all worked out, however. Some of the details that I think showcase what the piece is all about are: the bat and necklace made from some of the common Star Rookies; the Star Rookie logo and Seattle logo made from "Award Winners;" and the many, many names that make up the white area of the piece. The whole point of the piece was to highlight that – no matter how hot many of the cards were in that set – the Griffey is a card that has withstood the ups and downs of the card-collecting hobby.
Thanks again for including my work in the celebration. I grew up with that card being one of the modern "Holy Grails" of collecting. To have you showcase my art for the anniversary is extremely humbling.
For more on Tim Carroll's art, please visit www.timcarrollart.com.
Leave a Comment