¡Mira! Shayne Skov's 2014 Upper Deck Football Card will be in Spanish to Celebrate his Mexican Heritage!
By
Brothers Patrick and Shayne Skov learned to player football in Guadalajara, Mexico of all places. They actually played with a local team called the Carneros (Rams) when they were growing up there before coming to the United States. Shayne ultimately attended Stanford and was able to have a memorable career with the Cardinal and now he spends his time preparing to enter the NFL Draft. And even though he spent most of his life in the United States, Mexico is still very important to him.
"Certain places make you who you are," said Shayne Skov. "There is no way I can deny that part of my life."
In working with Shayne and his team, Upper Deck wanted to look to do something different with his "Star Rookie" card set to release in mid-April found in 2014 Upper Deck Football. No, he will not be featured as a "fútbol" player on the card as it is fútbol americano Skov has come to love. Instead Upper Deck has decided to print all the text on Skov's rookie card in Spanish not only to celebrate his Mexican heritage, but to make a collectible available that will appeal to his Mexican fan base both here in the U.S.A. and in Mexico.
American collectors will likely give the card a double take when they examine it fresh from a pack of 2014 Upper Deck Football, maybe even wondering if it is some type of error card. It is our hope that it will encourage them to go online and find out more about Shayne's unique upbringing that will make him a dynamic athlete at the next level with all of Mexico behind him.
Below is an advance look at the card back of Shayne Skov's 2014 Upper Deck "Star Rookie" card: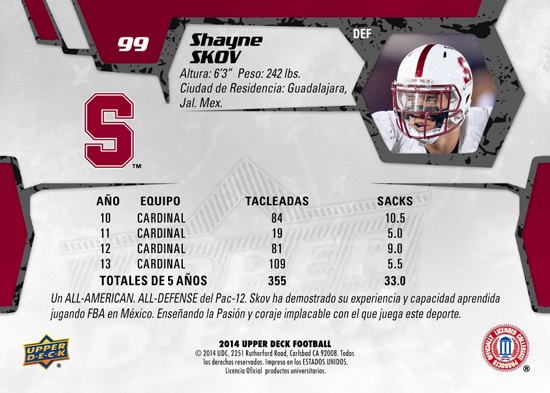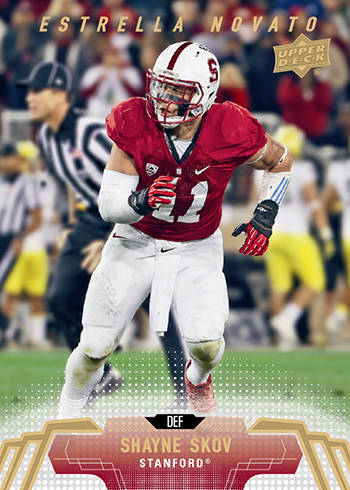 Leave a Comment