Even the Oscar Mayer Wienermobile is Wishing Upper Deck a Happy 25th Anniversary!
By
There is no doubt that Upper Deck's 25th Anniversary celebration is creating a lot of excitement with collectors, especially considering the company is offering up a $2500 shopping spree to the fan who submits the best birthday video to the company. There is an easier way to score some cool Upper Deck swag however like packs, a special 25th Anniversary promo set and Upper Deck t-shirts to join in on the birthday celebration.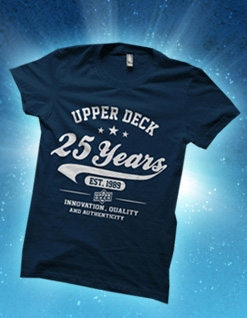 Fans just need to take to Twitter or Facebook and share some love with Upper Deck to score. This contest will run through March 4 where we invite fans to offer Happy Birthday wishes to Upper Deck on Upper Deck's Facebook timeline (www.facebook.com/UpperDeck) or Twitter feed (@UpperDeckSports) using the hashtag #UpperDeck25. Twenty-five posts will be randomly selected to receive a free limited edition 25th Anniversary t-shirt and 25 packs of assorted 2014 Upper Deck trading cards. To make it even more compelling, Upper Deck will be surprising five of the randomly selected winning entries with a signed piece of memorabilia or card product valued at $250, in addition to the limited-edition anniversary shirts and packs.
And to kick that off Upper Deck has been receiving congratulatory tweets from superstar athletes like Ernie Els and Natalie Gulbis. But one of our favorite photos and tributes came from our friends who drive the Oscar Mayer Wienermobile offering "miles of smiles" to everyone who crosses their path. Check out some of the images we scored of them as they visited Carlsbad to say, "Happy Birthday" this week! Thanks to all the fans who have made memories collecting Upper Deck over the years!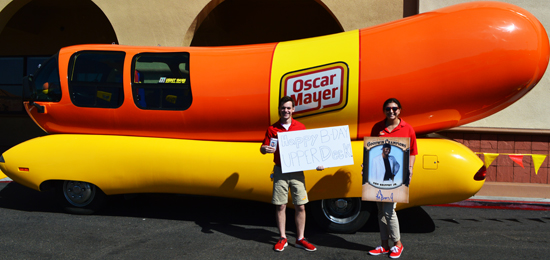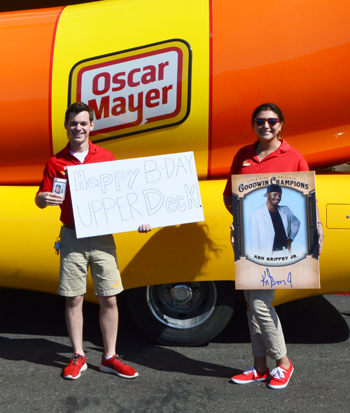 Leave a Comment