Different Strokes for Different Folks: Upper Deck Offers NHL® Fans the Perfect Variety of Hockey Card Releases!
By
One of my favorite things to do in life is travel. When I moved to Washington D.C. in 2010, I was excited because there were so many new cities within a few hours driving distance. Back home I could get in the car, drive five hours and still be in the same state. I was excited to really start exploring all of the places I had only seen on TV.
Whenever I visit a new city or state I ALWAYS follow a ritual. Once I get my bearings, find my hotel, pack some food into my gullet and then I pull out my phone to see where the nearest card shops are located. It's a lot of fun to explore new cities finding different places to enjoy the hobby. Only recently did I find my trading card Mecca close to home. Blowout Cards operates The Fantastic Store and just last week I realized it was only ten minutes away from my office. It is awesome!
A benefit of moving to the East Coast was being introduced to the NHL® and truly legitimate hockey. In Washington D.C. the Capitals have one of the highest sell-out rates for crowds in any professional sport. The atmosphere at the arena is electrifying and when stars like Alex Ovechkin and Nicklas Backstrom hit the ice the whole building seems to shake.
So now with my card shop and new found love for hockey I am ready to start putting together a stellar hockey collection, but when I see the huge assortment of Upper Deck hockey products on the shelves, I feel completely overwhelmed. How does a relatively new hockey collector like me know where to start? What does each set contain? Parallels? Jersey cards? Autographs? Fight Straps? Pucks? The gentleman behind the counter was nice enough to entertain my first 20 questions, but when I was reaching 50 questions I could tell he was ready to move on. I decided it was time for me to do some research on my own.
Below is a breakdown of what I found with a suggestion on the type of collector who might be interested in each. I was pleased to find that Upper Deck really has a variety of products for almost every collector type with a logical progression of lower-end products starting off the season, mid-range products in the meat of the year and high-end releases for playoff runs and the summer. I hope it helps educate other collectors and fans as to what they should be looking for from the products, I know I definitely found some sets I will be attacking!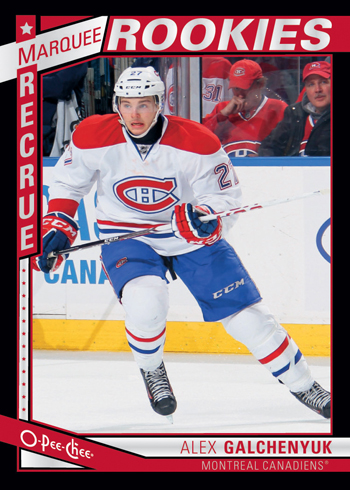 O-Pee-Chee (price point $1.99 per pack) – Continues to be one of the sharpest old-school sets on the market. This is the largest set of the year with a deep checklist and surprisingly valuable inserts. For people who are just starting out and are still trying to get their feet wet this is a great place to begin. This product is great for anyone who wants to build sets with a classic retro design, but also have the chance to pull big autographs or unique team patches.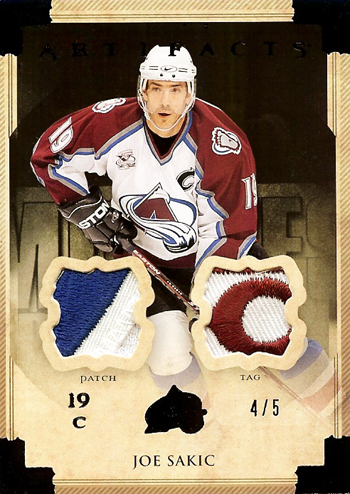 Artifacts (price point $9.99 per pack) – For seasoned collectors Artifacts is a household name. This set serves as an excellent mid-range product for puck fans, especially those who love premium memorabilia cards. Since this is one of the first products of the season for Upper Deck, a lot of people are gunning for the rookie redemption cards. I think Artifacts can be one of the best values for a collector who is looking for some quality rookie, dazzlingly memorabilia and solid autograph cards, but may not have the money to spend on the higher-end packs.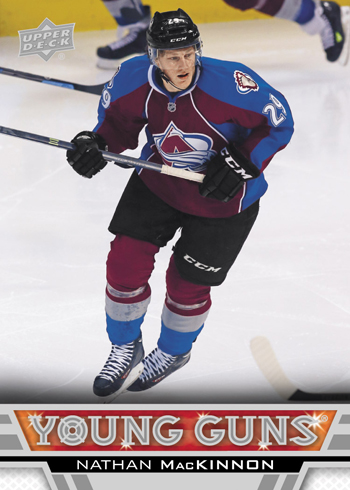 Upper Deck Series One and Two (price point $2.99 per pack) – When I was younger retro sets did not speak to me. I was after Upper Deck cards for the crisp clean look and feel. Upper Deck Series One falls into another affordable price point for young collectors, beginning collectors, set collectors and rookie collectors in particular. The base set is great, but the Young Guns seems to be the rookie line everyone is after. Even with the lower price per packs, you can get surprised with cool autograph cards or sweet game-used patch cards. One of my favorites out of these sets are the canvas cards which are sort of a set within a set including their own slate of Young Guns. This product is a great starting point for new collectors or collectors on a budget.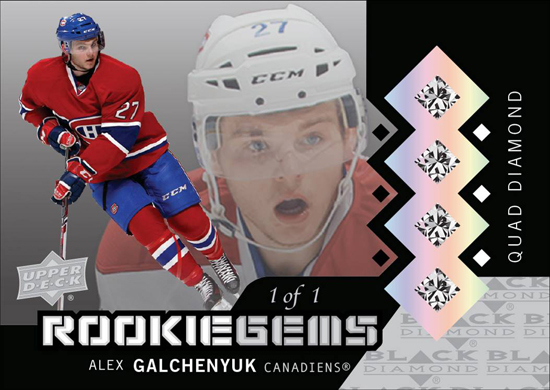 Black Diamond (price point $4.99 per pack) – This is a technology-based product with shiny insert-like base cards and rare parallels. I never really got into the Black Diamond set because the number of diamonds on a card didn't capture my imagination or interest. I must say though that this year's series has started to change my mind. The most rare and probably nicest cards are the Rookie Gems relics with actual diamonds embedded within the card. My favorite part of the Black Diamond set are the jersey cards. Each jersey card is 'puzzle cut' which means when you collect all the jersey cards for a specific team you can put them together to create the team logo. Something like this appeals to me because it adds to the fun of building the collection for something beyond your common memorabilia card. Also Upper Deck is very innovative with the Championship Rings cards done on acetate. Bonus packs contain the popular Upper Deck ICE cards with ICE Premieres rookies that command big $$$!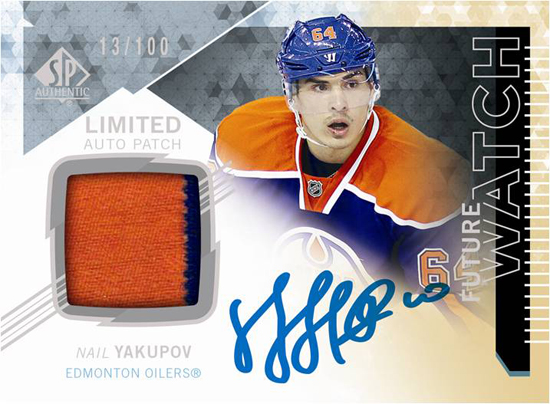 SP Authentic (price point is approximately $5.99 per pack) – The SP Authentic look is probably one of my favorite designs by Upper Deck because it is always sleek and clean. The cards themselves are a simple matte white, but the player and the script have the gloss with spot UV. You will find inserts that have more of the standard card look and feel, but I still prefer the base cards. Within SP Authentic there is a series called Future Watch for rookie collectors that have hard-signed autographs. Sign of the Times autograph cards also feature multi-signed cards which are a real thrill to pull. If you love rookies and on-card autographs, this is the set for you!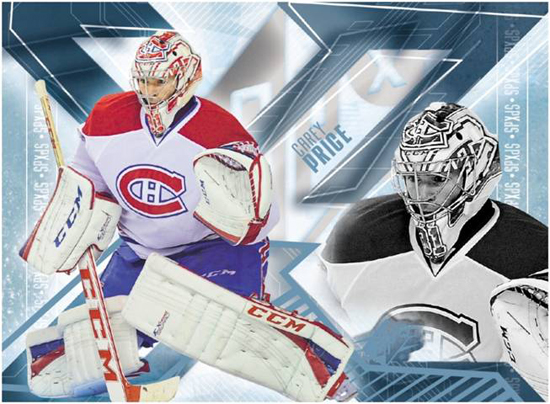 SPx (price point is approximately $8.99-$9.99 per pack) – SPx is great because the cards have such a great design each year, but you also get to enjoy a lot of autographs, jersey cards and rookie autograph jersey cards in the mix. There are a lot of different types of inserts in the set that gets collector's blood pumping. The autograph SPx Shadowbox autograph cards are really the big driver here as they are show stoppers that you have to see in person, just stunning. Like Black Diamond, fans can also find bonus packs of Upper Deck ICE as box toppers here. This set is really for technology fans, memorabilia collectors, rookie collectors and autograph fans.
WARNING: Please don't be shocked by the price of some of the next few packs. There is a reason this price point exists as there are higher-end collectors who love the chase of these premium sets. There is a lot less of these products produced and you are guaranteed to get a great insert out of every pack. These are usually for a more serious collector, but can be fun to splurge on if you are a casual collector looking to treat yourself.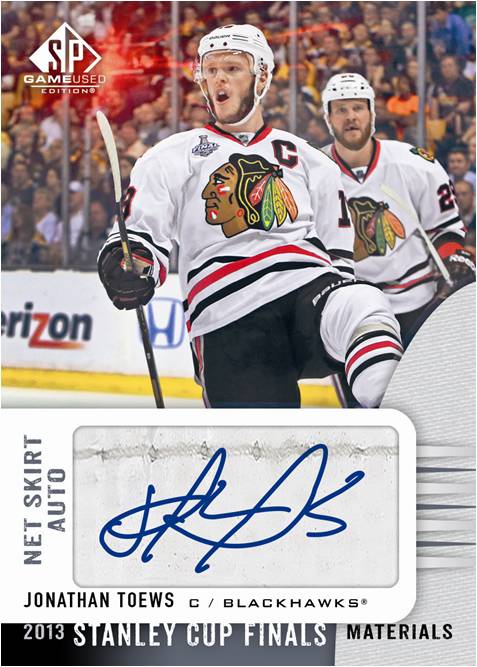 SP Game-Used (price point $24.99 per pack) – With SP Game-Used you are guaranteed a memorabilia or autograph card in EVERY pack with some including jerseys, patches, sticks, nets, pucks and more. Collectors who are regularly purchasing these hobby boxes aren't looking at building sets as much, but they are interested in the quality of a patch card or autograph. I have witnessed grown individuals trading these memorabilia cards based solely on the colors of a particular patch like kids in a playground. The Stanley Cup Finals memorabilia cards in particular have been a big draw over the last two years and are worth checking out. Draft Day Marks are a huge draw as well allowing collectors to build a set of a particular player's entire nameplate with each card autographed. WOW! This product is for fans who love memorabilia cards and cool patch cards.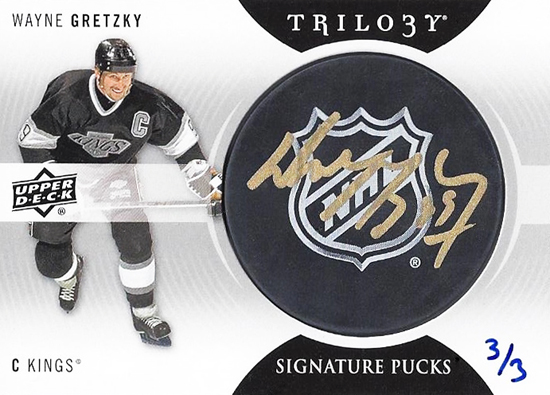 Trilogy (price point is approximately $30.00 per pack) – This is the first high-end release of the season and the packs have a three levels of autograph rookie cards (each player basically has three rookie cards with different rarity levels). This is cool because you have an excellent chance of pulling bigger names who may normally be short printed in other sets. There are also a lot of technology cards here with Crystal glass cards and Signature Puck cards which are just jaw-dropping cool. This set caters to a higher-end collector, rookie collector and technology fan.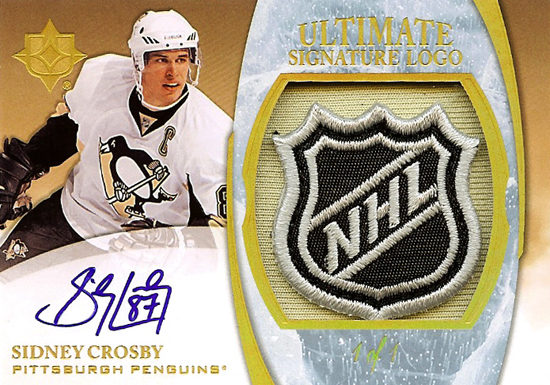 Ultimate Collection (price point is approximately $100.00 per pack) – Now we are getting serious and that is who this product is for, the serious collector who has a high level of discretionary income to go after super premium trading cards. Each Ultimate Collection pack contains a rookie card, autograph card and memorabilia card in every pack. My favorite part about this product are the hard-signed Legends autographs. There are some real high-end thrills to be had in these packs however with rare one-of-one autograph NHL® Shield cards. These are incredible!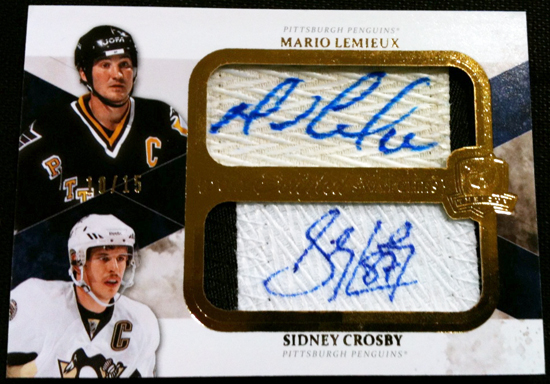 The Cup (price point starts at $450 and goes up from there) – The logo on "packs" of this product is the classic silhouette of an NHL® player holding up the Stanley Cup. I say "packs" because these are not the type of packs we grew up with, but rather a huge sealed tin the size of a lunch box. While I have never had the opportunity of opening this product, I imagine myself hoisting the box into the air and holding it as if it were my own Stanley Cup. The Cup is the creme de la creme of all NHL® trading card products. I have seen grown men carry these cards around as if they were their firstborn children. Each pack contains a variety of limited-edition, absolutely beautiful cards of top hockey rookies, stars and legends. This is usually where Upper Deck saves the lion's share of their autographs for exclusive spokesmen like Bobby Orr and Wayne Gretzky. What really sets The Cup apart is the thickness of each card, the attention paid to large memorabilia swatches with lots of color and also unique innovations like Brilliance autograph cards. This is the home of the highest-valued rookie cards with their incredible Rookie Autograph Patch subset. This set is catered to the high-end collector and this is a product 99% of collectors cannot afford, but 100% of collectors would love to experience. I have never opened a pack before, but it is on my bucket list.
From top to bottom, it doesn't matter the price, you know you can expect Upper Deck to deliver quality cards every single time for every level of collector. I have opened products from other companies that have usually left me disappointed, but Upper Deck consistently delivers the value and thrills you would hope when collecting new NHL® cards.
Logan Millard completed his MBA and lives in Washington D.C. He works in marketing and does freelance work in sports. He can be reached at logan.millard@gmail.com.
Leave a Comment