Upper Deck Makes an Awesome Donation to Operation Gratitude and Tiger Woods Adds His Support
By
Operation Gratitude is a non-profit organization dedicated to saying, "thank you," to active and retired U.S. military members throughout the world by delivering free care packages to them. The group works with a variety of companies to get donations to include in the care packages and also funds to ship them to locations all over the globe. Upper Deck has been an active supporter of the charity for a number of years now and as they embark on an impressive milestone this weekend by shipping their millionth care package.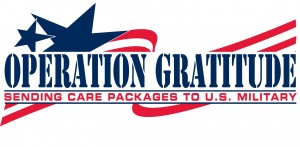 To help commemorate this accomplishment and the organization's dedication to showing appreciation for U.S. military members, Upper Deck called out some help from the company's exclusive spokesman; Tiger Woods. At a recent signing session with Upper Deck Authenticated, Tiger Woods signed an item exclusively for the millionth package recipient and added a nice personalized message to go along with it.
It reads:
Dear One Millionth Package Recipient,
Thank you for all you do to protect and defend the USA!!
All the best,
Tiger Woods
This signed memorabilia piece will be presented for the recipient during a volunteer packaging drive taking place this Saturday. To volunteer to help assemble care packages for the troops and see the presentation of the millionth package this weekend, visit this link: http://opgrat.wordpress.com/2013/10/04/celebrate-with-us-on-december-7th/
Upper Deck sent this unique collector's item to Operation Gratitude along with hundreds of sealed packs of trading cards to be inserted into care packages going to service men and women. This is just part of the company's continued effort to be viewed as the military's choice for trading cards, collectibles and games.
Leave a Comment