Tips on Making Your Bucket List Dream of Visiting Every NHL® Arena Come True!
By
fans love attending live events and many times visiting the city and various arenas is as exciting as the game. Like most sports fans, I spent much of my youth dreaming of visiting all the different venues for every franchise from my favorite sport, but unlike most fans, I actually did it a few years back. The October after I graduated high school, a buddy of mine, Dan Tsunekawa, and I loaded up my car and hit the road to watch hockey. We attended a game at every NHL arena and traveled over 20,000 miles in less than three months. It was an unforgettable time and one I hope some of you get to experience as well. The idea of an ultimate stadium tour is something on the bucket list of almost every sports fan and I wanted to share some tips with those of you who are looking to make your dream come true.
Making Time
The first step in making your ultimate stadium tour happen is finding the time. Apart from money, this is the most difficult part of the trip. If you are still young, you can do what I did and put off growing up for a couple months taking the trip right after graduation. However, many of us have already stated careers and have only two weeks of vacation to work with. Two weeks may not be enough time to visit 30 different arenas, but you don't have to see them all at once!
Meet Peter Farrell and Andrew Kulyk. Andrew is a politician for his hometown and Peter works for the U.S. Postal Service. Both have normal jobs like you and me but, by scheduling shorter trips, they have found the time to see every venue in the NFL, NHL, NBA, and MLB (Peter and Andrew's website: http://www.thesportsroadtrip.com). We met up with them during our tour at a Sabres game and it was great to hear their insight.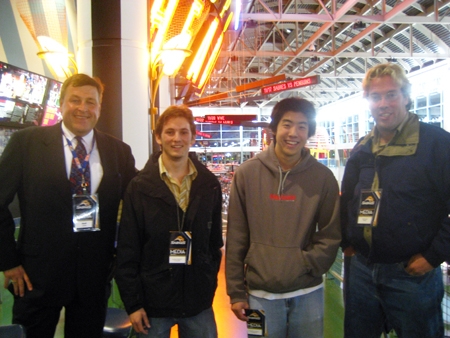 So start small. Begin with local and regional stadiums. Once you have a couple arenas checked off your list, and have gained some momentum, you will find your stadium tour dream is much more achievable then you may have previously thought.
Money
The next big obstacle to overcome is money. There is no getting around it, traveling around to see a bunch of live sporting events is going to take some serious cash; however, there are things you can do to make your dream a little more affordable.
Ask for free tickets. Look up the director of fan relations and ask them for tickets. In most cases you will be politely asked to take a hike, but sometimes struggling teams will be stoked to get another warm body in their arena. If you are doing a blog of your adventure, sometimes they will also appreciate the free advertising they get from your posts. Another good idea here is hitting up the Facebook pages for the teams asking fans for ideas and sharing your quest. You may get some season ticket holders who hook you up with tickets, tailgate parties, etc.
Learn to love the upper bowl. If you can't score free tickets, don't be ashamed to sit in the nosebleeds. The seats are cheaper and are typically filled with awesome diehard fans. It is easier on the wallet, and is often more fun.
Find cheap or free parking. A select few arenas provide free parking, but in most cases you will be charged a premium price to park close to the stadium. Instead, park a little further away for free and walk. More and more arenas are being built in suburbs and as a result have shopping centers less than a mile away with free parking. Your car will be perfectly safe in the back of a grocery store parking lot for a couple hours. And since you may not be on the best diet during this road trip, your body will appreciate the exercise.
Take public transportation. If the venue is downtown, don't even bother driving. These arenas charge the most for parking, and it's a headache getting in and out of downtown. Public transpiration will be the cheapest and easiest option in cities with downtown ballparks or arenas.
Stay with friends. If your aunt tells you she used to work with a gal that knows a guy who might let you stay at his place, don't be afraid to take advantage of that connection. I have found most of these random connections end up being great opportunities. The people I have encountered usually turn out to be some of the kindest hearted people I have ever met. And there are actually websites dedicated to helping hook up individuals on the go with a couch in different areas around the world. Crashing on a couch over a Hilton can save you a lot of money!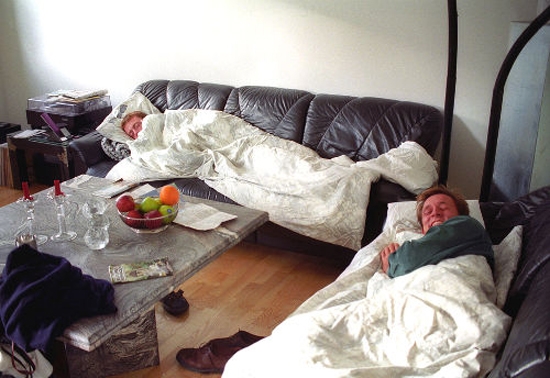 Enjoying the Experience
This is the fun part! Once you are at the game I encourage you to take the time to experience the personalities of each venue. Every stadium, ballpark or arena has its own uniqueness to it, and whether it is the fans, the history, or the architecture make sure you enjoy every bit of the experience.
Make sure you walk around. Snap a photo with Harry Caray's statue outside Wrigley Field or with Wayne Gretzky's in Edmonton. Stadiums are proud of their history and celebrate it by hanging banners in the rafters and painting murals in the halls.
Buy concessions. Let's be honest, no live sporting event is complete without a soggy hot dog and a cold beer. Some venues are even renowned for their concessions. For example, a trip to Dodger Stadium isn't complete without a Dodger Dog. So don't forget to spend a few bucks on cheap stadium food.
Another great thing to do is tell someone about your tour. Again, get in contact with the director of fan relations. Even if they don't give you free tickets, they still might be able to enhance your fan experience. They might give you a tour of the locker rooms, or put you on the jumbotron!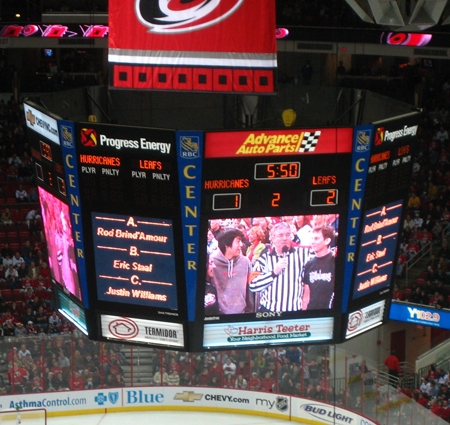 Interact with fans. There is a truly amazing camaraderie shared with every sports fan. Even if we cheer for a rival team, some good natured banter always makes the game a bit more entertaining. Just make sure you don't cross the line. Sports games are meant to be fun for everyone. Don't ruin your night as well as everyone else in your section by being a nuisance.
Cheer. My last tip/ suggesting it to make sure you cheer at the event. Games are so much more fun when we are somewhat invested in the outcome. There is nothing like chanting with rowdy fans in the hallway after the home team wins!
I hope that helps! Do you have any tips you think I may have missed? Please share in the comments section below. Otherwise, get out there and enjoy the game!
Leave a Comment