Hockey Shops Prepare for Tremendous Demand for NHL Double Rookie Class as 2013-14 Upper Deck Series One Hockey Arrives in Stores
By
With the abbreviated 2012-13 NHL season in the books, many trading card collectors and hockey fans alike have been eagerly anticipating the start of the 2013-14 season. Fans were not only excited to get a full season underway, but also because it gave the trading card world the unique position of offering a Double Rookie Class to NHL collectors.
And today is the day hockey fans can get their first opportunity to experience opening Upper Deck's flagship NHL brand and pull "Young Guns" rookie cards featuring the best rookies over the last two years. Since rookie cards are a huge driver for NHL trading card sales, demand for the product both from consumers and dealers has far exceeded expectations and shops are reporting record setting numbers for 2013-14 NHL Upper Deck Series One already.
Here is what some dealers are saying about the release and Upper Deck's NHL Double Rookie Class:
"Interest in this product has been amazing," said Moe Amerey, owner of West's Sports Cards in Edmonton, Alberta. "Fans have been waiting for the release of this product for months and after the checklist was released for the Young Guns rookie cards, this has been all any of our customers have been talking about. I had to increase my orders drastically to meet the demand."
"A lot of collectors we have spoken to are comparing this to the 2005-06 season which was the last time the industry saw a double rookie class event," said Chuck Durka, owner of Breakaway Sports Cards in Hamilton, Ontario. "That was the season we saw amazing rookie cards of future stars like Sidney Crosby and Alexander Ovechkin. Collectors know the 2013-14 NHL Upper Deck Series One release is loaded with two season's worth of rookies jammed into one product. This is the product hockey fans have been waiting for ever since the NHL lockout ended in January. The buzz in the store and on social media has been enormous."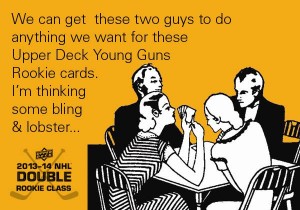 "Collectors can't wait for the new Young Guns cards to arrive," said Darren Pawlyk, owner of Maple Leaf Sports in Calgary, Alberta. "In fact, a few of my regular box buyers have said they are going to splurge on an entire case for the first time. With the dual rookie class this is a no-brainer. Series One is absolutely loaded with some of the top young stars of the game."
"I've always said that hockey card season doesn't officially start until Upper Deck Series 1 is released, this year doesn't appear to be any different," said David Moore, owner of Cardboard Memories in Brampton, Ontario. "Upper Deck Series 1 is the STANDARD for hockey card collectors. There always is lots of interest in this product every year regardless of the checklist, but since the checklist was released the phone has been ringing and the emails have been coming in. The 2013-14 product represents a double rookie year and the checklist for this product is so strong and balanced that we may never see another one like it for years to come."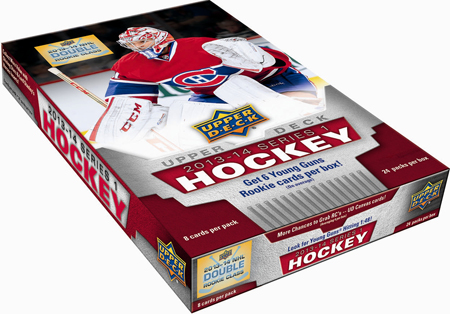 "Of course the card that everyone is looking for this year is Nathan McKinnon, but there are a number of sought after Young Guns including Morgan Rielly, Alex Galchenyuk, Dougie Hamilton and Tomas Hertl among others," said Jeff MacDougall at 401 Games in Toronto, Ontario. "My customers like the Young Guns set because it has been consistent in collectability and value over the years. Additionally, it is quite conceivable for collectors of all types to try and complete the full Young Guns set. Because of the double rookie class, this is a great time to be collecting Hockey cards! Not since the 05-06 year have we had a rookie crop this stacked!"
Upper Deck was prepared for heightened demand for this release, but the demand has been so significant that earlier this week the company announced a sell out on 2013-14 NHL Upper Deck Series One. The product is truly a collectible that hockey fans everywhere will be looking to collect for years to come. Order a box today!
Leave a Comment