Upper Deck Answers Questions About the Highly Anticipated Release of 2012-13 NHL The Cup!
By
Recently Upper Deck went out with the solicitation for 2012-13 NHL The Cup and while many fans were fired up to hear the product would be back for the eighth consecutive year, there were a lot of assumptions made about the product on with collectors. Upper Deck wanted to share some responses to questions we had seen from consumers on message boards on what they can expect from the groundbreaking brand that has redefined the premium category for NHL trading cards.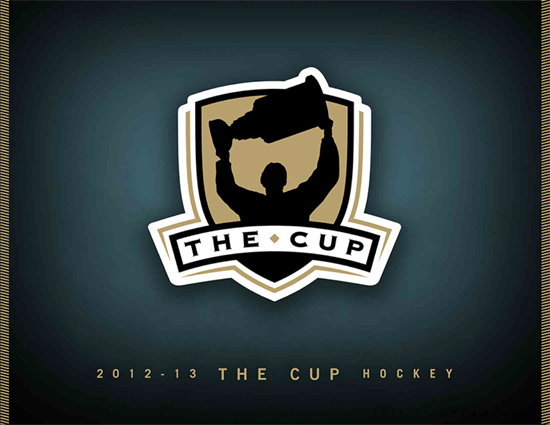 ASSUMPTION: Nobody knows when this product is going to come out.
ACTUALITY: The current release date is scheduled for 10/22/2013 and Upper Deck has done a lot to secure signature content from the most valuable veteran and legendary talent in the NHL for this release like Joe Sakic, Jaromir Jagr, Ray Bourque, Jarome Iginla, Bobby Orr, Mario Lemieux, Alexander Ovechkin, Mark Messier, Jonathan Toews, Brett Hull, Mike Modano and more! This week we will have a signing session with Wayne Gretzky to secure his autograph content and other big names are in house or have scheduled signings very soon.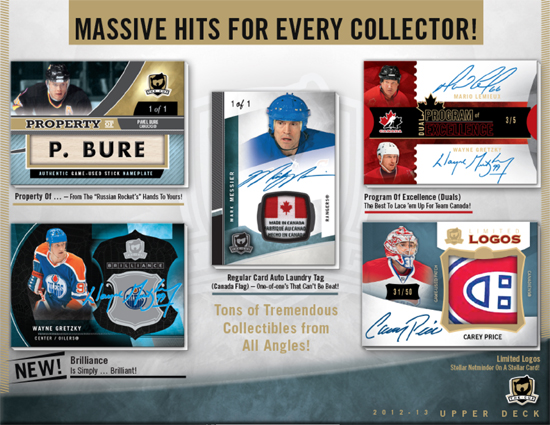 ASSUMPTION: The Cup will be $600 per tin this year.
ACTUALITY: Though Upper Deck does not ultimately determine what tins will sell for on the secondary market, the wholesale price for tins of this year's release will remain the same as what we sold tins of 2011-12 NHL The Cup to distributors and dealers.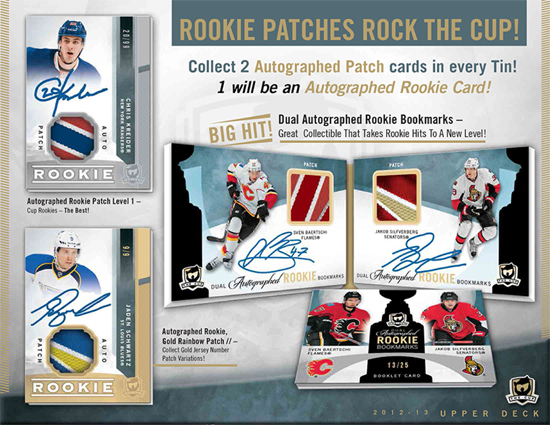 ASSUMPTION: All of the Cup Rookies will be numbered to 99.
ACTUALITY: There are 39 players featured with Rookie Auto Patch cards in this year's release of The Cup. Of those, 36 are #'d to 249 per and only three (Chris Kreider, Sven Baerstchi and Jaden Schwartz) are #'d to 99. The decision to limit the number of Rookies #'d to 99 was made to avoid weakening the historic context of key rookies being "honored" with this key print run in The Cup.
ASSUMPTION: Limited Logos are now serial #'d as high as 75 copies per card.
ACTUALITY: This was a snafu with the mock up image. Limited Logos will not exceed more than 50 serial #'d copies per card for any single subject. Of note, a handful of short-prints #'d of 10 or 25 will be in the set due to limits on the inventory of patch available in our inventory.
ASSUMPTION: The new Autographed Monumental Patch Booklets might feature manufactured patches.
ACTUALITY: All of the veteran cards are 1-of-1's and feature game-worn jersey patches. All of the Rookie cards are #'d of 3 copies per and feature patches derived from jerseys worn by the rookies at the annual NHLPA Rookie Photo Shoot event. Of note, all of the patches are cut in a puzzle-like fashion to be displayed as one massive patch when the booklet is opened.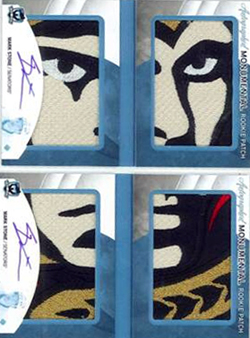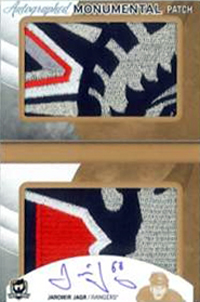 ASSUMPTION: The Rookie Evolution Booklets are #'d to 99 (meaning last year's cards MUST have had a print run of 99 copies per too).
ACTUALITY: The image of the Jake Allen Rookie Evolution card on the solicitation slides was a mock-up. The serial #ing was erroneously placed on the card by a designer. Similar to the Rookie Evolution cards issued in 2011-12 NHL The Cup, this new wave of cards (limited to just four subjects in Chris Kreider, Jaden Schwartz, Jussi Rynnas and Jake Allen) will NOT be serial #'d in any manner. Additionally, there are far, far fewer than 99 copies of each of these cards produced. On average a 2012-13 Rookie Evolution redemption card will be seeded at a rate of about one in every 30 tins.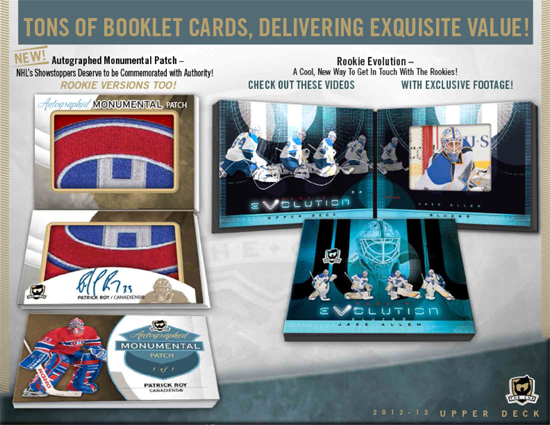 ASSUMPTION: Each tin will feature two base set cards.
ACTUALITY: The solicitation sheet was deliberately conservative regarding the volume of base set cards seeded into packs. In actuality, each tin will have one base set card and most tins will have an additional auto or memorabilia card as the 6th card (though a limited number might actually have two base cards).
ASSUMPTION: Autograph content will be more veteran-based this year.
ACTUALITY: That's correct, but not just veterans, legends. Given the lack of 2012-13 rookie content (both in number of rookies available and impact of the rookie class in the NHL and collecting circles), we made a conscientious effort to incorporate significant veteran signers including superstars that have never signed Cup cards (or haven't signed in many years) like Peter Forsberg, Pavel Bure, Theo Fleury and Mats Sundin.
ASSUMPTION: The Cup will have a significantly smaller print run than past years.
ACTUALITY: That's correct, it will be, by far, the most limited version of the set we've made since the inception of the product. This is one of the reasons there have been some concerns about the price. Dealers are worried because it is VERY limited and could be difficult to acquire in great quantities.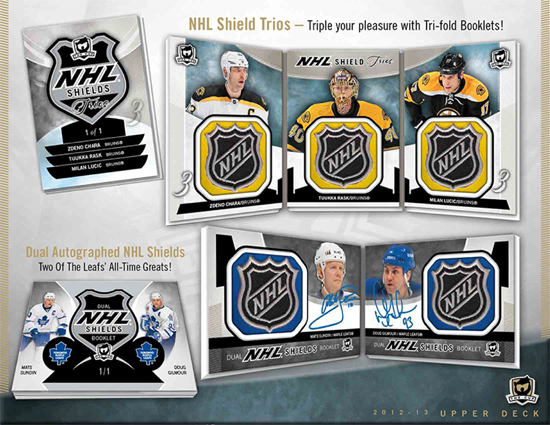 ASSUMPTION: A variety on long-standing inserts like Emblems of Endorsement, Enshrinements and Scripted Swatches will not be part of the content mix this year.
ACTUALITY: All of these popular inserts will be included in the product. They simply were not specifically called out on the solicitation slides.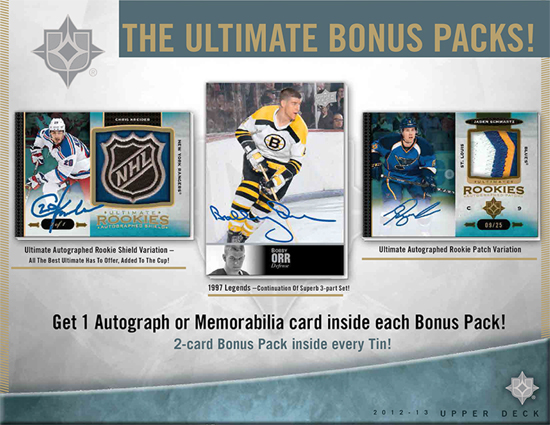 ASSUMPTION: The Ultimate Collection bonus packs will be filled with "one dollar jersey cards."
ACTUALITY: Each Ultimate Collection bonus pack will feature one base card and one "hit." All of the Ultimate Collection "hits" are limited to autograph cards or patch cards and that is it. No basic jersey inserts were produced. Among the "hits," look for 1-of-1 Rookie Autograph Shields, all-new Signature Masterpieces art cards signed in gold paint pen and the second installation of 1997 Legends Signatures including Wayne Gretzky (featured as a member of the Los Angeles Kings), Bobby Orr and Mario Lemieux.
Leave a Comment