Upper Deck Surprises Employees with Special Trading Cards
By
Chris Carlin
It has been an exciting time at Upper Deck lately. The company recently announced deals with Team Canada and players like Andrew Luck and Wayne Gretzky. And fans are now getting to experience the start of Upper Deck's NHL Double Rookie Class season with products in stores now that are creating a lot of buzz.
This week Upper Deck's President, Jason Masherah, held a company meeting to recognize many employees for their significant accomplishments with the company. In this quarter alone, 16 employees were honored for achieving significant milestones in years of dedicated service to Upper Deck. Out of those 16, over half celebrated 15 or 20-year service awards. The industry has certainly changed a lot since many of those employees first started with Upper Deck, but one thing that has not changed is the commitment by these employees to continually bring collectors the best in terms of trading cards and premium memorabilia.
And then Masherah shared another exciting surprise with each employee. As a thank you for all of their hard work and dedication to the company, the executive team had secretly created a special series of unique Upper Deck employee cards. Employees received a selection of these cards this week and now have the tough decision of whether to keep the cards or sell them.
Many of the employees do plan on keeping them. I know I'm excited to share what I received with my boys when they get older so they get a nice feel for what daddy does. Hopefully they will think they are as cool as I do. Collectors may be able to snatch some of these up however from a few other employees who decide to sell them through online auction sites like eBay.
For those curious about the cards, here is a breakdown on the card set:
Precious Metal Gems Pink
Hulk Hogan (E-HH)
Mike Tyson (E-MT)
Oscar De La Hoya (E-OH)
Rory McIlroy (E-RM)
Tiger Woods (E-TW)
Michael Phelps (E-MP)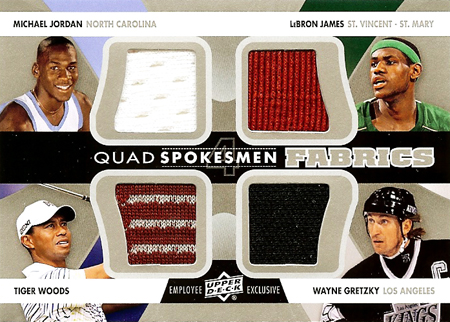 Quad Spokesman Fabrics – Employee Exclusive
Michael Jordan/LeBron James/Tiger Woods/Wayne Gretzky
Leave a Comment