Upper Deck Mail Days: Redemption Team is Making Big Strides Lowering the Number of Outstanding Cards
By
Pulling a redemption card can be exciting as you know you will be receiving something special from Upper Deck, but it can also be frustrating as you also know you'll have to wait for it. Upper Deck's Athlete Relations and Redemption teams have been working overtime however to track down athletes and get packages out to collectors.
Their efforts result in something almost every collector looks forward to; an Upper Deck Mail Day! There will be a lot of collectors with smiling faces over the next few weeks as Upper Deck receives in, packages and ships tens of thousands of redemption cards out.
The biggest program the redemption team has moved through as of late was shipping out all the 2012-13 NHL Artifacts draft pick redemption cards and all the autograph versions we currently have in house. Collectors should be aware of a small uncorrected numbering error on the physical cards being sent for the autograph versions.
| | | |
| --- | --- | --- |
| Redemption Card # | Name | Physical Card # |
| I | Nail Yakupov | XV |
| II | Alex Galchenyuk | I |
| III | Jonathan Huberdeau | XI |
| IV | Brendan Gallagher | III |
| V | Cory Conacher | V |
| VI | Damien Brunner | VI |
| VII | Justin Schultz | XII |
| VIII | Vladimir Tarasenko | XVIII |
| IX | Mikael Granlund | XIII |
| X | Mikhail Grigorenko | XIV |
| XI | Nathan Beaulieu | XVI |
| XII | Charlie Coyle | IV |
| XIII | Dougie Hamilton | VII |
| XIV | Filip Forsberg | IX |
| XV | Beau Bennett | II |
| XVI | J.T. Miller | X |
| XVII | Tyler Toffoli | XVIII |
| XVIII | Emerson Etem | VIII |
And now the team is moving on to some higher-end redemptions as we recently received in and are shipping cards from Sidney Crosby and Alex Ovechkin for hockey along with some Aaron Rodgers cards for football.
Other cool items that have recently come in that are shipping out now are the 2013 Goodwin Champions Museum Collection pieces and the "It Came From Space" meteorite insert cards.
Next up for the redemption team is shipping out the "Trade Upper Deck" cards for 2012-13 NHL Upper Deck Series One. These are currently being packaged and shipped. There were three different cards you could pull from that product in Nail Yakupov (TC-1), Jonathan Huberdeau (TC-2) and Alex Galchenyuk (TC-3). Check them out below: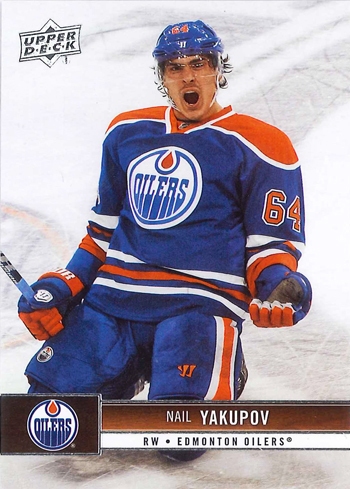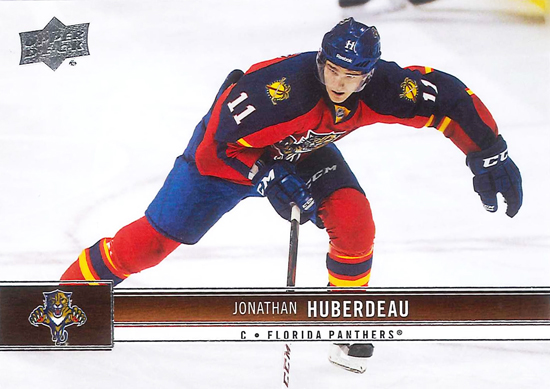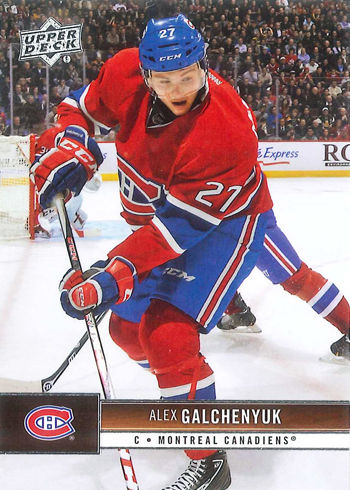 Upper Deck's Athlete Relations team is still pushing away to track down some signers fans have been asking about like P.K. Subban, Claude Giroux, Dale Hawerchuk, Eric Lindros, Evgeni Malkin, Bernard Pierce and Ernie Els in particular so we appreciate your patience while we work to get those signing sessions scheduled. And we anticipate the 2013 Goodwin Champions Elements cards should be completed in the coming weeks as well and those are going to be awesome! Thanks to all our fans for your patience with this process and rest assured your Upper Deck Mail Day is coming soon!
Leave a Comment