The Trent Richardson Trade May Prove that Collecting College Football is Safer than Collecting the Pros
By
Even though there were experts making the case that the Trent Richardson trade from the Cleveland Browns to the Indianapolis Colts makes sense, everyone in Cleveland was left scratching their heads. Actually, it was a little worse than that. Some fans in Cleveland had full-fledged meltdowns and took to Twitter to express their frustration over the loss of such a key component to the team. Here are just some of the comments (not using profanity) I saw from frustrated Cleveland fans:
"It's like Art Modell is reaching down and giving Cleveland fans a noogie."
"It really cannot be harder than being a fan of the Browns. Trent Richardson will probably win a Super Bowl with the Colts."
"I'd love to hear why you traded Trent Richardson! You make it difficult to be a fan!"
"On the plus side, I have my Sundays back as I no longer need to watch the Browns."
"Browns you need to refund every fan in Cleveland who purchased a Trent Richardson jersey. Every last one."
"I hate being a Cleveland Browns fan."
Even outspoken Cleveland Cavaliers owner Dan Gilbert offered a frustrating tweet saying, "What motivates @Browns to trade promising 2012 3rd pick for likely 23rd-27th pick? What am I missing?"
The interesting thing here is that Trent Richardson comes out of this just fine, he didn't do anything wrong. But what does it do for his collectibles? Obviously we know there will be a fire sale on his Cleveland Browns jerseys, even the autographed versions. A Colts fan is not going to want to hang that on their wall.
And if all of a sudden there is no interest in his Cleveland Brown memorabilia, wouldn't that extend to trading cards? Almost immediately after news of the trade came down, collectors began posting Cleveland Browns cards of Trent Richardson to eBay in an attempt to get something for them while they can. Bids are not exactly flying in. So many will keep them and hope Richardson has a nice career and people come back to these Cleveland cards in the future.
Indianapolis Colts fans have a choice however in which rookie cards of Richardson they can collect. It is hard to argue that they would prefer a rookie card of him showing off his skills in college that made him a two-time BCS National Champion over a rookie card of him playing with another NFL franchise.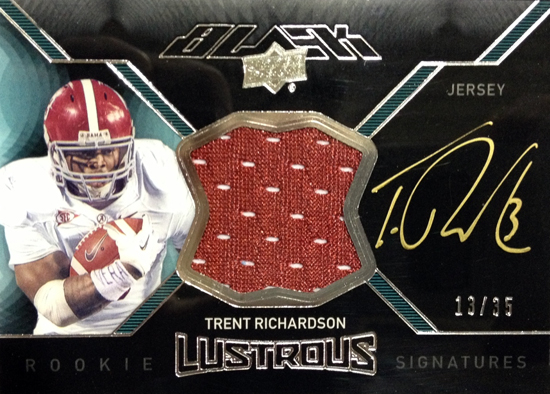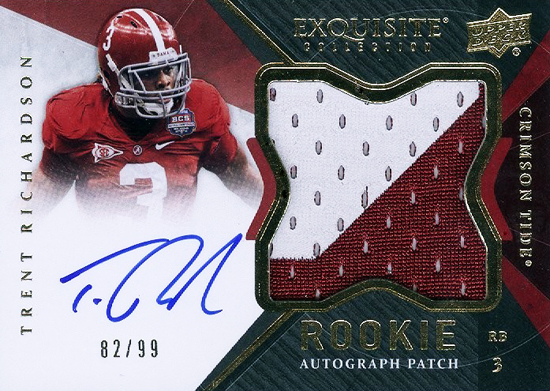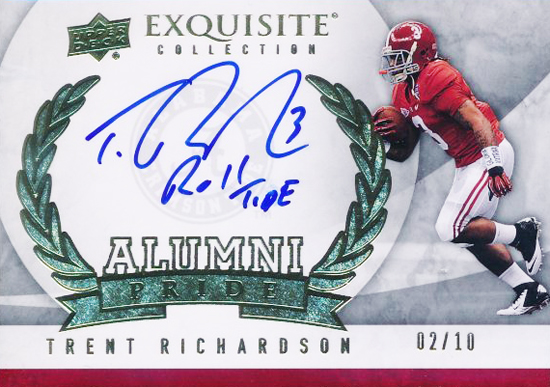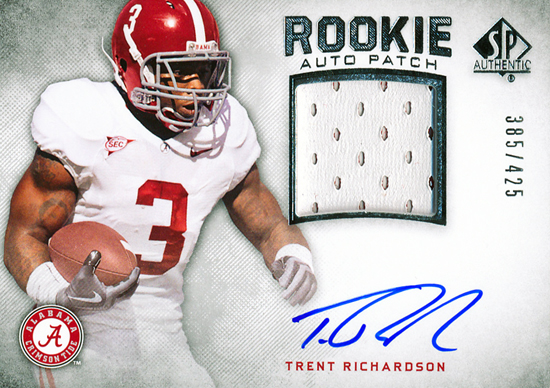 And that is one of the frustrating things about professional football. It is very rare you have a big name player stay with their team forever these days. Look at what happened with Brett Favre, Peyton Manning and Drew Brees. One of the things that makes college football so special is that these players will likely move on to play with a multitude of teams in the professional ranks, but the vast majority only play for one college.
Upper Deck is proud to be the only trading card manufacturer who can bring fans trading cards of all their college favorites knowing that is doesn't matter how many teams they play for in the NFL, they will always have that attachment to their alma mater. In the world of collecting football cards it is all about the rookie card of a particular player. It makes sense to believe the rookie cards featuring Trent Richardson with the University of Alabama are going to be in higher demand than cards featuring him with the Cleveland Browns at least for the foreseeable future.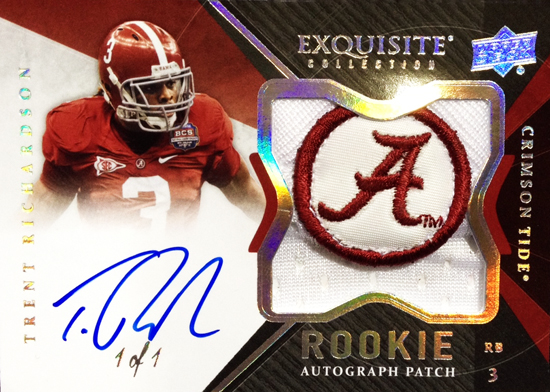 Leave a Comment