Josh Swade Shares his Excitement for Upper Deck's New University of Kansas Basketball Trading Card Set!
By
I'll never forget coming home from college frantically looking for my old baseball card collection. My plan was to sell them, hoping it would get me out of debt or at the very least get me through the weekend. But it was nowhere to be found. I blamed my mom for throwing them away. She blamed me for not putting them somewhere safe. And such is the vicious cycle that finds adult men and their mothers arguing over the whereabouts of baseball card collections.
But I know that my mom really isn't to blame. The truth of the matter is I was a much bigger basketball fan growing up, specifically a Kansas Jayhawk fan. If there had been the Honus Wagner equivalent in KU basketball, like a James Naismith for example, you better believe I'd still have my collection, and still be on the hunt for more.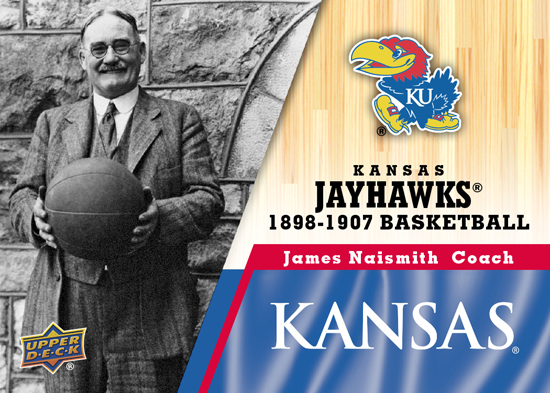 That brings me to the news that Upper Deck is creating a Kansas Basketball card set. Can I just take a moment to say… Finally!!! As someone who loves Jayhawk history and tradition, this is bittersweet.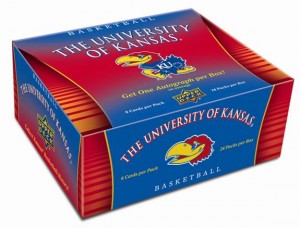 Now I can have that James Naismith card I always wanted. Not to mention a Phog Allen one. Or I can get them both together in a legacy duo card. Or how about three coaching legends in one card with Larry Brown, Roy Williams and Bill Self?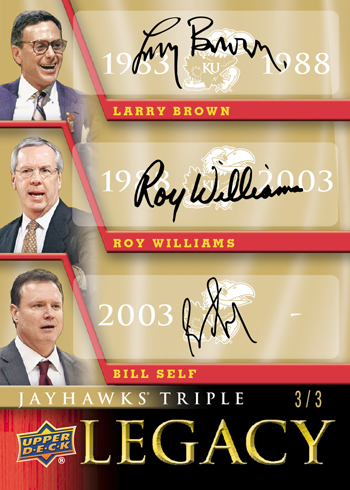 So many legendary players have donned the Kansas jersey and now I can have their cards as well, like Clyde Lovellette, still the only player to lead the nation in scoring and win an NCAA title in the same year or Danny Manning who led the "Miracles" to the 1988 National Championship and of course Wilt "The Big Dipper" Chamberlain, one of the greatest players in the history of the game.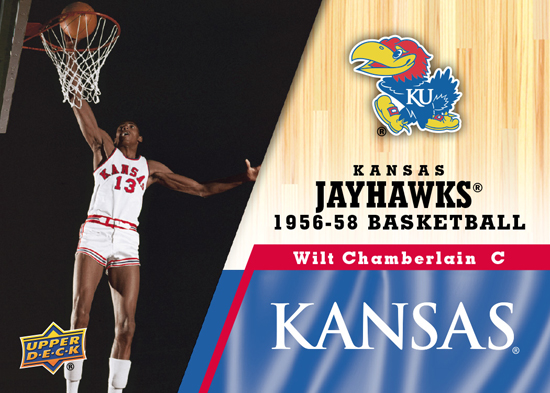 There is even a card that features the Original Rules of Basketball, something I know a little bit about.
In all of basketball, there is not another team, professional or collegiate, that can provide such a wealth of names from basketball history as KU. So kudos to Upper Deck for recognizing that and for creating this freakin' awesome set. I'm resigned to the fact that I'll probably never find my baseball card collection, but now I have a plethora of Jayhawk Basketball cards and for me, that is even better.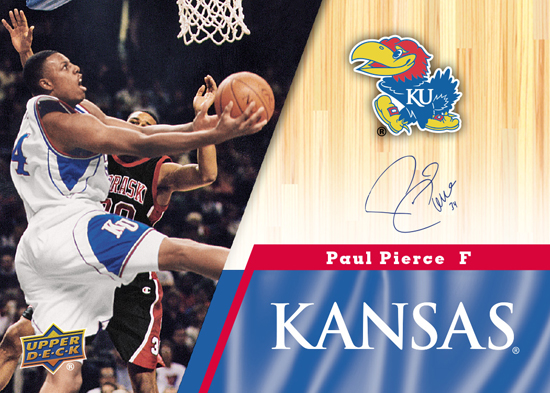 Josh Swade is a die-hard Kansas Jayhawk fan, star of the ESPN 30 for 30 film, "There's No Place Like Home," and author of "The Holy Grail of Hoops." He successfully assisted in recovering James Naismith's original rules of basketball and returned them to Kansas University. You can find him on Twitter @JoshSwade.
Leave a Comment