Upper Deck Dominated the 2013 National Sports Collectors Convention
By
Never have I seen so many appreciative fans come by Upper Deck's corporate booth on Sunday of the National Sports Collectors Convention to say, "Thank you." But then again, never has Upper Deck, or perhaps any manufacturer, made such a concerted effort to engage collectors so thoroughly at this annual show. Upper Deck's president Jason Masherah challenged the team attending to go all out to make sure our worldwide fans know that not only are we the most innovative trading card manufacturer, but we bring that innovation and excitement to activities at the show as well. The team came through with flying colors by providing thousands of collectors with an incredibly memorable experience.
It all began by making news honoring John Makowiec, the founder of Cards2Kids Charity with his very own "Heroic Inspirations" trading card. Upper Deck also provided the charity with space at the company's corporate booth and over the weekend the received in tens of thousands of cards from generous collectors. All these will go to good use as they are repackaged and distributed to deserving kids through charity organizations.
It was important to us to let collectors know they are important to the company and we care about them. To do that we put together a variety of interactive activities that everyone at the show thoroughly enjoyed. And because of that the Upper Deck booth was constantly buzzing with activity.
First up was the Fleer Retro case breaker promotion where we came up with 25 awesome prizes for customers interested in breaking a full case of the most recent Fleer Retro brands for basketball, hockey and football. Little did we know the promotion would be so popular that 25 customers would break cases at the Upper Deck booth Wednesday night effectively selling out the promotion. We scrambled that night to come up with more prizing and were able to deliver 16 more prizes to extend the program, but again, fans flocked to it and another 16 cases were busted before noon on Thursday. Not only did collectors love their pulls from the product, they also appreciated the opportunity to own some additional cool promotional items from top Upper Deck athletes.
The biggest event for Upper Deck at the show however was the daily wrapper redemption program which allowed collectors of every level to walk away with a special set Upper Deck created specifically for the National Sports Collectors Convention just by purchasing a few packs. Unlike some manufacturers who cut costs by not printing very many of their sets, causing them to look at bringing on security to deal with the collectors upset with the experience, Upper Deck planned ahead by producing enough packs to meet the demand and have them available for several hours each day before selling out. Upper Deck also improved the experience by having two fulfillment stations which expedited the process and reduced wait times for our fans.
And to top that off, Upper Deck also loaded these packs with random autograph cards from the biggest players in baseball, basketball, hockey and golf. There were several times over the weekend where collector's hands were shaking after they pulled a rare autograph card from a top Upper Deck spokesman from packs. It was just awesome!
A major initiative for Upper Deck was to continue our efforts in running marketing activities at the booth geared towards kids. Each day we hosted a decoy toss tournament with kids that they really enjoyed. The friendly competition had big crowds of kids gathered either participating or rooting on their favorite players. They loved being able to win a variety of Upper Deck packs and prizes as well!
One of the best kids programs we ran at the National Sports Collectors Convention was the "Draw Your Own Trading Card Station" where we provided kids with markers and blank cards to create their own original Upper Deck trading cards. The program was such a success that we donated the table to a Chicago area hobby shop so they could continue engaging youth with this fun activity all year long. Since they are the future of this hobby, it is the responsibility of every trading card manufacture to work to earn their future business by engaging them now.
Upper Deck recently launched a Notre Dame Football product so given the fact the show took place in such close proximity to South Bend, Indiana, it was important we run some Notre Dame oriented promotions there. And what better way to do that than to give everyone a free pack? Sports fans in attendance were offered a free pack of Notre Dame football cards and then we ran a pack war event where we asked questions about the cards and those who had the cards the question involved won prizes. The top four advanced to a Notre Dame cornhole toss tournament where young, old and everyone in between had fun competing for ND themed prizes.
One of the more unique events of the week was Upper Deck's "Signature Challenge" event where we put collectors through the paces of what it is like for professional athletes to provide us with hard-signed autograph cards. Five competitors were given a limited time frame to sign 25 blank cards, but what they were not told is that each signature would be judged and cards with ink smearing, skipped signatures or inconsistent autographs would be disqualified. This is something we actually do with athletes we work with. The winner was the person who provided us with the most quality autographs in that time period. It was an eye opening and fun experience for collectors that drew big crowds each day.
The most popular event of the weekend however was the free daily raffles where we gave away hundreds of prizes to collectors in attendance over the weekend. Up for grabs were cool collectibles like signed pucks, baseballs, trading cards, sealed boxes and much more. These giveaways provided fans with a lot of excitement and were a really good way to say thank you to everyone in attendance for their support of Upper Deck.
It can be frustrating for collectors who purchase older Upper Deck sealed wax to pull an expired redemption card. We have shared before why redemption cards cannot be honored forever, but we have done our due diligence to provide collectors with a fun option should they pull one of these expired offers through UD's Expired Redemption Raffle. Collectors do not need to be at the show to participate, but many where. For those not in attendance who had their names drawn, you can expect an UD mail day in the coming weeks. See how it went down:
Upper Deck works with some of the most notable athletes on the planet exclusively through Upper Deck Authenticated and we brought out an awesome assortment of signed memorabilia to the show for sports fans to peruse. With a variety of show specials, they sold quickly and many fans were thrilled to have a bevy of new items to decorate their man caves with.
One of the more unique events of the weekend was Upper Deck's "What's the Big Idea?" promotion. As we embark on the company's 25th anniversary in 2014, we wanted to solicit fans at the biggest trade show of the year for what they would like to see from Upper Deck over our next 25 years of operation. Up for grabs was a LeBron James autograph poster for the top idea, but more importantly perhaps, two passes for the top two collectors to Upper Deck's Diamond Club Reception on Saturday. The top two idea men made their pitch to attendees at that Saturday event and they voted on their favorite. When it was all said and done, Michael Markovich bested them all with his idea of city-themed autograph cards using athletes from a variety of sports. We'll see if something like that makes it into a new Upper Deck set.
And speaking of the Diamond Club Reception, those who earned a pass to this event have been talking about it almost non-stop since it ended. Guests were treated to outstanding food and drink at Gibson's Steakhouse while they got the opportunity to get to know some of the biggest collectors in the industry. Instead of shelling out big bucks to bring in athletes who guests may get a couple minutes with, we invested rather in some incredibly compelling collectibles that these VIP's could have forever. Awesome items were handed out in a steady fashion for almost 2½ hours leading up to the Main Event Raffle for 25 incredible items that everyone in the room was drooling over.
And then there were the surprises where Upper Deck continued to look for ways to let collectors know how much we appreciate them. Like creating a special blow-up card for one of Robert Griffin III's biggest fans; Sergio Dubois.
We also surprised this youngster wearing a Chicago Blackhawks shirt with a FREE Upper Deck Stanley Cup Box Set! Both he and his father were thrilled.
Or on the last day of the show where we surprised fans with an announcement that we would take every collector who was interested over for free ice cream because let's face it, nothing is cooler than collecting Upper Deck.
But what about those fans that couldn't make it out to the biggest sports collectibles show of the year? How can we let them know we value and appreciate them? Well, for starters we brought back some complete sets of the wrapper redemption sets to use with fans around the world who missed the National. For your chance to score one of these complete 20-card sets for FREE, we are going to have a skills-based giveaway open to fans that provide us with their best big idea on what innovative new trading card sets they would like to see Upper Deck produce over our next 25 years. Your idea much be at least three sentences long, but no longer than 12 sentences. You should make it about what innovation you would like to see UD bring to trading cards rather than things already on our radar like licensing acquisition or reducing redemptions in products. Make sure to include your shipping information and you can email your big idea here. The top ten ideas will be selected on Monday, August 12, 2013 to receive a special UD National Sports Collectors Convention set.
Additionally, we will be making some of the more premium items from the show available to the Upper Deck Volunteer Alliance. This organization is free to join and members are given missions throughout the year they are not obligated to participate in. Those who do participate however are eligible to earn mail days with exciting trading cards and collectibles found inside. Here are more details on how you can join the Upper Deck Volunteer Alliance.
Thanks again to all the fans who joined UD at the 2013 National Sports Collectors Convention. We look forward to seeing many of you again at the 2014 show in Cleveland, Ohio!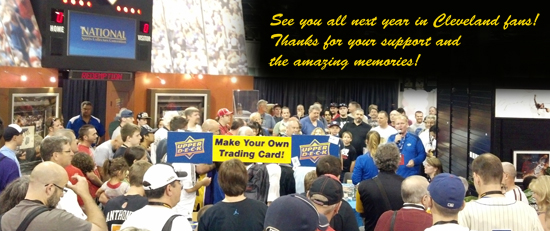 Leave a Comment