Collectors Went Crazy for Fleer Retro Products at the National Sports Collectors Convention
By
Jodi Wasserman
Upper Deck offered a special case breaker promotion at the 2013 National Sports Collectors Convention where those collectors who opened a sealed case of 2012-13 NHL Fleer Retro, 2012 Fleer Retro Football and 2012-13 Fleer Retro Basketball could score sets of the company's wrapper redemption packs and a special bonus item.
And with items up for grabs like LeBron James promotional posters, blow-up tickets signed by the every 1st round pick from the 2013 NHL Draft and five Michael Jordan autograph cards, there was a huge line of fans eager to take part in the program right off the bat. In fact the promotion was so successful that it sold out on just day two of the National Sports Collectors Convention.
But it wasn't just the bonus items that had these serious case breakers excited. There were a variety of amazing pulls that had collector's hands shaking and others taking notice. From Precious Metal Gems cards to sweet autographs, Fleer Retro really got the show going. A few collectors I saw opening cases of the products said, "This product just takes you back to a time when the cool inserts were the big draw, before game-used and autograph cards."
What makes this even more interesting is that when Upper Deck purchased the Fleer name, the company did not acquire any data on how these innovative insert cards were made. Upper Deck actually purchased many of these original Fleer insert cards, reverse engineered them in order to bring them back to life and providing collectors with a variety of beloved insert card sets from the past.
The Precious Metal Gems cards and Fleer E/X Essential Credential pink cards were big draws for collectors who were thrilled when they found them for boxes.
There were some amazing autograph pulls as well like this Bart Starr insert and Robert Griffin III autograph card.
And then of course there was this magic moment when Michael Billing pulled something incredible with this Michael Jordan one-of-one Flair Showcase Masterpiece card. WOW!!!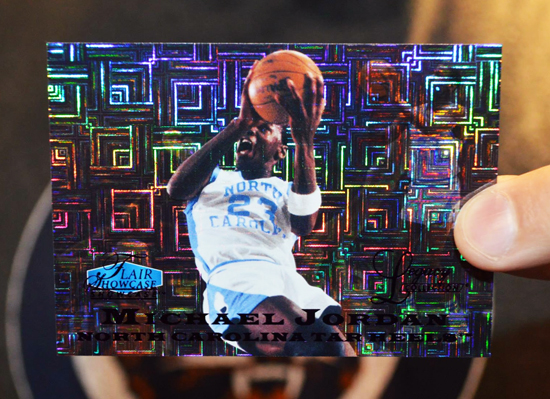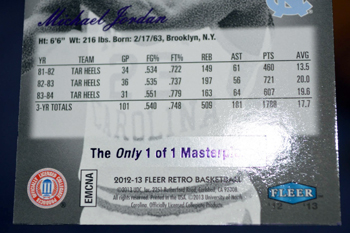 Without a doubt though the thing these fans appreciated most about the Fleer Retro line of products is the opportunity to pull something that is just unbelievably awesome. Cards that have values higher than some automobiles. Cards like this one-of-one Wayne Gretzky autograph buyback card that was pulled at the very beginning of the promotion and set the table for a great night of breaking.
The good news is there are more of those types of cards waiting in unopened Fleer Retro cases to be discovered. You don't need to be at the National Sports Collectors Convention to enjoy them either. Just recently a Michael Jordan buyback one-of-one autograph card was found in a Fleer Retro Basketball pack from an Upper Deck Certified Diamond Dealer, check it out: https://twitter.com/PeninsulaSC/status/367738545110147072/photo/1
Crack some Fleer Retro today!
Leave a Comment