Hockey Fans Have Big Plans for the Release of 2013-14 NHL O-Pee-Chee
By
For most people August 6, 2013 will be just another day, but for die-hard hockey collectors it will be an event. Such is the case for Frank Leclair who is taking August 6 off of work. Why you may ask? It is the release date for 2013-14 NHL O-Pee-Chee and Frank has been putting together master sets of that product since the late 1970's. Frank will be taking a vacation day to open up a whopping ten cases of the product.
"Believe it or not, just opening 10 cases of O-Pee-Chee can take over 10 hours," said Frank Leclair. "It's well worth it in the end though and I look forward to it every year. It's going to be a blast!"
But why O-Pee-Chee Hockey?
"O-Pee-Chee Hockey is a brand that has been around for decades and has a ton of heritage," said Leclair. "It brings most of us hobbyists back to our younger years of collecting cards. I still remember the days when our parents gave us 50 cents to go to the local convenience store and we'd buy packs of O-Pee-Chee Hockey cards with the bubble gum inside. Back then I would have traded away my Gretzky rookies for anyone in a Montreal Canadiens uniform, whoops! Building a master set of O-Pee-Chee is difficult with 500 base cards in the product along with inserts, but not an impossible challenge since there are no 1-of-1 parallels. This makes it the best set to build in my opinion."
Leclair appreciates some of the innovative new inserts Upper Deck has added to the brand in recent years as well, especially the Team Patch Logo cards. "This set is extremely difficult to complete, but a lot of fun as well," said Leclair. "The fact that O-Pee-Chee is a relatively inexpensive product that a lot of collectors break, it is easy to find many of the cards you are looking for on the secondary market. Often times with higher-end products, too many boxes remain unopened on store shelves so many tough cards never surface."
Leclair puts together the entire set with the exception of the super rare blank back parallels every year. We asked Leclair if he has any tips for new collectors looking to get into the hobby because of the Upper Deck NHL Double Rookie Class this season. He said, "Build what you can afford. Don't attempt something that is out of your comfort zone because you want to make your experience enjoyable. Start by building the smaller, inexpensive sets to see how you enjoy them. It is the best way to develop an appreciation for your cards."
If you are planning to open 2013-14 NHL O-Pee-Chee in Canada, make sure to save your wrappers. The popular wrapper redemption program returns this season exclusive to Canada where you can turn empty wrappers into limited-edition parallel cards.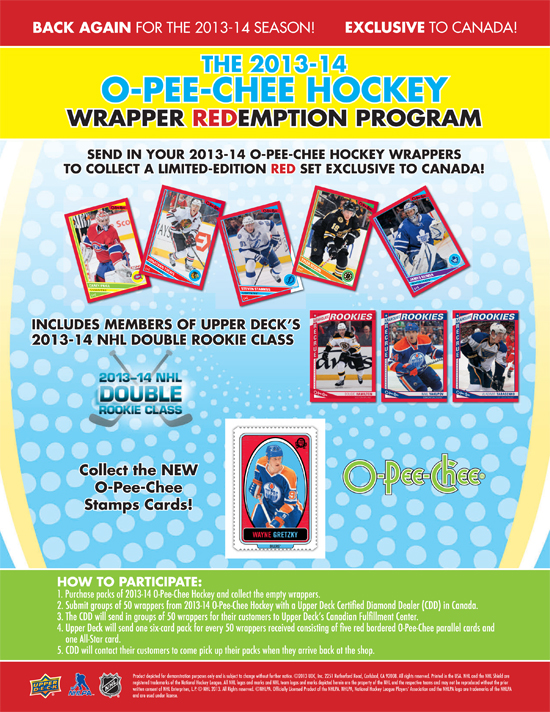 To help set collectors plan, Upper Deck has finalized and released the checklist for 2013-14 NHL O-Pee-Chee early. Check it out here. Also, we have released the group odds for autographs and Team Patch Logo cards to popular collector sites to review now.
If you love hockey, this is a great time to get started collecting hockey cards. And if you really love hockey cards submit your vacation request for August 6 like Frank did and make it an O-Pee-Chee Hockey Holiday!
Leave a Comment