Featured Player: Alex Alexopoulos Shares Tips and Tactics on Attaining Legendary Status with UDE's Legendary™: A Marvel Deck Building Game!
By
While deck building games over the past year have recently gained market share in the gaming industry, you may find yourself to be very hard-pressed to find a game that can both appease casual and competitive players alike. Upper Deck Entertainment's Legendary™: A Marvel Deck Building Game is a platform that really delivers, currently with nine Masterminds to battle and several hero mash-up possibilities, each time you play, you will be completely immersed into a unique deck building experience.
Competitive play can be tricky. There are several routes you can take to victory, though misreading the situation can leave to you looking from the outside in. Here are some tips that have allowed me to do well in the competitive circuit of Legendary™:
Combos are great but test the water before you jump in
We all know cards like Wolverine's and Angel's card drawing abilities are quite powerful and if you know it, so do your opponents. Remember to pay attention to the Archetypes your opponents are trying to draft, as sometimes, you will find that more than a few players will try to build the same type of decks. If you notice this early enough, even if you've picked up a Wolverine draw card, you can change your strategy to a more basic attack-based and deck-thinning approach while your opponents fight out for the scraps. This will allow you to rack up some early Victory points.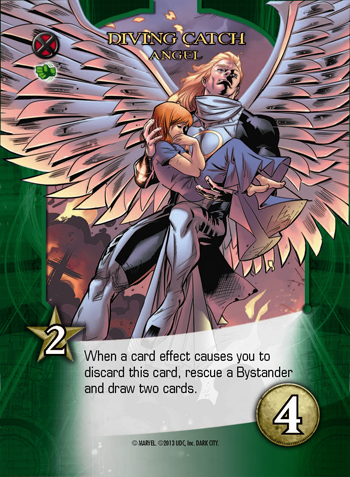 Sometimes it's good when bad wins
Never be afraid to ask for the Victory point count. It's crucial. You're not always in control of the cards you get to see in the HQ. Sometimes, you're sheer out of luck and no matter how hard you try, you can't put together what some people would consider an efficient deck. If you find yourself in this situation, ask for the Victory point count. Most people that have a consistent deck build going are more interested in building that deck than ending the game immediately. They will be doing a lot of recruiting from HQ, which sometimes leaves a lack of attack power in their deck early-to-mid game. If so, take this opportunity to get in for some quick Victory Points by collecting any type of attack card regardless of its attribute. After you've got a Victory point total, if you find yourself in the lead or close to, do your best to help that pesky mastermind end the game for you. Remember, if the mastermind wins, the game is over. It doesn't matter how powerful your opponents decks are. If they were not focusing early-to-mid game on getting points, they might find themselves susceptible to a loss with this strategy.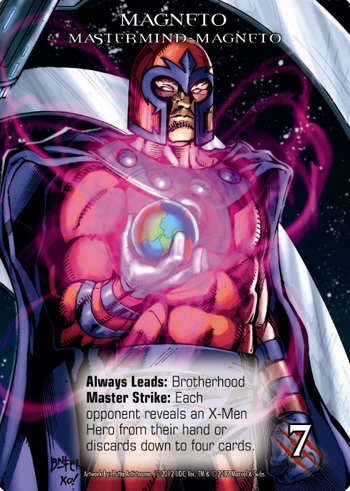 Too good to be true?
There are some new mechanics that have been introduced in Upper Deck Entertainment's Legendary™ Dark City expansion that will allow you to either wipe the floor with your opponents or leave you on your knees begging for a mercy. Teleport and Versatile can be a trap at times. Teleport gives you the ability to put aside your cards for a turn and add them on to your hand on your next draw phase. While this is an extremely powerful mechanic, many players find themselves losing entire turns hoping for the big score on their next go-round. Remember there is no guarantee that when your turn comes around, there will be anything worthwhile left on the board for you to fight and/or recruit. Also, teleporters, beware, depending on the mastermind, you may not have the hand you just drew when your next turn comes around. Ask your good old friends KingPin and Apocalypse about that one!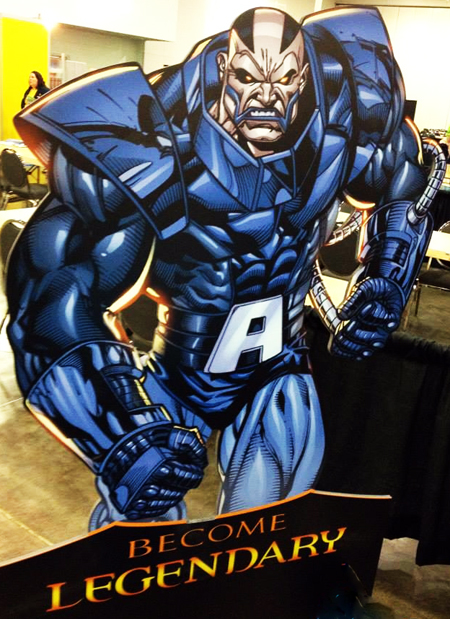 Versatile can be an early game trap as it is such a strong mechanic, allowing you to choose either attack or recruit, everyone will be gunning for it. But if you are not first to the dance, let it be! Many of the low costing versatile cards come with an activation cost and if not paid, will basically do nothing for you, acting like an early game wound card.
I hope some of these tips help and I can't wait to see you guys at Gen Con where I'll attempt to retain my title in one of the two $5000 cash tournaments and if my tips so happen to have helped defeat me in the process, feel free to share the prize money with me. Pre-register for the tournaments today at Gen Con's website or visit the Upper Deck Entertainment booth at the show for more details! Good luck agents!
And in the spirit of community, we want to hear your tips and tactics for success with the game and we will reward you for it. Be one of the first twenty fans to share at least one great original tip in the comment section below on how to become dominant at Legendary™ and we will hook you up with an exclusive Dark City game mat for FREE! Make sure you provide an accurate email address so we can follow up with those selected to receive a mat for your addresses!
Leave a Comment