Collecting England's Royal Family
By
The royal baby is here and while the world waits in anticipation for a name of the child, we wanted to share a fun giveaway with our fans in honor of the new arrival. No doubt all the talk of a royal baby has got collectors thinking about collectibles of the royal family. Upper Deck was even tempted to issue a redemption card for the future king in 2013 Goodwin Champions, but refrained as we try to avoid any redemptions without good cause.
Upper Deck has issued trading cards of the royal family before however, most recently with Kate Middleton appearing in 2012 Goodwin Champions.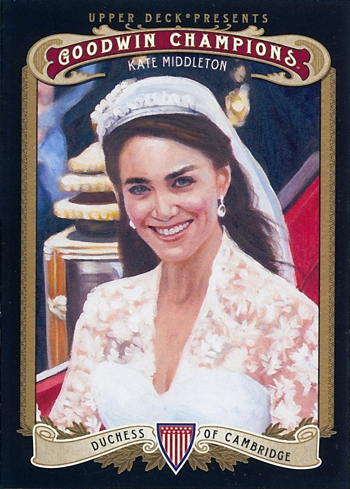 Prince William and Harry along with their mother Princess Diana and father Prince Charles also appeared in Upper Deck's 20th Anniversary set back in 2009 Upper Deck Baseball.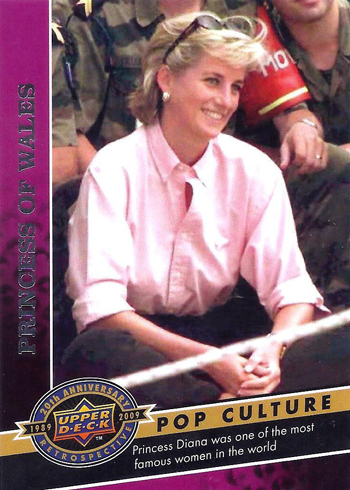 Upper Deck has been holding on to four printing plate cards of Prince Charles along with Prince William and Harry for an event like this for some time now. It's time to go back through your collections to see if you have one of these two cards. The first collector to post an image of themselves clearly holding one of the 2009 Upper Deck Baseball 20th Anniversary Prince Charles or Prince William and Harry cards to either UD's Facebook page or sent to @UpperDeckSports on Twitter will earn ALL FOUR printing plate cards. This is a tricky sort of scavenger hunt as there were 2500 cards in this set and it is from four years ago. So crack open those shoe boxes and get searching to score a royal mail day from Upper Deck!
With any promotion like this, there are some rules:
No photoshop allowed. You must actually be holding one of these cards.
You can post on either Facebook or Twitter, there is no preference.
A collector holding both cards cannot win both sets of printing plates. Pick the one you would want most and post that picture.
You have until Friday, July 26, 2013 at 5:00 p.m. to make a post. The first confirmed post will be contacted and set all four of the printing plate cards.
Leave a Comment