25 Reasons Why You Should Be at the 2013 Upper Deck Diamond Club Member & Candidate Reception
By
When Upper Deck shared the company's plans for the 2013 National Sports Collectors Convention, the event that had most collectors buzzing was the Diamond Club Member & Candidate Reception. What awesome goodies would the top Upper Deck spenders at the National have a chance of adding to their collections? Today we are happy to share images of some of those items.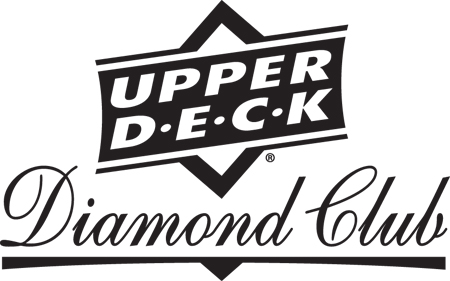 Frequently we are asked, "What do you all do with the cool cards that don't get awarded at shows and events?" They are used for a variety of projects, but many have been stashed away for this special event. We have also procured signed items and unique collectibles from top athletes to use especially for Diamond Club Member & Candidate Reception. It will truly be an event any hard-core collector will want to score a pass to.
Existing Diamond Club members in attendance will have an automatic pass to the event, but non-members can earn a slot by being the top Upper Deck spender on sealed product from these Certified Diamond Dealers in attendance at the 2013 National Sports Collectors Convention through Saturday morning:
| | | |
| --- | --- | --- |
| CERTIFIED DIAMOND DEALER | CONTACT | PHONE |
| ALL-AMERICAN SPORTS | TERRY BROWN | |
| CHICAGOLAND SPORTSCARDS | MARC GOLDSMITH | 847-229-2626 |
| DAVE & ADAM'S CARD WORLD | ADAM MARTIN | 716-837-4920 |
| J&J'S SPORTS SECTION | JOE DAVIS | 770-736-9998 |
| LTD SPORTS | SCOTT MONIZE | 774-319-5200 |
| MARTY'S SPORTS CARD EXCHANGE | MARTY DAVIS | 423-648-7037 |
| MILL CREEK SPORTS CARDS | SCOTT MAHLUM | 425-742-8500 |
| REDMANS DUGOUT | CHRIS EDMUNDS | 270-651-2308 |
| STEEL CITY COLLECTIBLES | SEAN BENNETT | 412-366-5858 |
| THE FANTASTIC STORE | THOMAS FISH | 703-953-3131 |
| TOM FRANTZEN SPORTS | TOM FRANTZEN | |
The event takes place on Saturday, August 3 from 1:00-3:00 p.m. at an undisclosed location in the Rosemont, IL area. Passes are non-transferable. For more details on the event, please email UpperDeckMarketing@upperdeck.com.
The best part is, you don't have to have a thick wallet to attend this event. Two savvy collectors will earn a spot at the event through Upper Deck's "What's The Big Idea?" promotion. Upper Deck is heading into the company's 25thAnniversary in 2014. Upper Deck prides ourselves on being a forward-thinking company that is appreciative of our past, but more focused on the future of how we will continue to innovate trading cards and the entire sports memorabilia category. We are also a company that was founded on being the "collector's choice" so we want our fans feedback in what they would like to see from Upper Deck for the next 25 years.
At anytime during the show from Wednesday through Friday evening, fans can fill out an Upper Deck "What's the Big Idea?" form where any fan can share their "big idea" on what they would like to see Upper Deck release over the next 25 years. The two collectors with the top ideas will be contacted Friday evening and invited to this event where they can pitch their idea to this room of experts who will vote on the candidate who has the best idea. The winner will walk away with a LeBron James signed promotional poster and the runner-up will receive a signed card from a top NHL star!
Upper Deck has a tremendous amount of cool items that will be available to attendees at this event, but we wanted to provide fans with a glimpse of what they could score. Check out 25 reasons why you should be at the 2013 Upper Deck Diamond Club Member & Candidate Reception:
#25 – Las Vegas Industry Summit Autograph Landon Donovan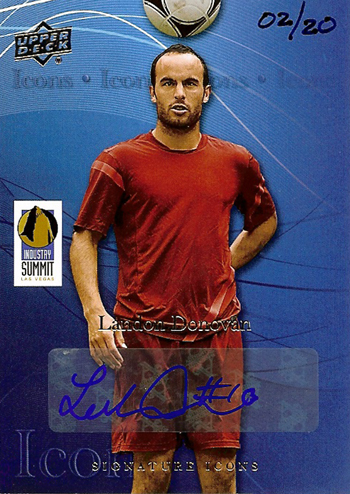 #24 – Mike Trout Precious Metal Gems Promo Card 10/10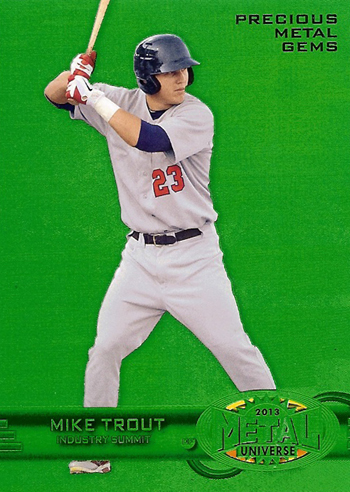 #23 – USA Football Future Swatch Patch Autograph Jaxon Shipley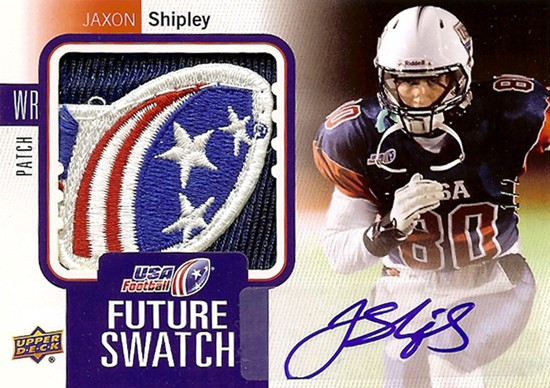 #22 – Las Vegas Industry Summit Autograph Alex Ovechkin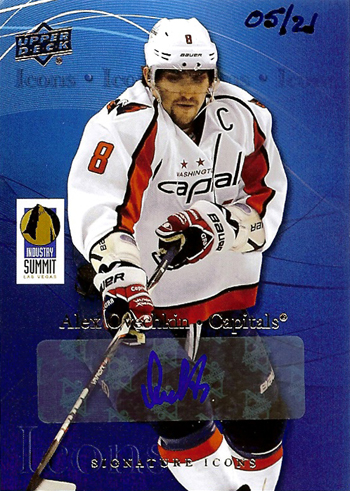 #21 – Priority Signings Taylor Hall/Jordan Eberle Autograph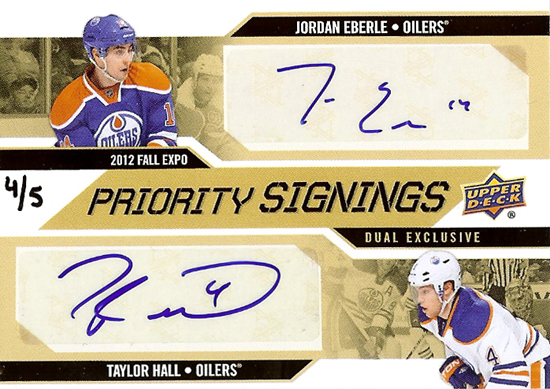 #20 – Las Vegas Industry Summit Autograph Bobby Orr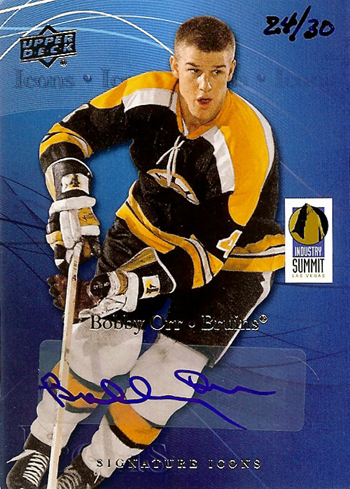 #19 – Priority Signings Steven Stamkos/Alex Ovechkin Autograph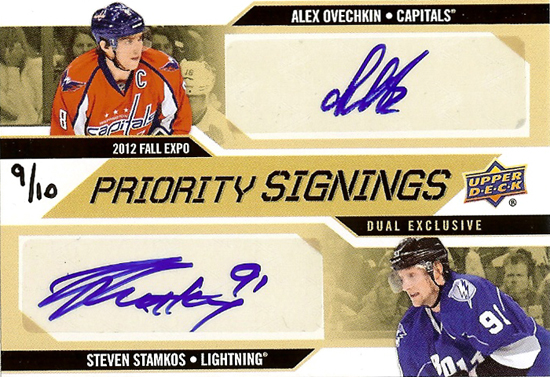 #18 – Las Vegas Industry Summit Autograph Mike Tyson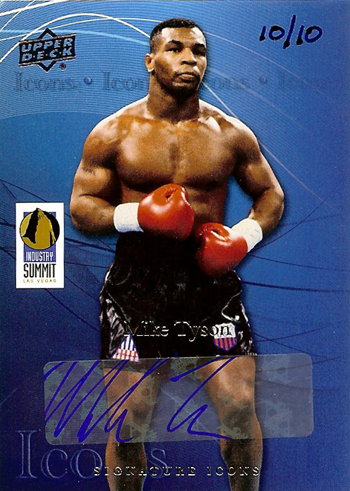 #17 – High-End Upper Deck Wax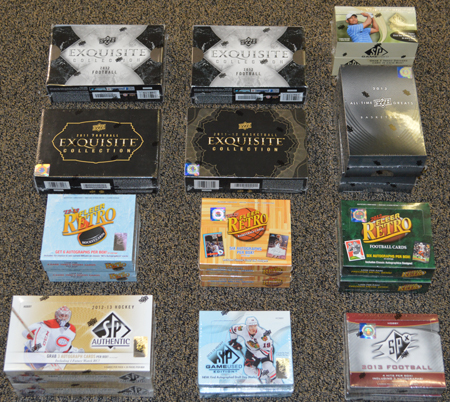 #16 – Priority Signings Ryan Nugent Hopkins Autograph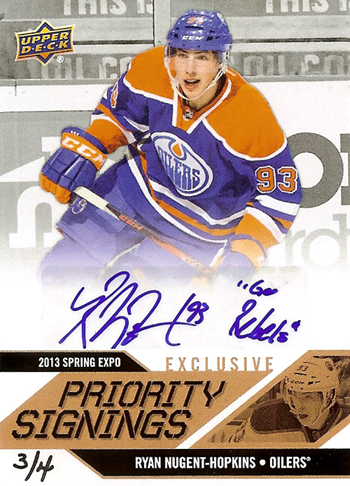 #15 – Bobby Hull Autograph Cards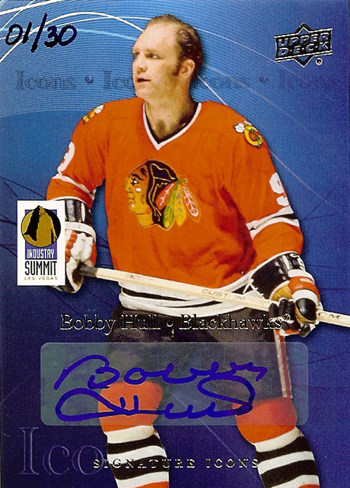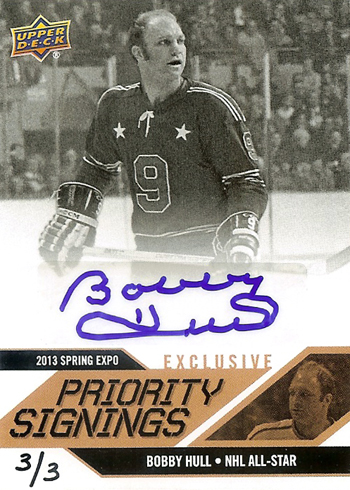 #14 – Las Vegas Industry Summit Autograph LeBron James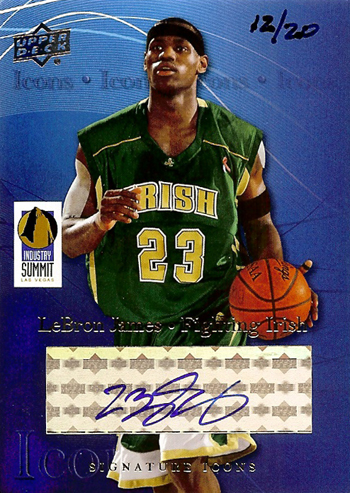 #13 – Priority Signings Eric Lindros/Mark Messier Autograph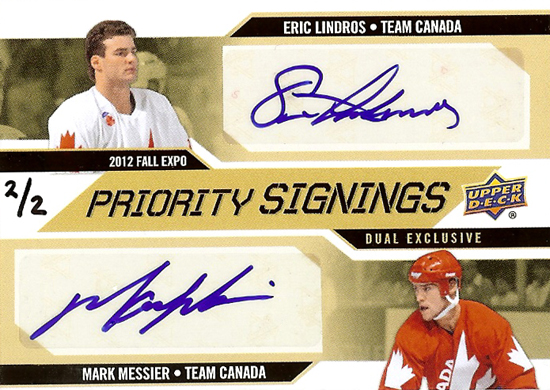 #12 – Landon Donovan Goodwin Champions Original Art Autograph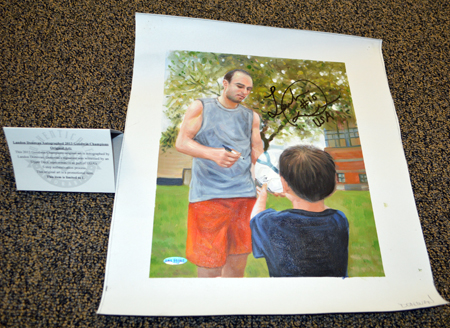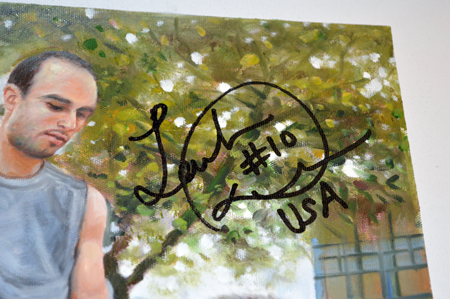 #11 – Priority Signings Mario Lemieux 1/1 Autograph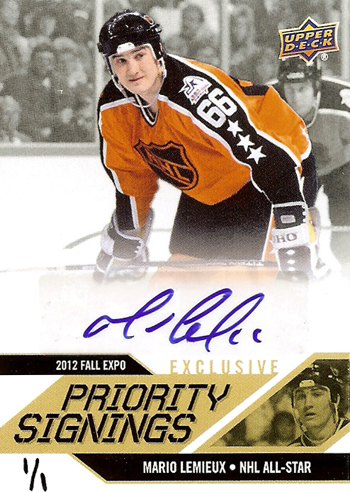 #10 – 2010 NHLPA Rookie Showcase Framed Signed Photos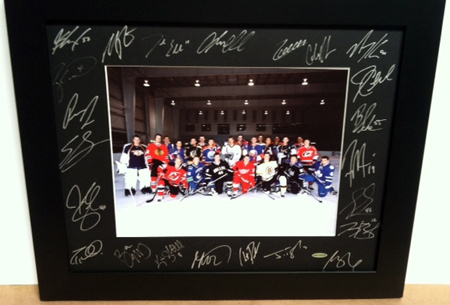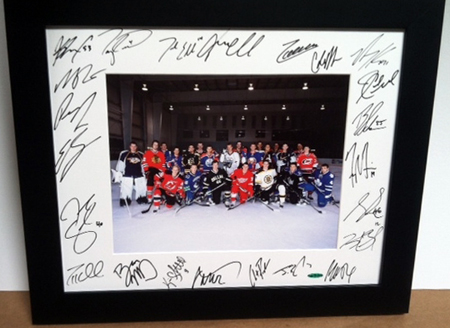 #9 – 2011 NHLPA Rookie Showcase Framed Signed Photo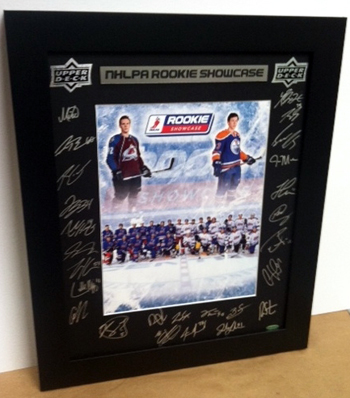 #8 – 2012 NHLPA Rookie Showcase Framed Signed Photo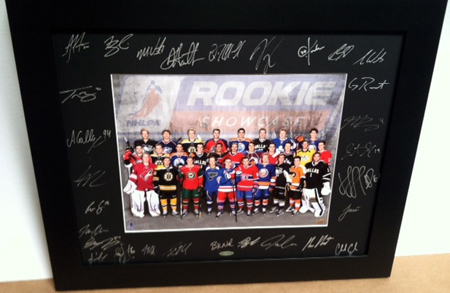 #7 – Priority Signings Geno Smith/Matt Barkley 1/1 Autograph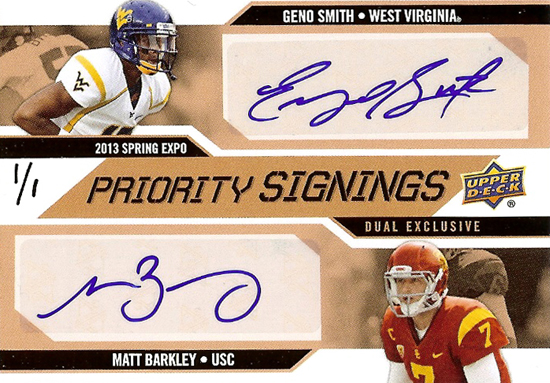 #6 – Signed NHL Draft Hockey Sticks, Pucks, Hats & Gloves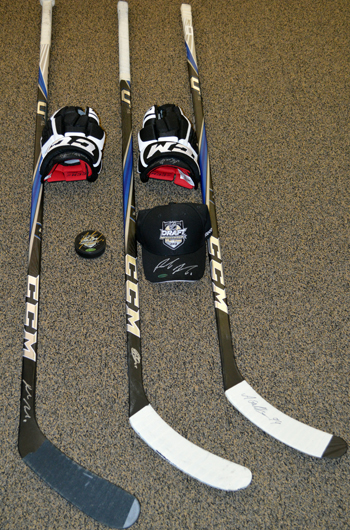 #5 – Priority Signings Wayne Gretzky Autograph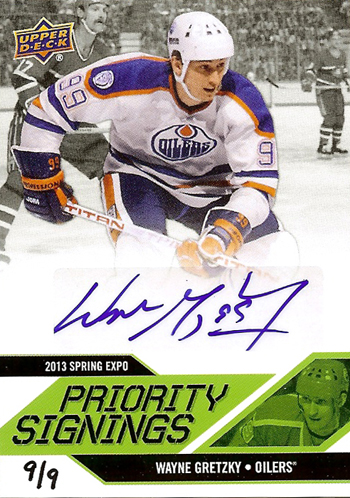 #4 – 2012 NHLPA Rookie Showcase Signed Helmet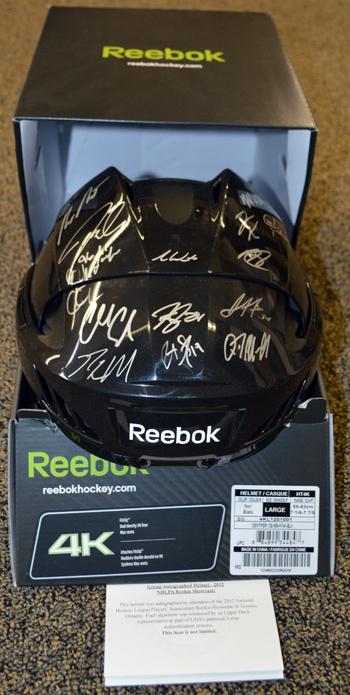 #3 – LeBron James Promotional Poster with inscription, "Winning is the only thing that matters!!"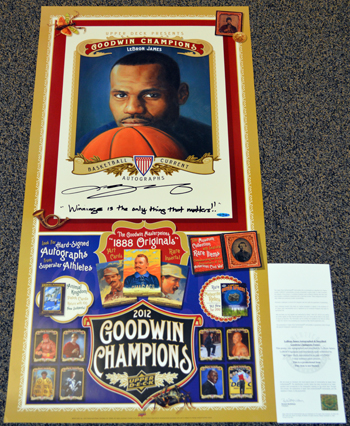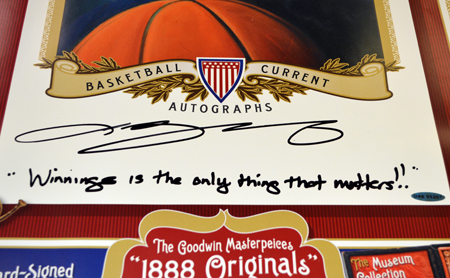 #2 – Priority Signings Tiger Woods/Wayne Gretzky 1/1 Autograph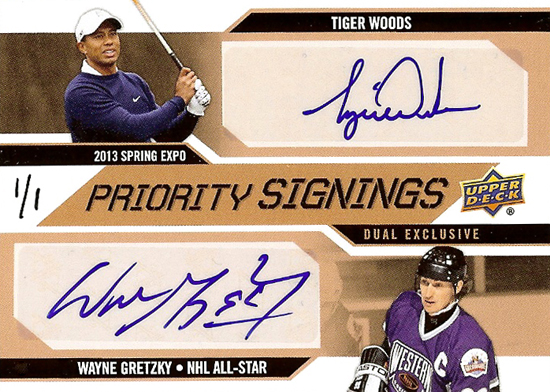 #1 – Celebrating the recent Stanley Cup win by the Chicago Blackhawks and given the fact the show takes place in Chicago, we give fans the chance to score a very unique collectible. We recently had Michael Jordan sign this Chicago Blackhawks jersey which will be going home with one lucky collector who attends this reception.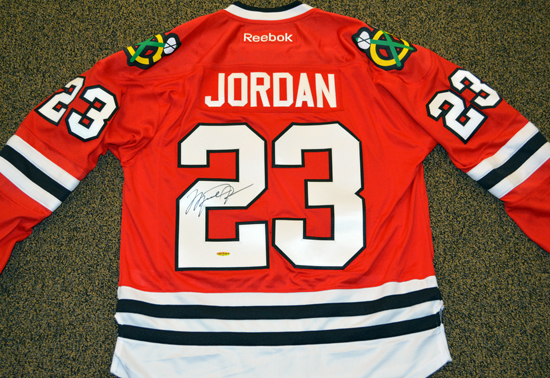 Leave a Comment