Upper Deck's O-Pee-Chee Wrapper Redemption Program Returns to Canada for the 2013-14 NHL Season!
By
Last year in Canada hobby shop owners reported that collectors had almost as much interest in O-Pee-Chee hockey wrappers as they did in the actual cards. Why? Fans wanted wrappers because they could be turned into the participating hobby shop where they were sent out to get a special O-Pee-Chee wrapper redemption pack back for them. Upper Deck is pleased to share that the program will be back for the 2013-14 NHL season and will run in a similar fashion to the existing promotion.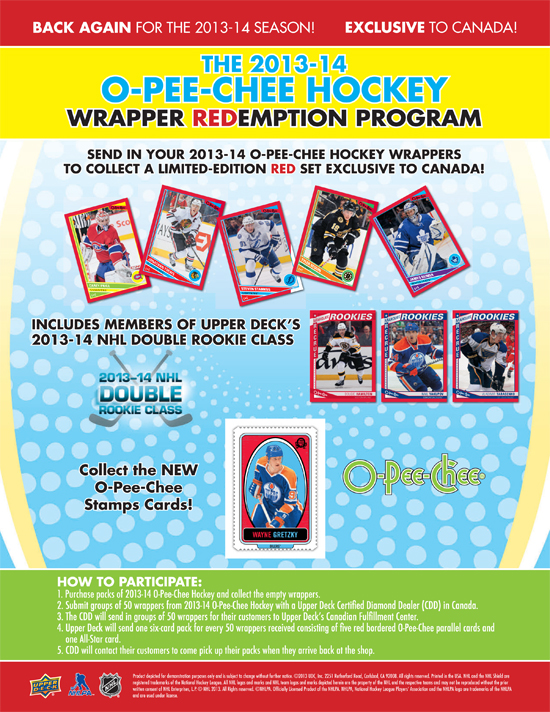 A special red-bordered version of the entire 600-card set and a unique 50-card O-Pee-Chee Stamps set will be available for collectors to claim through a wrapper redemption program. Here is how it works:
Purchase HOBBY packs of 2013-14 O-Pee-Chee NHL and collect the empty wrappers.
Submit groups of 50 HOBBY wrappers from 2013-14 O-Pee-Chee NHL to an Upper Deck Certified Diamond Dealer (CDD) in Canada.
The CDD will send in groups of 50 HOBBY wrappers for their customers to Upper Deck's CanadianFulfillmentCenter. Shipping information will be provided directly to Upper Deck's network of Certified Diamond Dealers in Canada.
Upper Deck will send one six-card pack for every 50 HOBBY wrappers received consisting of five red-bordered O-Pee-Chee parallel cards and one O-Pee-Chee Stamps card.
CDD will contact their customers to come pick up their packs when they arrive back at the shop.
The promotion will only be available through Upper Deck's network of Certified Diamond Dealers in Canada. The promotion is available while supplies last and once inventory is depleted, the promotion is over. There are no charges tied to receiving these packs from Upper Deck although some shops may request a nominal shipping and handling fee to send the wrappers in to Upper Deck's Canadian Fulfillment Center. Packs are being produced now and will be available for immediate shipping.
It is important to note, there will be 100 cards featuring members of the 2013-14 NHL Upper Deck Double Rookie Class. These cards will likely attract a lot of attention and should be in high demand. Look for standout rookies like Vladimir Tarasenko, Nail Yakupov, Alex Galchenyuk, Jonathan Huberdeau and many more to collect from this special set!
Leave a Comment