Upper Deck Announces the Company's 2013 Father of the Year Selections!
By
Upper Deck's Father of the Year promotion is definitely increasing in popularity as we had a tremendous increase in nominations and submissions for 2013. Upper Deck would like to thank all the deserving dads and their families for taking the time to share their stories with us. It goes to show that collecting really is something that creates a special bond for families and Upper Deck is proud to play a small role in making memories that will hopefully last a lifetime.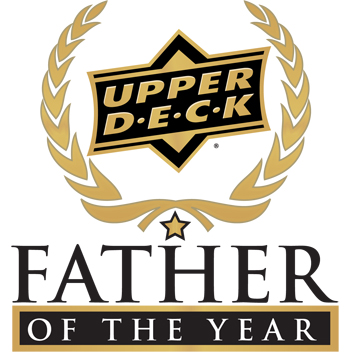 Without further adieu, here are the top dads who earned runner-up honors in Upper Deck's Father of the Year promotion and can expect a special Upper Deck Mail Day soon! We included a portion of the nomination we received on their behalf!
Mike Bodnar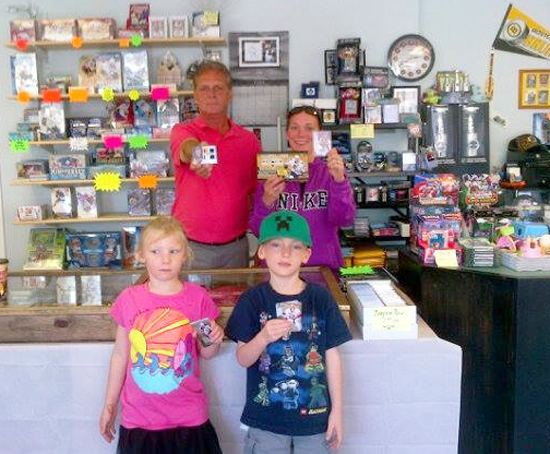 "My dad taught me at a very early age the joys of collecting sports cards and how investing for the future goes along with it. My father has also taught me not only how important, but how much fun family traditions can be. The times we have spent together opening cards are the most memorable. Every Sunday we do a 'group break' at the store then at 4 p.m. when store closes we all gather at my house for a 'family break,' where we open boxes with the kids."
Patrick Harrington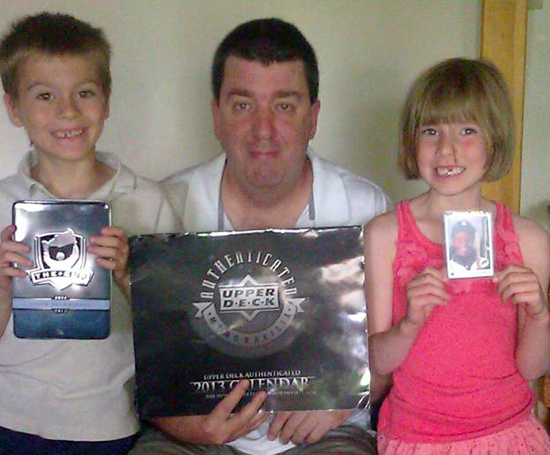 "Every kid in grade 2 at my school tells me that my dad is the best dad they know. My dad gave so many cards to all my friends and school mates that we now have a sports card club to make friends and trade cards. My dad lets me sleep with my hockey cards under my pillow…"
Ryan Hembly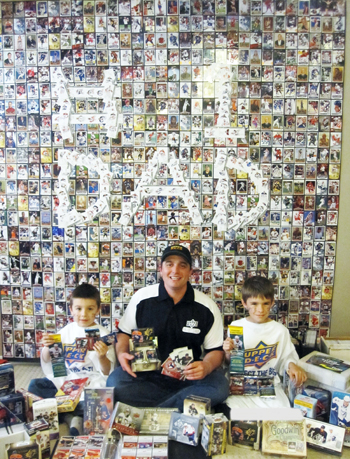 "Our Dad should be Upper Deck's Father of the Year because of all the fun we have with him collecting cards! Our dad has told us about when he used to collect these same cards when they first came out with his dad and now he is doing it with us. Collecting with our dad is so much fun!!"
Dave Schneider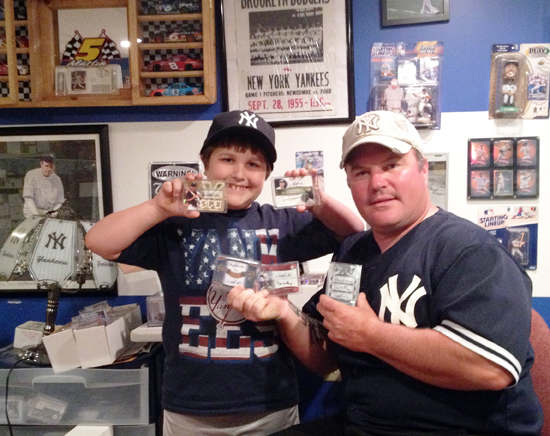 "David is an extremely generous person and has given away thousands of dollars worth of cards/memorabilia to his subscribers and friends on YouTube over the years. He is a HERO; currently a Police Officer for the State of Connecticut and was a responder to the Sandy Hook Elementary tragedy. He works 65+ hours a week to support his large family and all while being a single father of a large family. Not all of his kids are involved in this wonderful hobby, but his son Josh is a die-hard Yankee and can be seen in numerous videos with his dad."
Jeff Sitzer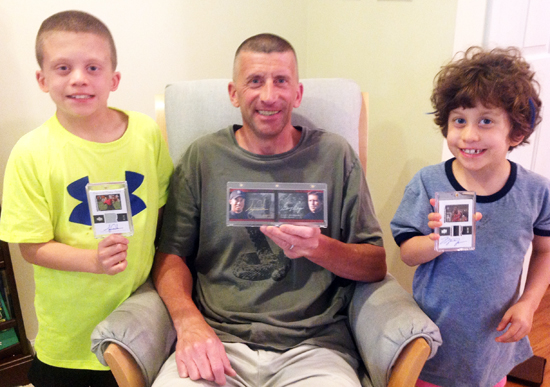 "Jeff has been ordering Upper Deck boxes from me for a few years now. He has me break the boxes on my YouTube channel under the name SuperSitz for him and his family to see. Jeff is unique in that he actually collects a lot of these high dollar cards with his family and doesn't resell them."
We actually received a few nominations for the dad that was ultimately selected as the 2013 Upper Deck Father of the Year. The most compelling came from his wife. Here are some excerpts from those nominations for our winner, and Father of the Year for 2013; Barrie Grice:
"Barrie Grice is a firefighter and paramedic at the Franktown Fire Department and has two sons, Austin 8 and Blake 1 1/2 that he dotes over 24/7. Every second away from his job is spent with his family and sports is a big part of their enjoyment together. When he is not risking his life serving the public he spends time taking Austin and Blake to hockey games and practices of the Avalanche, meeting many players and obtaining 'sic' amounts of 'swag' in the form of autographs, pictures and player's memorabilia."
"I think the amount of time dads spend sharing this hobby with their kids often goes unappreciated. Then there's Barrie, who you've seen time and again taking his sons to hockey practices, meeting their favorite players and sharing photo ops with their beloved LA Kings. He spends countless hours taking his sons (especially his eldest Austin) to meet all of his favorite hockey players."
"Barrie is a huge fan of Hockey and especially the Los Angeles Kings, his 2 sons appear to share his passion and they've had some incredible adventures together, meeting and being photographed with players such as Crosby, Ovechkin, Jagr and Toews. These experiences will live in the memory of father and sons for their lifetimes, and have created special bonds between not only the Grice family, but between the boys and the players they have met, the players often give the boys personally signed sticks, pucks and photos for them to keep."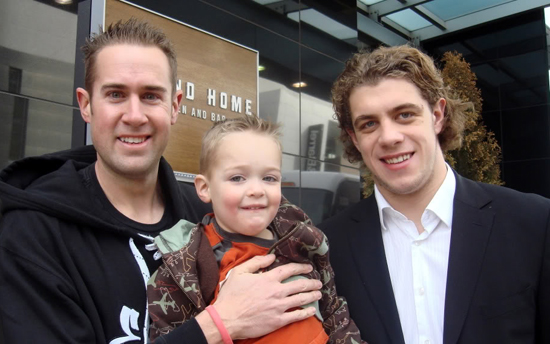 "His youngest son Austin is Autistic and is possibly the biggest Anze Kopitar fan on the planet. Enough so that a true friendship between the two has been built! Barrie fuels his son's passion for hockey by helping him collect anything and everything Anze Kopitar. They go to games and stay around to meet players afterwards (as proven by the literally THOUSANDS of photos that Barrie has of Austin with stars of the NHL). As a new father myself, I would pattern my love of my children and time spent doing anything with and for them after the love and dedication Barrie has for his sons and their love of the sport of hockey."
"I would like to nominate a friend of mine Barrie Grice, arguably one of the most devoted fathers I know. He ensures that he devotes as much time as possible in his busy schedule to sharing his passion with Austin and Blake, and each boy is active in helping him with his collection."
"Barrie has told me that Austin loves searching through his collection of Upper Deck cards to find cards of the players that he has met. Additionally, Austin has been diagnosed with Autism (although he was not featured in the Upper Deck Blog post from August 15, 2012, that discussed how cards can help children with Autism or Asperger's), and Barrie has discovered that when Austin watches hockey, meets players and look through his Upper Deck cards, he opens up and becomes more expressive. Barrie treasures these moments with his sons, since Blake is beginning to show a similar interest towards the sport and Upper Deck cards."
And this is the submission we received from Barrie's wife, Elizabeth:
"I'm nominating my husband Barrie Grice for this year's Upper Deck Father of the Year because of the passion he shows as the father to our boys, something that transcends the hobby and is more valuable than any collectible. Barrie has been involved in the hobby for over 30 years and now has shared his love of sports, the hobby and collecting Upper Deck cards to our two young sons, Austin (8) and Blake (1).
"The three of them focus primarily on cards and collectibles of our family's favorite team, the Los Angeles Kings, and also collect Upper Deck cards and items of many NHL players and stars throughout the league as their love for the game of hockey is limitless.
"Their story is unique as they have taken their collecting passion to the ultimate level by meeting and interacting with many of the NHL's brightest stars depicted on the same Upper Deck products and collectibles they possess. Everything Barrie does is solely for his kids' collection because he believes that is who it is about and who will carry the hobby on for generations to come, but you haven't heard the most wonderful part of all this—each of our boy's special story.
"Our older son Austin is on the Autism spectrum and collecting Upper Deck cards and following sports has helped Austin adapt and overcome some of his own personal challenges. Our younger son Blake was born prematurely at almost nine weeks, and despite a long stay in the NICU for little Blake, he made it through strong and is thriving today. The adversity Barrie and our sons have faced has only motivated him more to wake up each day and be the best dad he can be, and never taking being a father to Austin and Blake for granted."
After hearing the news, Barrie and his family were VERY excited and appreciative. Here's what Barrie had to share:
"First let me tip my hat to all of the other gentlemen who entered this contest. I can't imagine what a tough decision this for Upper Deck to select one of us. We all have terrific stories and hobby-related passions involving Upper Deck trading cards and memorabilia and how we share these special collectibles with our children.
"I started collecting Upper Deck cards DAY ONE, 1989, with my friends growing up in the small Southern California community of Redondo Beach. I cannot tell you how amazed we all were at the technology used in these cards and the monumental excitement when one of us pulled the greatest modern era baseball card from a pack: Ken Griffey Jr's Star Rookie, card # 1 in the set.
"To see that same excitement and enthusiasm from my oldest son Austin when he pulls a card of his favorite athlete, Anze Kopitar of the Los Angeles Kings is equally awesome. What is even more telling about Upper Deck cards is that a young boy like Austin, only 8, is astute enough to tell me that he likes his Upper Deck cards the most, far and away over any other trading card manufacturer out there in his collection. He always notices aesthetics and he will always say how much "nicer" or "shinier" the UD cards are when compared to another. He loves technology and Upper Deck's exceeds in all facets of the game.
"We have started to also take note of how our youngest son Blake has taken a keen interest in trading cards. He has been watching his dad and older brother for a awhile now and wants to be involved whenever its hobby time. We let him play with whatever we don't need for sets we are building or other projects. You can see in his eyes when he holds a card that shines different or has a flashy design, he lights up instantly and it is very cool to watch at such a young age.
"In closing, I'd like to thank Upper Deck for this tremendous honor and title. I think it is easy to say this is the most amazing moment of my 30 years plus of being involved with the hobby. You can have all the most expensive trading cards and collectibles you want, but one thing money cannot buy is love and passion, two qualities I think go hand-in-hand with this hobby, following sports and being a good father. You have to not only love your kids, but to be great at it have a passion for them and accept all the good and bad. Thank you and I hope to continue to raise Austin and Blake right while filling their rooms with Upper Deck fun!"

Leave a Comment