Calling All Notre Dame Fighting Irish Football Fans; Finally a Trading Card Set Just For You!
By
Do you bleed blue and gold? Is "Rudy" one of your all-time favorite movies? Do you hit a "PLAY LIKE A CHAMPION TODAY" sign when you leave the house each day? Do you love leprechauns? If you answered yes to any of these questions, you will be thrilled with the new college football trading card product coming out July 2, 2013. Through Upper Deck's exclusive agreement with the Collegiate Licensing Company, the trading card company will be producing a standalone trading card product commemorating the rich history of the Notre Dame Football program.
Notre Dame has won 11 National Titles and has produced seven Heisman Trophy winners. Each pack will be loaded with prominent alumni like Joe Montana, Paul Hornung, Joe Theismann, Ricky Watters, Lou Holtz, Jerome Bettis, and Rudy Ruettiger and more!
The 100-card base set will include 93 different players dating back to the 1910's along with "Golden Dome Glory Days" cards that highlight historic moments in the program's history. Additionally, themed inserts such as NCAA All-Americans, National Champions and All-Time Alumni comprise another 100 cards for ND fans to collect.
This is the most comprehensive University of Notre Dame Football set ever assembled. Each hobby box will contain one autograph card from a Notre Dame great, and two special light F/X Notre Dame Icons inserts! Every box is loaded with 192 cards Fighting Irish legends (24 packs with 8 cards per pack)!
This will be the first time ever that some of these Fighting Irish legends have been featured on a trading card or have an autograph trading card in the market. Autograph loves will be able to seek out single autograph cards that parallel the base set as well as rare dual autograph cards (numbered to 10 copies or less) and triple autograph cards (numbered to 3 copies). Some of these limited cards are sure to become the centerpiece of any Notre Dame fan's collection.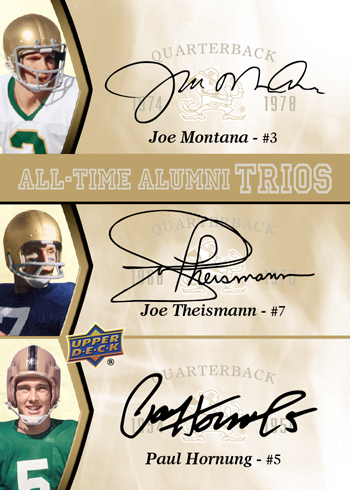 Upper Deck has a special treat for those who purchase the University of Notre Dame Football retail blaster boxes! Fans can find one replica championship pennant per blaster box, highlighting one of the 11 National Championships the University of Notre Dame has won. Collect all 11 from the years 1924, 1929, 1930, 1943, 1946, 1947, 1949, 1966, 1973, 1977, 1988.
But how do you get your hands on your Upper Deck University of Notre Dame Football boxes? You can order through Upper Deck's online story today or purchase through your local Upper Deck Certified Diamond Dealer or Authorized Internet Retailer.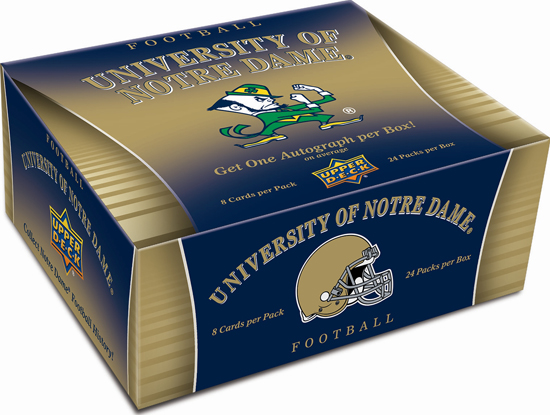 Leave a Comment