Upper Deck Helps Make a Dream Come True for Inspiring Veteran and Purple Heart Recipient Doc Jacobs as he Receives his First-Ever Baseball Card
By
I saw the story of Doc Jacobs on ESPN one night after work and immediately emailed a variety of Upper Deck staff including our President Jason Masherah to let them know we had to make a trading card of this inspiring athlete. Everyone was on board, but then came the tricky part, how do we make it happen?
After trying a variety of resources, I reached out to my good friend Carolyn Blashek who runs the amazing charity Operation Gratitude who sends care packages to troops serving abroad, veterans and other friends of the military throughout the world. Upper Deck has worked very closely with Operation Gratitude over the years as we believe it is incredibly important to say thank you to the men and women who serve our country at home and abroad. And Carolyn came through for us and in less than a week we had a conference call set up with Operation Gratitude, Doc Jacobs and the charity Doc co-founded, VETSports.
As I learned more about VETSports I realized something amazing, as inspiring as Doc's story is, he is not alone. There are dozens of other inspirational athletes that are a part of the VETSports organization who had stories very similar to Doc's. They are athletes who have lost limbs, but not hope. They are heroes who have suffered through the strenuous effects of post traumatic stress disorder, but persevered through. They have served honorably, but have so much more still to give.
Over the last few weeks we have collectively put together a strategy to pay tribute to these inspirational athletes by creating a set of Upper Deck "Heroic Inspirations" cards featuring VETSports athletes including Doc Jacobs. These cards will be available exclusively through VETSports and will be packaged with care packages going to members of our military through Operation Gratitude later this year.
But before all that happens, Upper Deck wanted to pay tribute to Doc Jacobs who made headlines a few weeks back when he got a tryout with an iconic baseball franchise after a chance meeting he had with Tommy Lasorda at a charity event. When Lasorda heard about Doc's quest to reach the big leagues, he turned his organization on to him and Doc earned a tryout with the club.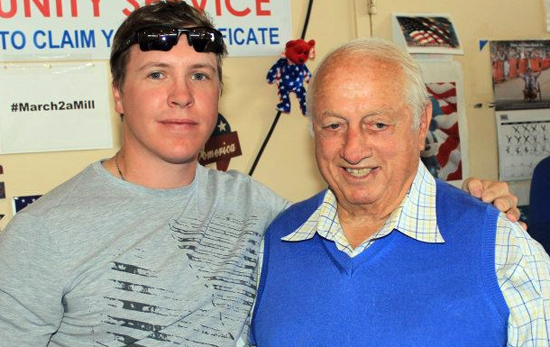 I worked with my team at Upper Deck and a variety of other key partners to provide Doc with a very special day. The only thing Doc knew he was going to receive an Upper Deck trading card at an "Assembly Day" event at Operation Gratitude Headquarters where hundreds of patriotic Americans volunteer to work with the organization.
We drove up and I really felt like I learned a lot more about Doc. He went through a period after all the surgeries where he was a bit down on himself and it was through sports that he was able to take back control of his life. He later moved on to co-found the charity VETSports and is now helping other returning soldiers work through their disabilities (physical and mental) through the power of sports and here at Upper Deck, we think that is worth supporting!
I shared we had to stop off briefly to pick up a colleague who was going to help us out for the day. And when Tommy Lasorda answered the door I saw a smile come to Doc's face as the two have become fast friends. It was a fun surprise for Doc and Tommy was very excited to be part of the event.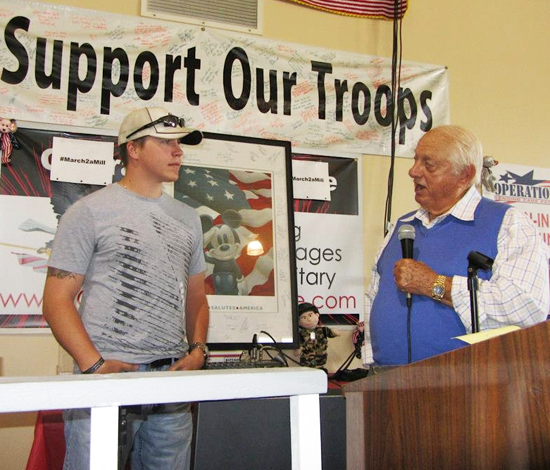 The ride up from there was one I will remember for a long time. We listened to baseball on the radio and the back and forth between Tommy and Doc was just great. We arrived at Operation Gratitude Headquarters and both Tommy and Doc were in awe of the enormity of the program and military precision of how well the volunteers worked in unison together. And then at lunch, the program began:
Afterwards Tommy and Doc talked more about Doc's Upper Deck baseball card:
Upper Deck is proud to play a small role in shining a light on an inspirational hero like Doc Jacobs and the wonderful charitable organizations VETSports and Operation Gratitude. It is important to note that Doc Jacobs is not giving up on his dream of playing baseball in the major leagues. He continues to play with VETSports, Purple Heart Baseball and is training in hopes of earning a tryout with his hometown team in Cleveland. Good luck Doc, we believe in you!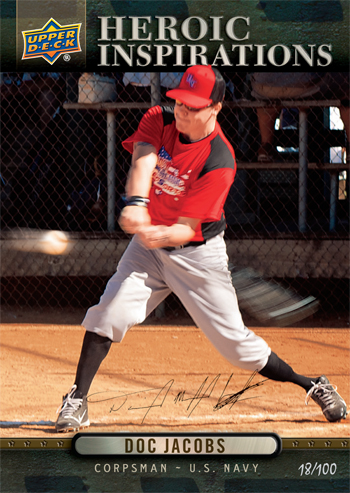 Leave a Comment