Upper Deck Captures New University of Alabama Athletic Director Bill Battle in his Heyday!
By
The great thing about trading cards is they tell the story of our favorite athletes and heroes. But sometimes it's what trading cards don't tell us that make them so interesting. For example, if you look at card #5 in Upper Deck's University of Alabama trading card set, you'll find Bill Battle's trading card. Although he was part of Alabama's 1961 national championship team, his stats were nothing to get all that excited about. But still, there's just something about this card.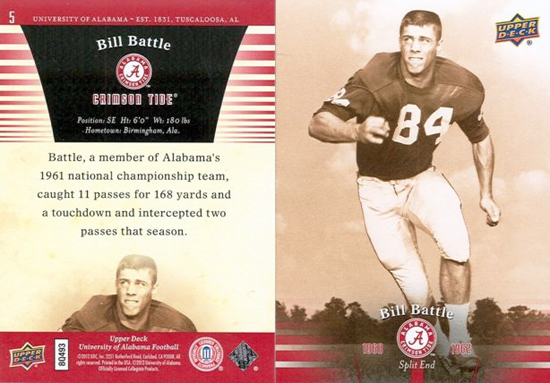 What makes Bill Battle truly special is what he has done off the field, the things you won't find on the back of this card. Battle founded the Collegiate Licensing Company in 1981 and the rest, so to speak, is history. Business boomed and the CLC was ultimately acquired by IMG in 2007 and continues to flourish. But it was Battle's influence and vision that helped it all take off.
Recently in an interview with the Sports Business Journal, Brandon Miller, Upper Deck's collegiate sports brand manager had this to share, "We had to include Bill, he's the reason a set like this could even exist."
Now Bill Battle is making news all over again as he has been named the Athletic Director for the University of Alabama; arguably one of the most storied collegiate sports franchises in history. And all of a sudden that card #5 is looking a lot more attractive to those who find it in packs.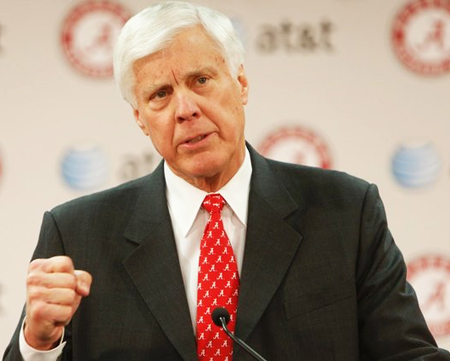 Worthy of note, Bill Battle also signed a limited quantity of authentic autograph versions of his Upper Deck Alabama Football card. We expect Crimson Tide fans will begin snapping these up with greater fervor with Battle now running the show in Tuscaloosa. Who knows, if Battle is successful in this endeavor as he has been with everything else he has done, we might just see one of these cards enshrined here in the future!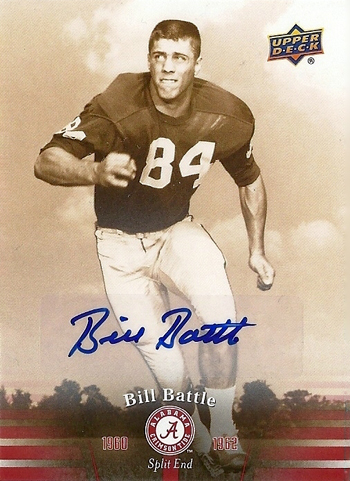 Here at Upper Deck we want to wish Bill Battle all the best. The Crimson Tide faithful have a iconic visionary at the helm for them. Roll Tide!
Leave a Comment