Oh Canada! Finally an Upper Deck Set Dedicated Completely to Team Canada Hockey!
By
Earlier today Upper Deck shared with the company's Authorized Distributor network a special new set of trading cards would be released exclusively for Team Canada Hockey. The 2013 Upper Deck Team Canada Hockey set will be right in line with the base Upper Deck brand in terms of price and configuration. There will be five cards per pack, 24 packs per box and 12 boxes per case. The cards will all feature the same great photography as collectors have come to expect from the flagship Upper Deck brand, but the product will have richer content with two autographs in every box on average and four boxes per case will have a third autograph card!
The base card set features 260 cards including 100 short prints. Approximately 200 former Team Canada players will have autograph cards in the set. Other fun aspects to the products are two trade cards good for two future star 2013 Draft Picks including rare signed versions. Additionally, a "Clear Cut Program of Excellence" insert numbered to 99 copies will utilize acetate technology to deliver a very exciting card fans of Team Canada will want to collect! Another technology insert collectors will love is the 60 card SE foil board set that will also have a rare gold die-cut parallel version.
Here is a breakdown on the box and case breaks for 2013 Upper Deck Team Canada Hockey which is slated to release on August 20, 2013.
Box Break: (on average)
Twenty-Four (24) Base Set SP's
Four (4) Program of Excellence Alumni
Two (2) Team Canada Signatures
Four (4) Special Edition SE
One (1) Exclusives Red (#'d of 100), Exclusives Gold Spectrum (#'d of 10) or Printing Plate (#'d of 1)
Every third box will have a Program of Excellence BONUS autograph!
Case Break: (on average)
Four (4) Program of Excellence Sigs (#'d of 175 & 75)
Three (3) Special Edition SE Gold (1:96 packs)
Two (2) Captains SP's (1:144 packs)
One (1) Trade Upper Deck SP card (1:288 packs)
One in every two (2) boxes will also have one of the following cards!
Base Set Exclusives Gold Spectrum (#'d of 10)
Base Set Signatures Black (#'d of 5)
Base Set Printing Plates (#'d of 1)
Clear Cut Program of Excellence (#'d of 99)
Trade Upper Deck Gold Auto (1:1,460 packs)
Check out some preliminary images of the set that only Upper Deck can bring fans through our exclusive agreement with Hockey Canada!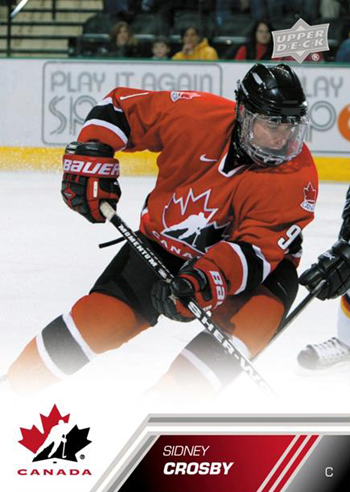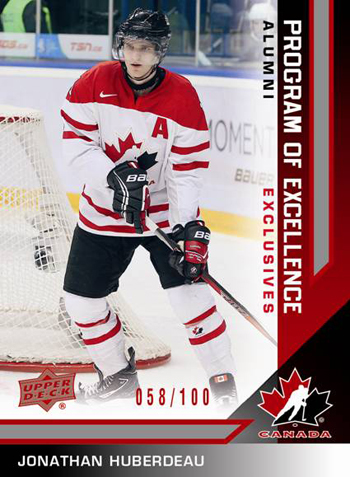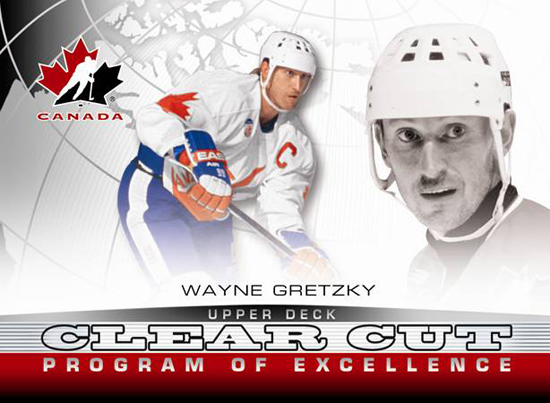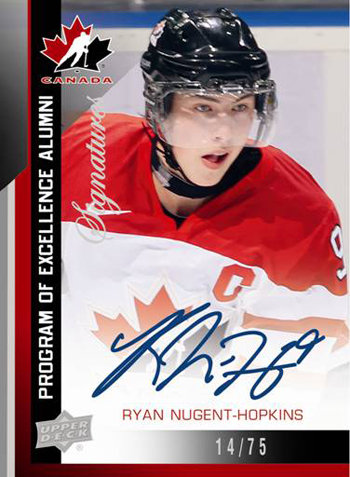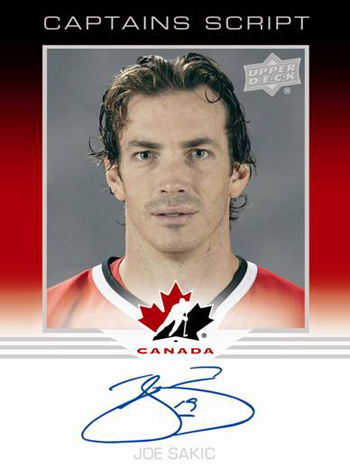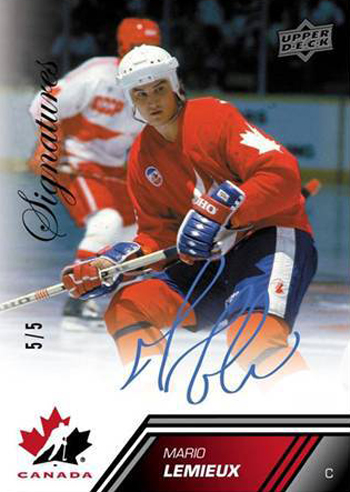 Given the subject matter of this set, this product will be offered exclusively in Canada.
Product depicted for demonstration purposes only. Set content subject to change without further notice. Stated odds reflect an average of the entire production run; no ratio is guaranteed to exist in an individual box or case.
Leave a Comment