Celebrating "Jackie Robinson Day" Through Upper Deck Trading Cards
By
With the release of the movie "42" about the life and times of Jackie Robinson so popular, a new generation of fans are learning to appreciate Jackie Robinson. And as we celebrate the start of baseball season and "Jackie Robinson Day" today, it is important to pay tribute to this incredible player and person. One of the best ways he know how to pay tribute is by sharing the collectibles we have created of Jackie Robinson over the years.
Upper Deck and Fleer have put out a bevy of very collectible Jackie Robinson cards including trading cards that feature swatches of game-worn memorabilia and some that even have authentic cut signatures from checks or documents embedded in them from the iconic baseball legend.
To help celebrate Jackie Robinson Day, we thought it only fitting to share some images of some of our favorite Jackie Robinson cards produced by Upper Deck and Fleer over the years. There are a lot of compelling memorabilia cards that have been issued over the years, here are just a few that are worth adding to your collection if you can find them.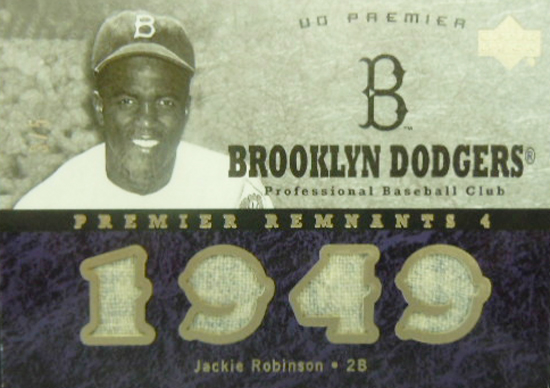 Some of the most exciting cards Upper Deck has produced over the years are those that include an authentic cut signature of Jackie Robinson. These cards can be very pricey, but are certainly a sound investment. Here are some of the cards UD has put out over the last ten years and just recently in the Michael Jordan Master Collection.
Leave a Comment