Brag Photo: Decking the Halls at Upper Deck Brings New Wall Décor
By
One of my favorite people at Upper Deck is Todd Studer who is our Facilities Specialist. Todd's job isn't necessarily a glamorous one, but we all appreciate everything he does to make our corporate headquarters look great. I'm constantly impressed with his work ethic and creativity, but more than anything, Todd is just a really good guy.
A recent initiative here at UD was to update the look of our corporate headquarters and it has been really cool to see Todd, and many others here at Upper Deck, come together to have a variety of awesome memorabilia items displayed. And while they are not all necessarily new, they are new to us and hanging them is designed to show the history of the company over the years. I thought I would share some images of some of my favorites that have gone up thus far.
In our conference room known as the "Fish Tank" because, well, it has a fish tank it in, we had a variety of impressive art from renowned artist Stephen Holland hung. I think this Joe Namath piece is my favorite signed by both the artist and "Broadway Joe."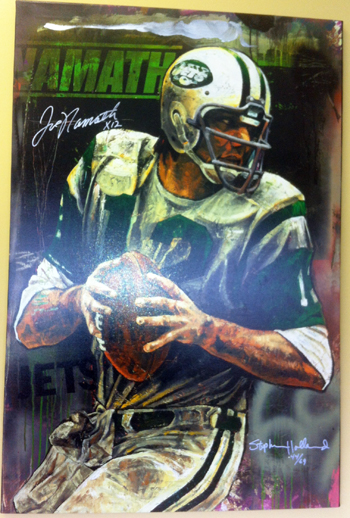 A variety of framed uncut sheets from newer sets have gone up which are just really cool, but for me I really love the older stuff. This NHL Upper Deck sheet is from the early 90's and really takes you back.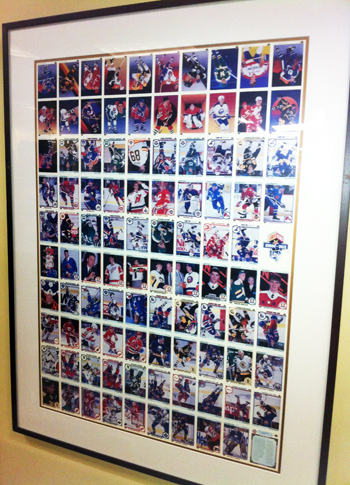 Nobody has been hotter than Tiger Woods as of late (well, maybe LeBron James) so it was nice to see this "Breaking Through" piece go up in our main entryway where the driver actually "breaks through" the glass. This piece has some serious "wow" factor.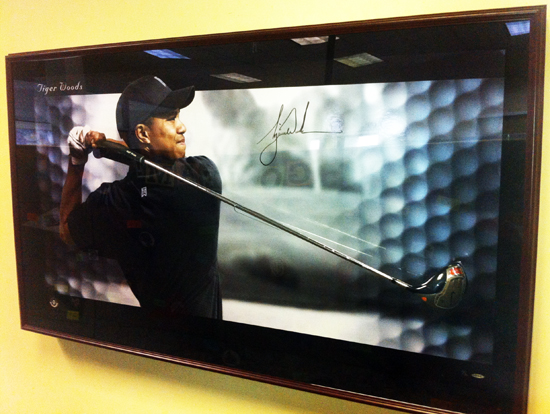 One of the great thrills for all the staff here in the last year occurred when Phil Pritchard, the keeper of Lord Stanley's Cup, brought that iconic trophy out to corporate headquarters for all of us to admire. We had a blow-up card of Phil and the Stanley Cup created to remember the occasion and Phil was kind enough to add his signature to it.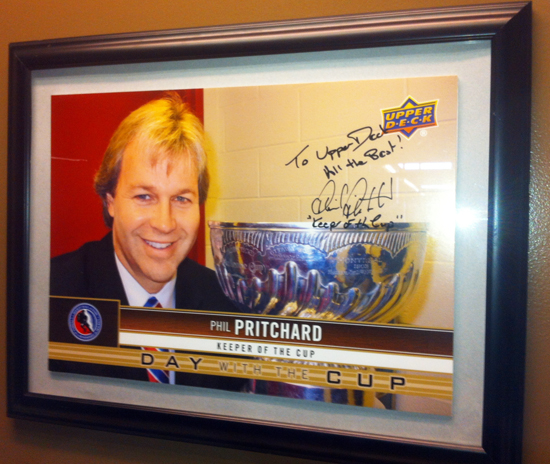 But by far my favorite piece is one I remember fondly. After the 9/11 tragedy Upper Deck staff created a very memorable piece that is truly a one-of-a-kind collectible. It is called "Cards & Stripes Forever" and it is a collage of Upper Deck baseball cards that make up the American flag. It is great to see this showstopper piece flying proudly again here at UD headquarters!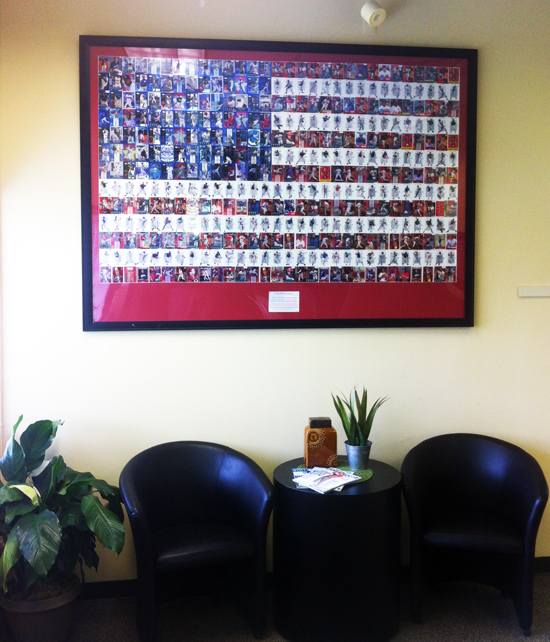 Amazing stuff right? Now I'm just hoping this bad boy goes up next. It's an autographed blow-up from Ken Griffey Jr., the player who started it all for us here at Upper Deck. I'm not worried though, Todd will make it happen. Much like Ken Griffey Jr., Todd always comes through!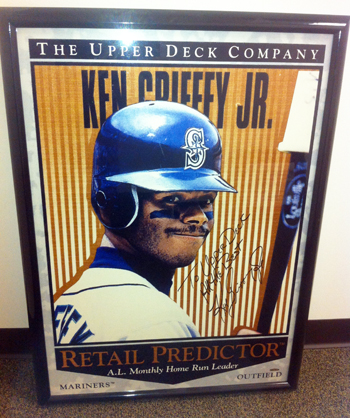 Leave a Comment