Hobby Shop Owners Encouraged by Upper Deck's Presence & Announcements at the Las Vegas Industry Summit
By
Upper Deck came into the 2013 Las Vegas Industry Summit with some big news to share with the industry. It was also a great time for the company to thank Certified Diamond Dealers who represent Upper Deck's products in their shops for all their hard work. Being able to spend time and share ideas with these industry influencers was very important for the Upper Deck team. We returned to headquarters excited to help succeed by delivering collectors great products with huge value.
The show began on Sunday and Upper Deck had an impressive booth at the front of the show floor with a bevy of cool items on display like a complete set of the 2012 Upper Deck Football Mascot Patches, a complete set of the 2012 Goodwin Champions Animal Kingdom Patch cards, a selection of the "Wild West Museum Collection" artifacts that will be found in 2013 Goodwin Champions and autograph gloves, a draft hat and puck from Edmonton Oilers top draft pick for this season; Nail Yakupov. Also on display was an impressive collection of Upper Deck Authenticated memorabilia.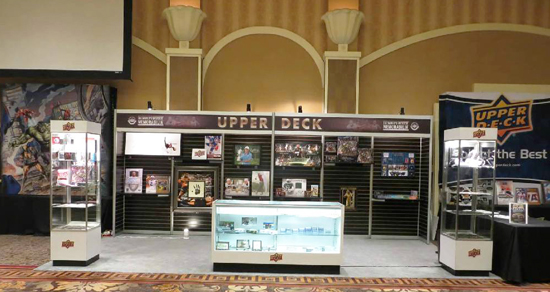 Upper Deck had Jeff Mullen, the CEO of Dynamics Inc. on hand to talk about the company's new credit card platform and Upper Deck rewards functionality. Many retailers shared they had already signed up and had enjoyed using the ePlate technology. And the first 150 shops who signed up to attend the show received a three-card set of special Upper Deck Infinite cards featuring Tiger Woods, LeBron James and Robert Griffin III which have been performing well in the secondary market.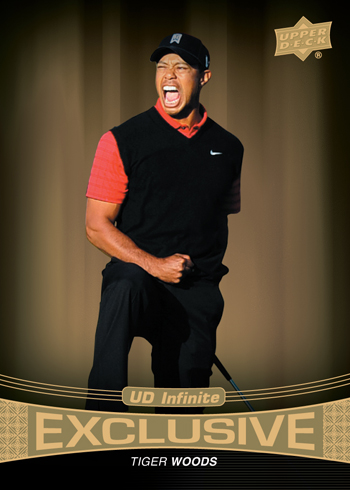 Sunday was a great opportunity to catch up with old friends and colleagues at the show and one of Upper Deck's Authorized Distributors, Sports Images, hosted a welcome reception that evening that was a lot of fun.
Come Monday it was time to get down to business for Upper Deck with a busy day of activities. First up was Upper Deck's Expired Redemption Raffle which went smoothly. And then it was off to a meeting with the top hockey retailers about the Double Rookie Class coming next season to the NHL. Upper Deck has already begun promoting the NHL Double Rookie Class and has created a variety of assets for shops like bags, posters and clings they will be receiving in the coming weeks to help create awareness for this special event. It was great to get ideas from these top retailers on how we can make the most of this unique opportunity and create awareness for it.
That afternoon was Upper Deck's opportunity to present to 200+ Certified Diamond Dealers at the show and share a few very important messages. The first thing Mike Phillips shared was that Upper Deck is not going anywhere. The company has solid ownership and a strong executive team looking to take Upper Deck to new heights in the years to come.
Next up came my opportunity to shine a light on a dealer and recognize him "For tireless efforts in engaging customers with interactive programs and improving the hobby for future generations," by honoring one of them with the Steve James Award. Steve was a retailer who ran The Bullpen and unfortunately passed away. He was incredibly progressive with regard to engaging his customers with fun in-store events so we wanted to keep him memory alive with the award. This year we recognized Mike Fruitman with the honor of Mike's Stadium Sports Cards.
Mike really idolized Steve James and shared a story with the massive audience about how he used to chase Steve down at this annual show for advice and pointers on how to run a great shop. Upper Deck selected Mike predominantly based on how much fun his customers say visiting his shop is. Mike also really came up with an out of the box idea to attract interest in his shop and the industry by purchasing the Balloon Boy saucer and having it on display in his shop for some time. What really touched us though was learning that when Mike heard about the Hurricane Sandy disaster he went to Costco on his own and purchased supplies for retailers out there to help them weather the storm. Those who know him in the industry know he is very deserving of this award and Steve would be happy to know he received it.
At that point in the program Upper Deck's Grant Sandground got into the nuts and bolts of the company's new releases for the remainder of the year. And there were plenty of moments where retailers where blown away by what Upper Deck had in store for their shops and collectors. Here is just a snapshot:
NHL
2012-13 NHL Fleer Retro – With six autographs and four '90's inserts in every box, shop owners definitely saw the value of this newly established brand.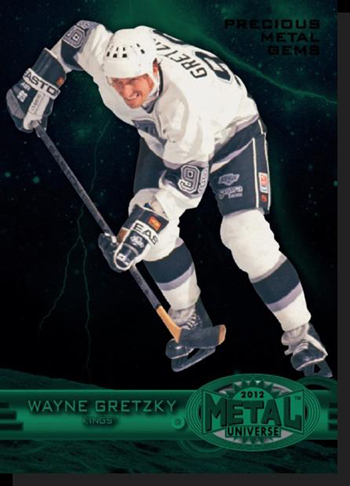 2012-13 NHL SP Authentic – Shop owners seemed to like the new "Authentic Moments" cards autographed in gold paint pen. Also the enhanced content with 100 Upper Deck Update cards being found in packs to help collectors finish off their Series One set and the SPx bonus packs found in every third box on average with an autograph card in every pack.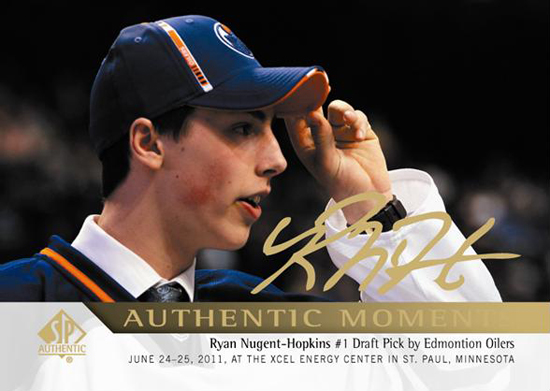 2013-14 NHL Trilogy (NEW!) – Upper Deck will be kicking off the season with a high-end trading card release with the return of Trilogy Hockey in July! Inside each box will be three mini-boxes which house three packs. Each mini-box will include two autograph cards and a memorabilia or new UD Crystal card. New technology cards like UD Signature Pucks will debut here. A new rookie card structure will be present as well. UD will only feature the top 33 rookies and each will have three different autograph rookie cards numbered to 699, 399 and 49. Shop owners were fired up about this new product.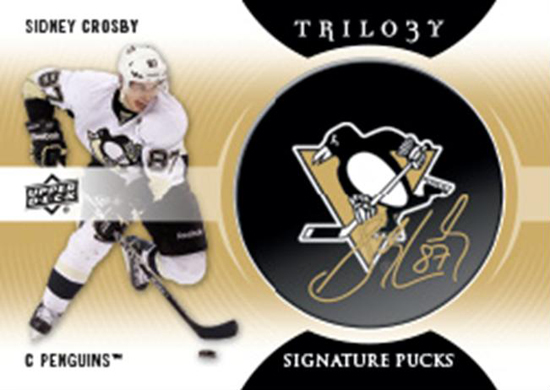 2013-14 NHL O-Pee-Chee – This hobby staple will return with more great content and polarizing designs. In particular the Retro variation seemed to have dealers talking along with the Black Bordered Marquee Rookies.
Football
UD made a variety of big announcements here, but we will share details on many of those later. Here are some things shops and collectors can expect in the immediate future:
2013 Upper Deck Football – UD has scored autograph deals with all the top draft picks and has been working to get as many as possible to sign a variety of autograph content for this set including hard-signed Letterman and Ultimate Collection rookie cards.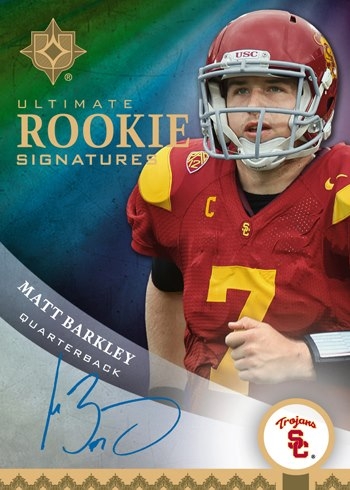 2013 SPx Football – The product is totally revamped with every pack yielding some type of compelling insert, collectors are going to love this product. It is loaded with the top rookie talent for the season and will boast three autograph cards and one memorabilia card in every box on average. It will be a pack opening experience like you've never had with SPx so get ready for a lot of thrills once that foil starts to fly!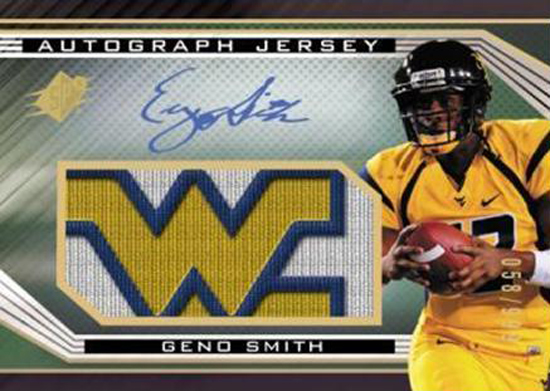 2013 Upper Deck Notre Dame Football – The Domer fans have been so excited to see what Upper Deck will bring to the table with this release! Tuesday at the show Upper Deck brought in former Notre Dame superstar Raghib Ismail to sign autograph blow-up cards from the Notre Dame set for fans in attendance. He also posed for a picture and everyone was blown away by how personable and down to earth "Rocket" was.
Basketball
2013 All-Time Greats Basketball – We are getting very close to the release of this highly anticipated set that will feature autographs from a variety of new signers this season like Dennis Rodman, Jason Kidd, Allen Iverson, Karl Malone, Gary Payton, Paul Pierce, Ray Allen, Isiah Thomas and Reggie Miller.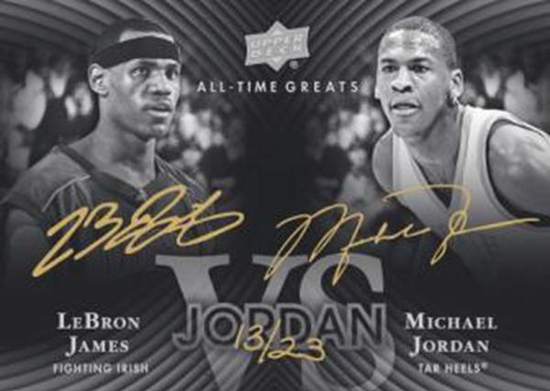 2012-13 SP Authentic Basketball – Given the fact UD has produced less basketball products than in recent years, there is a huge demand for exclusive signers like LeBron James and Michael Jordan. UD is careful with how much of their autograph content we put in the market, but a product like SP Authentic Basketball will definitely be a great release to try to pull cards of those two superstars along with big names like Larry Bird, Bill Russell, Magic Johnson, Julius Erving, Allen Iverson, Reggie Miller, Karl Malone, Grant Hill and Chris Paul.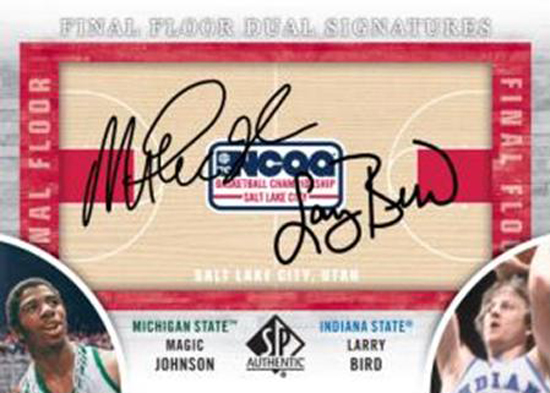 Michael Jordan UNC Master Collection – Perhaps the biggest news of the show was that Upper Deck would be bringing back the Master Collection sets with enhanced content around legendary spokesman Michael Jordan. With four autographs in every set and tons of unique chase, it is a set sure to excite hardcore collectors.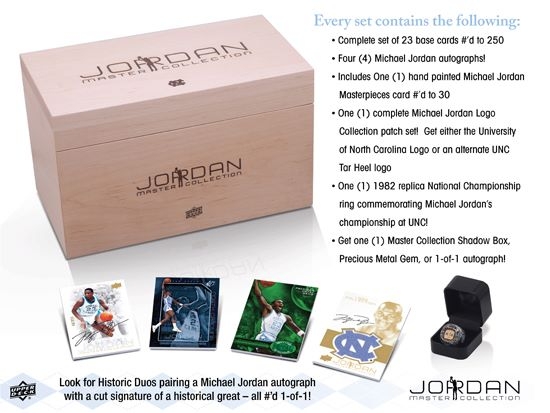 Multi-Sport
2013 Goodwin Champions – Collectors love hard-signed autograph cards and Goodwin Champions sure delivers there with a tentative checklist of new top-notch signers like Tony Hawk, Mario Andretti, Dan Fouts, Oscar de la Hoya, Allen Iverson, Reggie Jackson, Bam Margera, Mark McGwire, Rory McIlroy, Joe Namath, Danica Patrick, Mats Sundin, Bart Starr and many more! Of course there will be a variety of interesting and unique content like "Art of the Ages" hand painted cards and "The Elements" booklet relics for example.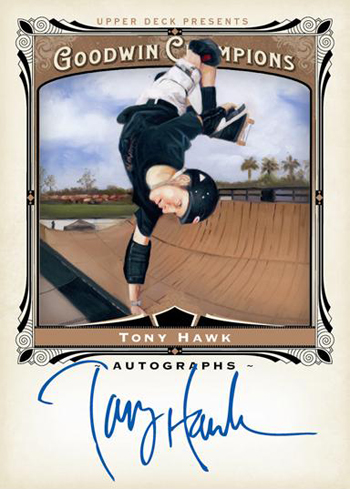 Golf
2013 SP Authentic Golf – Coming this summer is for sure one of the most anticipated releases of the year with Rory McIlory's first-ever rookie golf card. Rory's rookie card in the set will be hard-signed and numbered to just 299 copies. With three signature cards in every box it should be a really fun break for golf fanatics.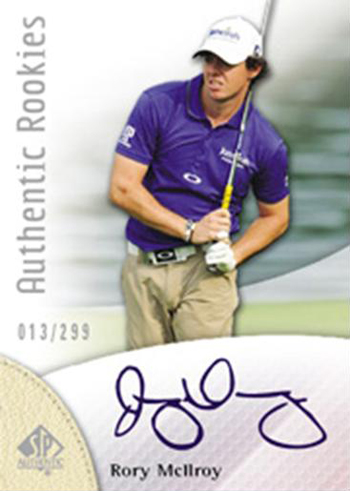 Baseball
By far the biggest news of the day, and perhaps the entire conference was that Upper Deck was back in the baseball business. As many found out this week, UD has secured a deal with the MLBPA to produce two new sets for this season. At the Las Vegas Industry Summit, those in attendance were excited to see Upper Deck's innovative trading card concepts would return to the baseball market.
2013 Fleer Retro Baseball – The brand has established itself as one that delivers strong value for collectors so Upper Deck will expand it to baseball. With six autographs in each box and a strong assortment of beloved Fleer inserts mixed in as well, it should be a home-run for hobby shop owners and collectors when it hits this summer.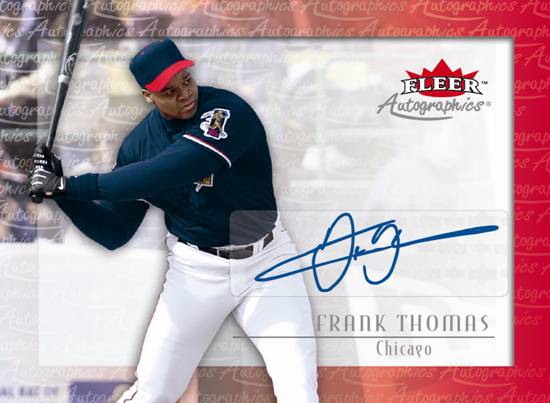 The meeting concluded where some lucky fans got to get a taste of Upper Deck's return to baseball as the company created a special thank you pack for retailers in attendance. Inserted randomly into some of these packs was a Mike Trout Fleer Precious Metal Gems promotional card. Every pack held an autograph card from top UD athletes and shops in attendance sure seemed excited as they cracked them open!
Tuesday at the show Upper Deck brought in legendary slugger Frank Thomas to sign Fleer Retro blow-up cards and take a photo with attendees celebrating Upper Deck's return to baseball. Michelle Steele of ESPN's Mint Condition grabbed interviews with Raghib Ismail, Frank Thomas and me to talk about the exciting events of the day for future episodes.
Another big event Tuesday was the annual NHL lunch where Upper Deck was able to share how the National Hockey Card Day event continues to help grow the trading card market through meaningful sampling at hobby shops. Upper Deck also unveiled plans to help retailers promote the 2013-14 NHL Double Rookie Class by showing off the new logo the company created to appear on a variety of promotional signage.
Wednesday finished up the memorable event and I was privileged to be a part of the show's new Tech Academy sessions designed to help retailers maximize their use of social media. It felt great to be able to share some ideas with these shop owners who are working to harness the power of these platforms to their advantage.
I've said it before, but I'll say it again, if you are a shop owner this is an event you have to be at. Start saving now for the 2014 Las Vegas Industry Summit and do everything you can to be there for the next event. Not only will you walk away with great giveaways and tips for how to improve your business, you'll leave with great memories and new friends as well.
Leave a Comment