Featured Collector: Mark Wardlow a Veteran Collector in the U.S. Army
By
Upper Deck has long been thought of as the "Collector's Choice," but a major focus for UD in the last few years has been to become the "Military's Choice" when it comes to trading cards. Being that Upper Deck is based in San Diego, adjacent to a variety of military instillations, our leadership believes it is important to do everything we can to show appreciation for the men and women who serve and defend the U.S.A. Whether it be through donations to organizations like Operation Gratitude or just by sharing military themed packs at local parades, Upper Deck is dedicated to be the trading card company that best supports our troops.
And as we engage more and more military fans, we come to find how meaningful trading cards can be to those who serve. For those who serve, trading cards can be a distraction, an activity to help families grow closer or an investment. Trading cards can trigger memories of great sports moments and provide our troops with a meaningful piece of home while they serve on the other side of the world. Upper Deck trading cards have been all these things to Mark Wardlow of Farmington, Missouri. Mark served three tours of duty with the U.S. Army in Iraq and as an organization we would like to thank him for his service. Here is his story:
"I recently started collecting again now that I have the free time to do so. One of the main things that I enjoy about collecting cards is all the stories I have tied to so many of my collectibles. Almost every card has a story and ties to a nice memory so while values on trading cards are always fun to check out, there is a sentimental attachment to many of the cards you can't really put a value on. I still remember the first cards I ever purchased. While they may not be very valuable to most collectors, they are almost priceless to me.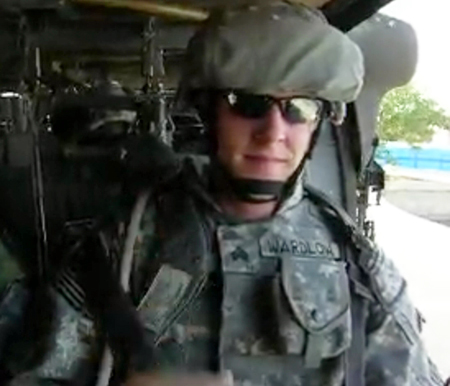 "While deployed I found there are a lot of people in the service who love collecting sports cards. We would talk for hours over there about our favorite cards, players and sports. It was fun discussing the cards we had and the cards we wish we had. It was also a bit nerve racking for some hoping their families were taking good care of their collections while they were away.
"Beyond the sentimental value, I really appreciate the overall beauty and appeal of the cards. Still to this date, my favorite cards Upper Deck put out were the Diamond Vision cards from the late '90's where the players actually moved across the thick lenticular cards. The Michael Jordan cards from that set are my favorite with Shaquille O'Neal running a close second.
"I also think the UD Black cards are very appealing to the eye. They are just beautiful and I was very excited when I pulled a gold autograph of Jerryd Bayless and D.J. Augustin limited to just five copies and a Richard Jefferson autograph limited to just 25 copies. My best basketball pull of all-time would be from SP Game-Used Basketball where I scored a Jordan/LeBron/Magic triple memorabilia card numbered to 25.
"I collect a bit of everything from all the sports. I love some of my UD Marion Barber autograph and memorabilia cards and my all-time favorite is the 1989 Upper Deck Ken Griffey Jr. rookie card. I have two right now, but wouldn't mind picking up more, they are an all-time classic!
"While I was deployed in Iraq you have a lot of time where you are just alone with your thoughts. Thinking back on the fun I had while collecting was a really nice escape as different events from recent pulls to collecting while I was a kid passed through my head. Visiting my local card shop and getting grab bags the hobby shop owner put together along with my mom were some of my best memories for sure.
"If you are in any branch of the service, I would highly recommend you get involved in collecting Upper Deck cards. Not only will you enjoy the hobby as you collect, but it is really cool to have a nice legacy of awesome collectibles to pass on to your children or loved ones some day. It is a hobby you can also enjoy with your kids.
"Nothing can erase the great memories you make while collecting cards. Making good memories is something I don't take for granted these days. Something the service has taught me is that life is short so it is important to make lasting memories while you can. I'm appreciative to have a great wife who understands my passion for the hobby. I've got a whole room in our home dedicated to my collection which is pretty awesome. I am very blessed to have found a partner who is supportive of the hobby, now if I can just get her collecting…
"Thanks to Upper Deck for allowing me to share my love for the industry and I hope you continue to keep making great cards for all my favorite sports!"
Leave a Comment