Upper Deck Shares a Social Surprise with College Football Fans for Valentine's Day
By
Chris Carlin
Upper Deck loves to engage our worldwide customers through social media platforms like Facebook, YouTube and Twitter. And one of the most passionate groups of collectors love Upper Deck's college football products. As the exclusive home of collegiate trading cards, Upper Deck consistently delivers some of the most valuable rookies in the industry through the company's flagship Upper Deck brand, Fleer Retro, SP Authentic, Exquisite Collection and more.
And since college football fans do have so much love for their teams, we thought it would be nice to do something for a couple of them on Valentine's Day.
Geoff Goebel contacted us and shared:
Dear Upper Deck,
I'm hoping you can help me give the two most important girls in my life a great Valentine's Day. They are both huge LSU fans from Louisiana and this is our first year together in Tennessee. We will be getting married this year and my fiancé's daughter absolutely means the world to me. I have just started to get into collecting again this year and they have both jumped on board as well. Money is tight right now, but I thought you could help me come up with something to share the thrill of the hobby with them as a family. Any help you could give would be greatly appreciated and I would be eternally grateful.
Well how could we say no to that? How can we share the thrill of the hobby with Courtney & Jasmine? How about by putting them on their very own LSU trading card? Happy Valentine's Day girls!!!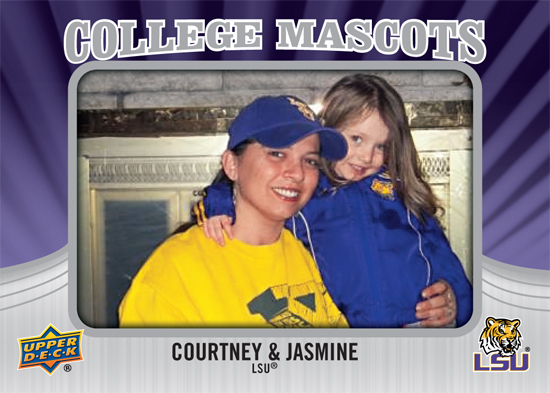 Next up we heard from Jim who had this to say:
My oldest son just went to boot camp for the U.S. Army. He played sports all through school, but made the decision to serve his country instead of going off to college. Is there any way I would be able to have you guys put him on an Upper Deck card? He would love that. His name is Kyle Stone and he love Ohio State football. He played wide-receiver in school and this would be just awesome. I sure hope you can do this, it would be a real moral builder for him. Thank you and God bless.
Now most fans know that when it comes to supporting the military, nobody does more than Upper Deck. We jumped at the chance to create Kyle's first rookie card from the ultra-premium football release, Ultimate Collection. We will also be creating a blow-up version to get to Kyle for when he comes home from boot camp! Thank you for your service Kyle!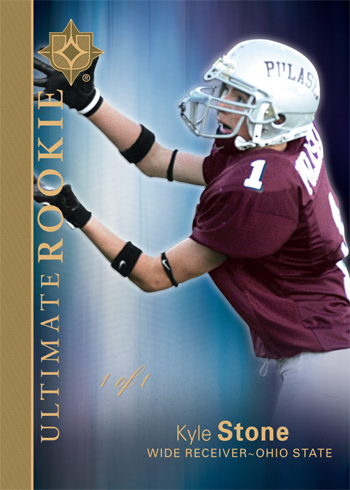 Look for Upper Deck to "socially surprise" more collectors in the future! Happy Valentine's Day to all our fans!
Leave a Comment