Upper Deck Releases Short Print Information on 2012 SP Authentic Football
By
Upper Deck's 2012 SP Authentic Football has been a huge hit with gridiron fans and as collectors break more and more of the product to put together sets, many have been wondering which of the cards in the sets are short prints. Now that the product has had the opportunity to perform in the secondary market, Upper Deck is pleased do share a list of short print information on the autograph cards found within 2012 SP Authentic Football.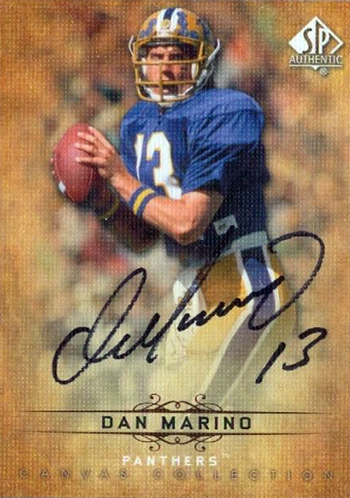 First up are the Canvas autograph cards. There are three different groups of these cards, all produced at roughly the same levels which makes it possible to potentially put together this very limited set. The first group are the "Canvas Collection" autograph cards numbered CC-1 through CC-90 and they can be found at 1:1,076 packs. The second group are the "Canvas Rookie Short Print Autographs" numbered CR1-CR25 and as the name indicates, they are all very short printed falling at 1:3,372 packs. And the toughest group are the "Canvas Legends Short Print Autographs" numbered CL1-CL20 inserted 1:6,076 packs.
Here is the rest of the short print information for the non-numbered autograph cards in the set.
1994 SP Autographs (cards numbered 94SP-1 through 94SP-100)
Group A: Combine to fall 1:8,132 packs
| | |
| --- | --- |
| 94SP-1 | Troy Aikman |
| 94SP-10 | Drew Brees |
| 94SP-13 | Aaron Rodgers |
| 94SP-15 | Tim Tebow |
| 94SP-17 | Dan Marino |
| 94SP-19 | Roger Staubach |
| 94SP-3 | John Elway |
| 94SP-31 | Brandon Weeden |
| 94SP-5 | Barry Sanders |
| 94SP-58 | Justin Blackmon |
| 94SP-6 | Bo Jackson |
| 94SP-69 | Robert Griffin III |
| 94SP-7 | Steve Young |
| 94SP-75 | Trent Richardson |
| 94SP-8 | Tony Dorsett |
| 94SP-84 | Ryan Tannehill |
Group B: Combine to fall 1:1,681 packs 
| | |
| --- | --- |
| 94SP-11 | Earl Campbell |
| 94SP-14 | Herschel Walker |
| 94SP-16 | Mike Alstott |
| 94SP-2 | Bernie Kosar |
| 94SP-27 | Alshon Jeffery |
| 94SP-32 | Brian Quick |
| 94SP-43 | DeVier Posey |
| 94SP-44 | Rueben Randle |
| 94SP-45 | Doug Martin |
| 94SP-51 | Isaiah Pead |
| 94SP-54 | Michael Brockers |
| 94SP-55 | Brock Osweiler |
| 94SP-59 | Kendall Wright |
| 94SP-64 | LaMichael James |
| 94SP-65 | Stephen Hill |
| 94SP-72 | Michael Floyd |
| 94SP-74 | Nick Foles |
| 94SP-83 | Dre Kirkpatrick |
| 94SP-85 | Dont'a Hightower |
| 94SP-88 | A.J. Jenkins |
| 94SP-9 | Thurman Thomas |
Group C: Combine to fall 1:553 packs 
| | |
| --- | --- |
| 94SP-100 | Janoris Jenkins |
| 94SP-12 | Charles White |
| 94SP-18 | Ty Detmer |
| 94SP-20 | Andre Ware |
| 94SP-28 | DevonWylie |
| 94SP-29 | B.J. Cunningham |
| 94SP-30 | Mark Barron |
| 94SP-33 | Case Keenum |
| 94SP-36 | Harrison Smith |
| 94SP-37 | Shea McClellin |
| 94SP-39 | Coby Fleener |
| 94SP-4 | Billy Sims |
| 94SP-40 | Cyrus Gray |
| 94SP-41 | Dan Herron |
| 94SP-49 | Juron Criner |
| 94SP-50 | Joe Adams |
| 94SP-52 | Jarius Wright |
| 94SP-53 | Ronnie Hillman |
| 94SP-56 | Luke Kuechly |
| 94SP-57 | Kellen Moore |
| 94SP-63 | Kirk Cousins |
| 94SP-66 | Marvin Jones (2012) |
| 94SP-67 | Whitney Mercilus |
| 94SP-71 | Dwayne Allen |
| 94SP-73 | Mohamed Sanu |
| 94SP-76 | T.J. Graham |
| 94SP-77 | Ryan Broyles |
| 94SP-78 | Nick Toon |
| 94SP-79 | Russell Wilson |
| 94SP-80 | Quinton Coples |
| 94SP-81 | Ryan Lindley |
| 94SP-82 | Stephon Gilmore |
| 94SP-86 | Lavonte David |
| 94SP-87 | Travis Benjamin |
| 94SP-90 | Dontari Poe |
| 94SP-95 | Andre Branch |
| 94SP-96 | Bernard Pierce |
| 94SP-97 | Courtney Upshaw |
| 94SP-98 | Keshawn Martin |
| 94SP-99 | Greg Childs |
Group D: Combine to fall 1:719 packs (although odds are higher on these, they more prevalent than Group C because there are less subjects in Group D than in Group C) 
| | |
| --- | --- |
| 94SP-21 | Aaron Corp |
| 94SP-22 | Michael Egnew |
| 94SP-23 | Jeremy Ebert |
| 94SP-24 | Jordan White |
| 94SP-25 | Pat Edwards |
| 94SP-26 | Ladarius Green |
| 94SP-34 | ChandlerHarnish |
| 94SP-35 | Matt Kalil |
| 94SP-38 | Davin Meggett |
| 94SP-42 | Alfred Morris |
| 94SP-46 | Dwight Jones |
| 94SP-47 | Edwin Baker |
| 94SP-48 | Jeff Fuller |
| 94SP-60 | Rhett Ellison |
| 94SP-61 | Tauren Poole |
| 94SP-62 | Melvin Ingram |
| 94SP-68 | Marquis Maze |
| 94SP-70 | Rishard Matthews |
| 94SP-89 | Marvin McNutt |
| 94SP-91 | Dominique Davis |
| 94SP-93 | Jarrett Boykin |
| 94SP-94 | Orson Charles |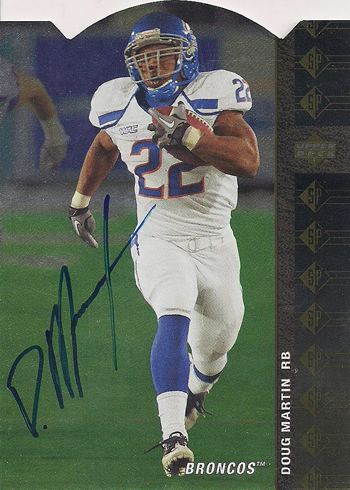 1994 SP Die-Cut Autographs (cards numbered 94SP-1 through 94SP-100)
Group A: Combine to fall 1:87,200 packs
| | |
| --- | --- |
| 94SP-10 | Drew Brees |
| 94SP-13 | Aaron Rodgers |
| 94SP-19 | Roger Staubach |
| 94SP-69 | Robert Griffin III |
| 94SP-8 | Tony Dorsett |
Group B: Combine to fall 1:17,440 
| | |
| --- | --- |
| 94SP-1 | Troy Aikman |
| 94SP-14 | Herschel Walker |
| 94SP-15 | Tim Tebow |
| 94SP-16 | Mike Alstott |
| 94SP-17 | Dan Marino |
| 94SP-3 | John Elway |
| 94SP-43 | DeVier Posey |
| 94SP-5 | Barry Sanders |
| 94SP-58 | Justin Blackmon |
| 94SP-59 | Kendall Wright |
| 94SP-6 | Bo Jackson |
| 94SP-7 | Steve Young |
| 94SP-75 | Trent Richardson |
| 94SP-83 | Dre Kirkpatrick |
| 94SP-85 | Dont'a Hightower |
Group C: Combine to fall 1:1,305 
| | |
| --- | --- |
| 94SP-100 | Janoris Jenkins |
| 94SP-11 | Earl Campbell |
| 94SP-12 | Charles White |
| 94SP-18 | Ty Detmer |
| 94SP-2 | Bernie Kosar |
| 94SP-20 | Andre Ware |
| 94SP-21 | Aaron Corp |
| 94SP-22 | Michael Egnew |
| 94SP-23 | Jeremy Ebert |
| 94SP-24 | Jordan White |
| 94SP-25 | Pat Edwards |
| 94SP-26 | Ladarius Green |
| 94SP-27 | Alshon Jeffery |
| 94SP-28 | DevonWylie |
| 94SP-29 | B.J. Cunningham |
| 94SP-30 | Mark Barron |
| 94SP-31 | Brandon Weeden |
| 94SP-32 | Brian Quick |
| 94SP-33 | Case Keenum |
| 94SP-34 | ChandlerHarnish |
| 94SP-35 | Matt Kalil |
| 94SP-36 | Harrison Smith |
| 94SP-37 | Shea McClellin |
| 94SP-38 | Davin Meggett |
| 94SP-39 | Coby Fleener |
| 94SP-4 | Billy Sims |
| 94SP-40 | Cyrus Gray |
| 94SP-41 | Dan Herron |
| 94SP-42 | Alfred Morris |
| 94SP-44 | Rueben Randle |
| 94SP-45 | Doug Martin |
| 94SP-46 | Dwight Jones |
| 94SP-47 | Edwin Baker |
| 94SP-48 | Jeff Fuller |
| 94SP-49 | Juron Criner |
| 94SP-50 | Joe Adams |
| 94SP-51 | Isaiah Pead |
| 94SP-52 | Jarius Wright |
| 94SP-53 | Ronnie Hillman |
| 94SP-54 | Michael Brockers |
| 94SP-55 | Brock Osweiler |
| 94SP-56 | Luke Kuechly |
| 94SP-57 | Kellen Moore |
| 94SP-60 | Rhett Ellison |
| 94SP-61 | Tauren Poole |
| 94SP-62 | Melvin Ingram |
| 94SP-63 | Kirk Cousins |
| 94SP-64 | LaMichael James |
| 94SP-65 | Stephen Hill |
| 94SP-66 | Marvin Jones (2012) |
| 94SP-67 | Whitney Mercilus |
| 94SP-68 | Marquis Maze |
| 94SP-70 | Rishard Matthews |
| 94SP-71 | Dwayne Allen |
| 94SP-72 | Michael Floyd |
| 94SP-73 | Mohamed Sanu |
| 94SP-74 | Nick Foles |
| 94SP-76 | T.J. Graham |
| 94SP-77 | Ryan Broyles |
| 94SP-78 | Nick Toon |
| 94SP-79 | Russell Wilson |
| 94SP-80 | Quinton Coples |
| 94SP-81 | Ryan Lindley |
| 94SP-82 | Stephon Gilmore |
| 94SP-84 | Ryan Tannehill |
| 94SP-86 | Lavonte David |
| 94SP-87 | Travis Benjamin |
| 94SP-88 | A.J. Jenkins |
| 94SP-89 | Marvin McNutt |
| 94SP-9 | Thurman Thomas |
| 94SP-90 | Dontari Poe |
| 94SP-91 | Dominique Davis |
| 94SP-93 | Jarrett Boykin |
| 94SP-94 | Orson Charles |
| 94SP-95 | Andre Branch |
| 94SP-96 | Bernard Pierce |
| 94SP-97 | Courtney Upshaw |
| 94SP-98 | Keshawn Martin |
| 94SP-99 | Greg Childs |
2012 SP Authentic Base Set Autographs (cards numbered 1-100)
Group A: Combine to fall 1:6,213 packs 
| | |
| --- | --- |
| 10 | Robert Griffin III |
| 16 | Brandon Weeden |
| 55 | Kendall Wright |
| 60 | LaMichael James |
| 81 | Justin Blackmon |
Group B: Combine to fall 1:1,382 packs 
| | |
| --- | --- |
| 1 | A.J. Jenkins |
| 5 | Alshon Jeffery |
| 33 | Doug Martin |
| 40 | Isaiah Pead |
| 58 | Kirk Cousins |
| 65 | Luke Kuechly |
| 85 | Ronnie Hillman |
| 87 | Russell Wilson |
Group C: Combine to fall 1:265 packs
| | |
| --- | --- |
| 4 | Stephon Gilmore |
| 6 | Andre Branch |
| 7 | Dont'a Hightower |
| 14 | Bobby Wagner |
| 17 | Lavonte David |
| 18 | Case Keenum |
| 23 | Dontari Poe |
| 25 | Courtney Upshaw |
| 31 | DevonWylie |
| 34 | Janoris Jenkins |
| 35 | Dwayne Allen |
| 41 | Harrison Smith |
| 45 | Jeff Fuller |
| 54 | Juron Criner |
| 56 | Keshawn Martin |
| 73 | Michael Egnew |
| 80 | Quinton Coples |
| 83 | Rishard Matthews |
| 89 | T.J. Graham |
| 90 | Mychal Kendricks |
| 99 | Whitney Mercilus |
Group D: Combine to fall 1:163 packs 
| | |
| --- | --- |
| 2 | Aaron Corp |
| 15 | Brandon Thompson |
| 19 | ChandlerHarnish |
| 20 | Tyler Hansen |
| 22 | David DeCastro |
| 32 | Dominique Davis |
| 47 | Joe Adams |
| 48 | Jeremy Ebert |
| 52 | Jordan White |
| 59 | Ladarius Green |
| 61 | Kendall Reyes |
| 63 | Alfred Morris |
| 70 | Alfonzo Dennard |
| 71 | Matt Kalil |
| 78 | Orson Charles |
| 82 | Riley Reiff |
| 100 | Rhett Ellison |
Group E: Combine to fall 1:47 packs 
| | |
| --- | --- |
| 3 | AlamedaTa'amu |
| 8 | Darius Hanks |
| 9 | Jarrett Lee |
| 11 | Bobby Rainey |
| 12 | Antwon Bailey |
| 13 | Cordy Glenn |
| 24 | Cliff Harris (2012) |
| 26 | Da'Jon McKnight |
| 27 | Dan Herron |
| 28 | Evan Rodriguez |
| 29 | Derek Moye |
| 30 | Shea McClellin |
| 36 | Amini Silatolu |
| 37 | Foswhitt Whittaker |
| 38 | Gerell Robinson |
| 39 | Greg Childs |
| 42 | Jamell Fleming |
| 43 | Jerry Franklin |
| 44 | Jarrett Boykin |
| 46 | James-Michael Johnson |
| 49 | Kevin Koger |
| 50 | Jonathan Martin (2012) |
| 51 | Jordan Jefferson |
| 57 | Jermaine Kearse |
| 62 | Lavasier Tuinei |
| 66 | Marc Tyler |
| 67 | Laron Byrd |
| 68 | Marquis Maze |
| 69 | Nigel Bradham |
| 72 | Rodney Stewart |
| 74 | Dan Persa |
| 75 | Mike Willie |
| 76 | Micanor Regis |
| 77 | Mike Martin |
| 79 | Pat Edwards |
| 84 | Ronnell Lewis |
| 86 | Nelson Rosario |
| 88 | Stephfon Green |
| 91 | Eric Page |
| 92 | Thomas Mayo |
| 93 | Jared Crick |
| 94 | Travis Benjamin |
| 95 | David Molk |
| 96 | Tyler Shoemaker |
| 97 | Tim Benford |
| 98 | Vontaze Burfict |
2012 SP Authentic Rookie Short Print Autographs (cards numbered 101-130)
Group A: Combine to fall 1:5,027 packs 
| | |
| --- | --- |
| 101 | Trent Richardson |
| 104 | Brock Osweiler |
| 106 | Ryan Broyles |
| 108 | Michael Floyd |
| 123 | Ryan Tannehill |
Group B: Combine to fall 1:1,106 packs 
| | |
| --- | --- |
| 103 | Nick Toon |
| 109 | Mohamed Sanu |
| 110 | Bernard Pierce |
| 111 | Rueben Randle |
| 112 | DeVier Posey |
| 116 | Kellen Moore |
| 118 | Nick Foles |
| 119 | Stephen Hill |
| 120 | Brian Quick |
| 125 | Coby Fleener |
| 127 | Mark Barron |
Group C: Combine to fall 1:804 packs 
| | |
| --- | --- |
| 105 | Jarius Wright |
| 107 | Michael Brockers |
| 113 | Ryan Lindley |
| 117 | Dre Kirkpatrick |
| 122 | B.J. Cunningham |
| 129 | Marvin Jones (2012) |
| 130 | Melvin Ingram |
Group D: Combine to fall 1:395 packs 
| | |
| --- | --- |
| 102 | Cyrus Gray |
| 114 | Marvin McNutt |
| 115 | Tauren Poole |
| 121 | Dwight Jones |
| 124 | Edwin Baker |
| 126 | BrandonBolden |
| 128 | Davin Meggett |
2012 SP Authentic Legends Short Print Autographs (cards numbered 131-150)
Group A: Combine to fall 1:19,749 packs 
| | |
| --- | --- |
| 135 | Jerry Rice |
| 137 | John Elway |
| 143 | Dan Marino |
| 146 | Barry Sanders |
| 148 | Aaron Rodgers |
| 150 | Tim Tebow |
Group B: Combine to fall 1:6,827 packs
| | |
| --- | --- |
| 131 | Roger Staubach |
| 134 | Troy Aikman |
| 139 | Tony Dorsett |
| 141 | Jim Kelly |
| 144 | Steve Young |
| 149 | Drew Brees |
Group C: Combine to fall 1:2,633 packs 
| | |
| --- | --- |
| 136 | Herschel Walker |
| 140 | Earl Campbell |
| 142 | Joe Theismann |
| 145 | Bo Jackson |
Group D: Combine to fall 1:790 packs 
| | |
| --- | --- |
| 132 | Ty Detmer |
| 133 | Andre Ware |
| 138 | Charles White |
| 147 | Billy Sims |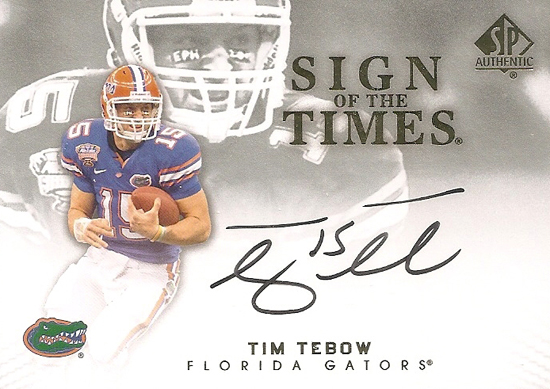 2012 SP Authentic Sign of the Times Autographs
Group A: Combine to fall 1:24,042 packs 
| | |
| --- | --- |
| ST-AR | Aaron Rodgers |
| ST-BS | Barry Sanders |
| ST-DM | Dan Marino |
| ST-EL | John Elway |
| ST-TT | Tim Tebow |
Group B: Combine to fall 1:1,636 
| | |
| --- | --- |
| ST-BJ | Bo Jackson |
| ST-BK | Bernie Kosar |
| ST-BW | Brandon Weeden |
| ST-DB | Drew Brees |
| ST-EC | Earl Campbell |
| ST-JB | Justin Blackmon |
| ST-JP | Jim Plunkett |
| ST-OS | Brock Osweiler |
| ST-RG | Robert Griffin III |
| ST-RS | Roger Staubach |
| ST-RT | Ryan Tannehill |
| ST-SY | Steve Young |
| ST-TA | Troy Aikman |
| ST-TD | Tony Dorsett |
| ST-TH | Thurman Thomas |
| ST-TR | Trent Richardson |
Group C: Combine to fall 1:955 packs 
| | |
| --- | --- |
| ST-AJ | A.J. Jenkins |
| ST-BQ | Brian Quick |
| ST-CF | Coby Fleener |
| ST-DO | Doug Martin |
| ST-HW | Herschel Walker |
| ST-IP | Isaiah Pead |
| ST-JE | Alshon Jeffery |
| ST-KW | Kendall Wright |
| ST-LJ | LaMichael James |
| ST-MF | Michael Floyd |
| ST-NF | Nick Foles |
| ST-SH | Stephen Hill |
Group D: Combine to fall 1:226 packs 
| | |
| --- | --- |
| ST-BA | Mark Barron |
| ST-BP | Bernard Pierce |
| ST-CK | Case Keenum |
| ST-DA | Dwayne Allen |
| ST-DK | Dre Kirkpatrick |
| ST-DP | DeVier Posey |
| ST-HI | Dont'a Hightower |
| ST-JA | Joe Adams |
| ST-JJ | Janoris Jenkins |
| ST-KC | Kirk Cousins |
| ST-KM | Kellen Moore |
| ST-LK | Luke Kuechly |
| ST-MS | Mohamed Sanu |
| ST-NT | Nick Toon |
| ST-QC | Quinton Coples |
| ST-RB | Ryan Broyles |
| ST-RH | Ronnie Hillman |
| ST-RL | Ryan Lindley |
| ST-RR | Rueben Randle |
| ST-RW | Russell Wilson |
| ST-SG | Stephon Gilmore |
| ST-SS | Steve Sewell |
| ST-TG | T.J. Graham |
| ST-VB | Vontaze Burfict |
| ST-WA | Bobby Wagner |
Group E: Combine to fall 1:71 packs 
| | |
| --- | --- |
| ST-AB | Andre Branch |
| ST-AD | Alfonzo Dennard |
| ST-AM | Alfred Morris |
| ST-AW | Andre Ware |
| ST-BC | B.J. Cunningham |
| ST-BO | Jarrett Boykin |
| ST-CG | Cyrus Gray |
| ST-CH | ChandlerHarnish |
| ST-CU | Courtney Upshaw |
| ST-DD | Dominique Davis |
| ST-DH | Dan Herron |
| ST-DJ | Dwight Jones |
| ST-DW | DevonWylie |
| ST-EB | Jeremy Ebert |
| ST-ED | Edwin Baker |
| ST-GC | Greg Childs |
| ST-HA | Casey Hayward |
| ST-HS | Harrison Smith |
| ST-JC | Juron Criner |
| ST-JF | Jeff Fuller |
| ST-JR | Johnny Rodgers |
| ST-JW | Jarius Wright |
| ST-KE | Keshawn Martin |
| ST-LD | Lavonte David |
| ST-LG | Ladarius Green |
| ST-MB | Michael Brockers |
| ST-MC | Marvin McNutt |
| ST-MI | Melvin Ingram |
| ST-MJ | Marvin Jones (2012) |
| ST-MK | Matt Kalil |
| ST-MM | Marquis Maze |
| ST-MY | Mychal Kendricks |
| ST-OC | Orson Charles |
| ST-PE | Pat Edwards |
| ST-PO | Dontari Poe |
| ST-RM | Rishard Matthews |
| ST-SI | Billy Sims |
| ST-SM | Shea McClellin |
| ST-TB | Travis Benjamin |
| ST-WH | Jordan White |
| ST-WM | Whitney Mercilus |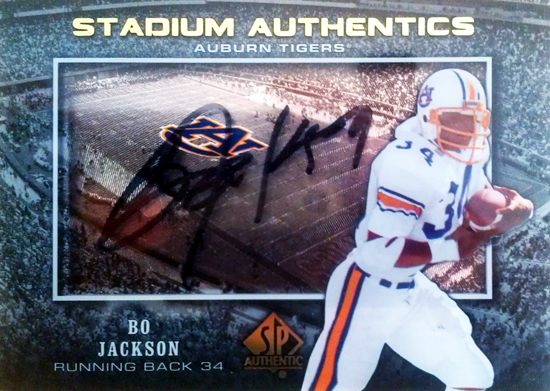 2012 SP Authentic Stadium Authentics Autographs
Group A: Combine to fall 1:18,133 packs
| | |
| --- | --- |
| SAA-BJ | Bo Jackson |
| SAA-TT | Tim Tebow |
Group B: Combine to fall 1:10,880 packs 
| | |
| --- | --- |
| SAA-BW | Brandon Weeden |
| SAA-RT | Ryan Tannehill |
Group C: Combine to fall 1:2,833 packs 
| | |
| --- | --- |
| SAA-DM | Doug Martin |
| SAA-JR | Johnny Rodgers |
| SAA-MF | Michael Floyd |
| SAA-NF | Nick Foles |
| SAA-RB | Ryan Broyles |
Leave a Comment