UD Shares Full Details on how to Score FREE 2013 National Hockey Card Day in the USA Cards This Weekend
By
Hockey Weekend Across America is February 15-17 and smack dab in the middle of it is National Hockey Card Day where puck fans throughout the USA can net a FREE pack of Upper Deck NHL cards. That's right, Upper Deck, in association with the company's hobby and retail partners, along with the NHL and the NHLPA are bringing FREE hockey trading cards to fans throughout the USA on Saturday, February 16.
All American puck fans need to in order to score their free packs is find stores near them participating in the promotion by checking the official National Hockey Card Day website. For more details on the promotion, fans should definitely check out the official press release on National Hockey Card Day in the USA as well. And fans will want to make sure they "like" the National Hockey Card Day Facebook page as we will be announcing some fun giveaways there before the event!
Upper Deck also shared fourteen hockey helmets signed by NHL rookies who attended the 2012 NHLPA Rookie Showcase event with key hobby shops throughout the USA who are really getting behind the promotion based on recommendations from their Authorized Upper Deck Distributor. Maybe you'll be lucky enough to visit one that is giving them away this weekend!
And while collectors will definitely want to visit hobby locations to put together the entire 16-card set by getting the Jonathan Quick Memorable Moments card that is ONLY available as a gift with purchase at hobby shops, there are other opportunities to participate in National Hockey Card Day.
Upper Deck will also be sampling National Hockey Card Day packs at three other locations where hockey fans will likely be visiting beginning this Saturday.
Upper Deck is looking to expose the next generation of collectors to the hobby so working with the NHL we have donated several thousand packs to be used with "Try Hockey For Free Day," which is also on National Hockey Card Day. This is a great opportunity for kids ages 4-9 to get out and try the game of hockey with over 200 local programs across the country taking part in the event.
Upper Deck will also be sampling packs at two NHL arenas over the weekend as well. First up, fans attending the New York Islanders home game on Saturday, February 16 against the New Jersey Devils will receive a free National Hockey Card Day pack while supplies last. On Sunday, February 17 fans the first fans at the Dallas Stars home game against the Calgary Flames can get a free National Hockey Card Day pack!
Upper Deck is also excited to share we will have some compelling autograph card content in some of the packs. The odds of pulling these cards are very difficult, so those who are lucky enough to score one really have a special collectible. Check out all three cards available of Brendan Smith, Chris Kreider and Alex Ovechkin.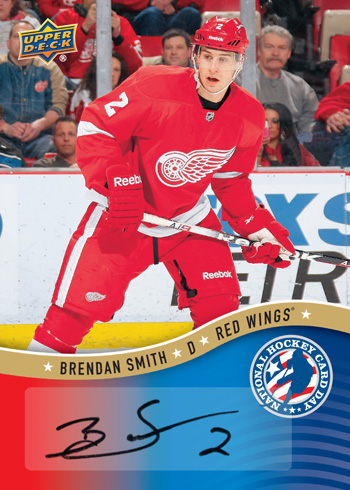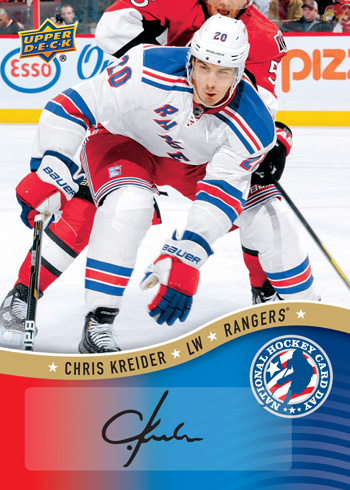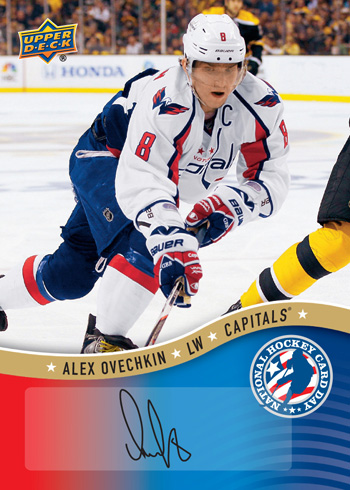 We hope hockey fans get out and enjoy Upper Deck's National Hockey Card Day! Special thanks to all our partners (especially the hobby shops) who help make this event so special every year for hockey fans. We look forward to seeing a lot of smiles as the event takes place throughout the USA weekend! Make sure to share pictures on the Upper Deck National Hockey Card Day Facebook page and on Twitter call out @UpperDeckHockey and #NHCD!
Are you a hockey fan in the USA who doesn't have a hobby shop nearby to participate in the National Hockey Card Day promotion? Wondering how you can get your FREE pack? Don't worry, Upper Deck has you covered! We have allotted a small allocation of National Hockey Card Day packs with our hobby partners to help American hockey fans take part in the promotion. There are two stipulations in order to score a free pack this way however:
1)         You MUST live in the United States
2)         You MUST NOT have a hobby or retail location within 30 miles of your home. Yes, we will be checking so if you are unsure, make sure to check the shop locator.
If you meet the two above restrictions, send us the following information via email at UpperDeckMarketing@upperdeck.com for your opportunity to get a free National Hockey Card Day pack from one of Upper Deck's hobby partners while supplies last.
Email Subject Line: 2013 NHCD USA Free Pack Request
Email Body: Please include your full name, address, city, province, postal code and phone number and one (1) sentence as to why you would like someone to open up a trading card store in your hometown. Please double check your shipping information in particular because if the address is not correct, you won't receive your pack!
Upper Deck will work with our hobby partners to provide at least one pack, per household while supplies last. Upper Deck is not responsible for lost mail. Please be patient for delivery. Emails must be received by Monday, February 18 at 11:00 a.m.
If you live outside of the USA and are looking to score some of these great National Hockey Card Day packs, your best bet would be to trade with other collectors. In years prior many collectors have had success brokering trades with fans through online trading card communities. If worse comes to worse, you can probably even pick up some of the cards from collectors through online auction sites like eBay. Upper Deck is only distributing these packs to residents in the United States however so you'll need to work through American collectors to get your packs if you live outside the region.
Leave a Comment