National Hockey Card Day Continues to Raise Awareness & Interest in Collecting NHL Cards
By
Upper Deck's National Hockey Card Day promotion is the only annual organized event put on by a licensed manufacturer to sample trading cards with fans for absolutely free. Upper Deck began hosting National Hockey Card Day in Canada back in 2009. As the annual event continued to draw more interest from mainstream fans and hardcore collectors alike, Upper Deck expanded the event to the United States for the last two seasons. And as each event passes, the excitement and interest in the program, and the hobby as a whole, continues to grow.
Upper Deck had several goals when the company began running the National Hockey Card Day promotion. Here is a look at each of those goals and some information how Upper Deck is having tremendous success in accomplishing them with National Hockey Card Day.
Goal #1: Create interest and awareness for the hobby of collecting hockey cards with mainstream fans, families, kids and lapsed collectors.
The National Hockey Card Day program seems to be the perfect vehicle to introduce fans, families and kids to trading cards. It also does a good job of re-engaging collectors who have slowed down their collecting or stopped all together. As collectors visit a variety of hobby shops and retailers to put together their National Hockey Card Day set, they learn first-hand how much fun the hobby is. Just take a look at the responses we saw from fans through social media channels like Facebook and Twitter during the annual event:
Upper Deck's National Hockey Card Day started my 4-month-old son's hockey card collection today and rekindled my love for hockey cards.

Dylan Purdy from Manchester NH enjoying his free Upper Deck hockey cards. He said he loved spending the day with his Dad getting the cards!! Thank you Upper Deck.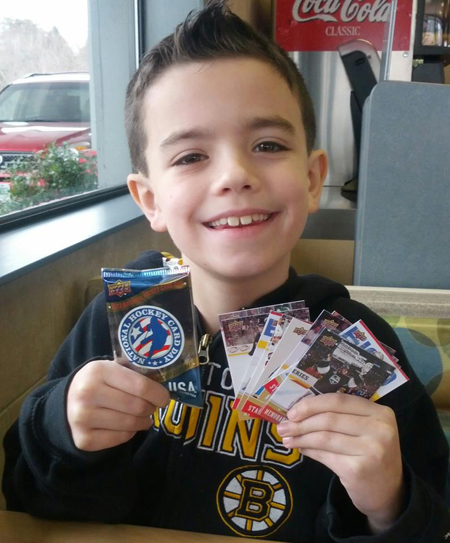 I'm 28. My dad and I ran around to every hobby and retail location we could on Saturday. We had a blast!

HUGE shoutout & thank you to Upper Deck for making NHCD awesome for my 5-year-old son!

It's an awesome chance to get non-collectors into the hobby.

WOW!!! What a great day. I went to 5 retailers and got amazing cards (+ bought some on the way). Again, a great collection this year. Thank you Upper Deck.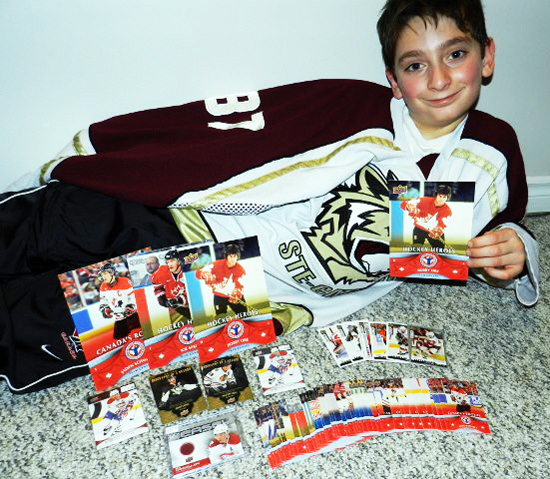 Thank you very much. The best part though is now my 3 year old daughter is hooked too!

Gotta get my son to start collecting NHL cards. 4 is a good age to start, right?

I love collecting and busting boxes/packs with my daughters and they love it too. We love this hobby & love Upper Deck!

Happy National Hockey Card Day! Thanks to Upper Deck and the NHL for celebrating this meaningful holiday. Sincerely, An Avid Collector
And even bad weather couldn't keep fans from participating in this highly anticipated annual event.
It was tough getting out in a lot of places in Canada after the huge storm, but we'd do anything for hockey cards. Not letting 2 feet of snow stop us.
Upper Deck even worked with a Daddy Blogger who shared his story of collecting with his son on National Hockey Card Day right here on the Upper Deck Blog.
Goal #2: Drive traffic to hobby shops and vested retail partners to show fans where they can get new Upper Deck trading cards.
Often times we hear fans visit shops they didn't even know were in their area because of National Hockey Card Day. The event helps create awareness for small businesses in particular and Upper Deck thinks that is a good thing. And the vast majority of hobby shop owners embraced this by running a variety of events like raffles and giveaways at their shop throughout the day to make it fun and exciting for everyone who stopped by. Traffic was up for just about every shop that took part in the event with many reporting record days for visitors and sales. Take a look at what some of our fans had to say about visiting shops in their area:
I didn't pull any autograph cards, but the chase was fun, traveled the city and got to see all the hobby shops.
Such a blast and my local card shop takes good care of us.
My old local card shop in Las Vegas didn't participate in National Hockey Card Day. Glad I moved to Colorado where my local card shops do!
Goal #3: Use the event to sample hockey cards other places where there are hockey fans.
This season Upper Deck expanded sampling of National Hockey Card Day packs by working to find other places the company could reach hockey fans. Upper Deck had packs distributed for free at the Winnipeg Jets, Dallas Stars and New York Islanders home games while also distributing packs to hockey shows, the Hockey Hall-of-Fame and the NHL's "Try Hockey For Free Day" with kids ages 4-9.
Most fans were surprised and excited to receive hockey cards at these events. One fan said, "Got Broten, Modano, and Hull in my Hockey Card Day pack at the Dallas Stars game. Thanks so much Upper Deck!!!"
Goal #4: Attract mainstream interest and media attention for the hobby.
Upper Deck certainly accomplished the company's goal of attracting a large amount of media attention around National Hockey Card Day. Upper Deck's PR department was successful in scoring media hits on NHL.com, NHLPA.com, CBC News, NHL Live, The Hockey News and ESPN in particular. By creating such a buzz around this event, Upper Deck is reaching new fans and encouraging them to be a part of this great hobby.
Goal #5 (New for this season): Welcome back hockey fans from the lockout and work to show them how much we appreciate their business.
Most hobby shop owners have been having a difficult time with the NHL lockout and to be able to have an event in their stores to welcome back hockey fans made a lot of sense. In fact, the timing was perfect. Upper Deck, the NHL and the NHLPA all worked to cover the majority of the expenses on this program, but shops do need to opt-in and purchase packs they in turn give out for free. It is an investment these shops made to thank fans for their support and get them excited about the season. Fans seemed to take notice and were appreciate of the efforts that retailers made by packing shops on National Hockey Card Day to score their free packs.
Goal #6: Share the hobby with those who do not have a hobby shop in their immediate area.
Unfortunately not every hockey fan has a hobby shop in their area that was participating in the promotion. So Upper Deck reached out to the company's network of Authorized Internet Retailers to help out those fans. With so many purchases happening online these days, it made sense to let collectors who do not have an active shop in their region know Upper Deck has these partners who represent the company in a tremendous fashion online. These partners sent out hundreds of National Hockey Card Day packs to fans throughout the United States and Canada. And based on the response thus far, fans really appreciate the opportunity to be a part of the program!
Goal #7: Create a program that is a model for the trading card industry.
National Hockey Card Day certainly has become the model for how to effectively sample trading cards with fans. As the leader in creating innovative products and programs within the industry, Upper Deck is pleased to have given others a blue-print on how to run a promotion like this. After five years of running successful National Hockey Card Day events however, it is surprising that other manufacturers are not investing in similar types of promotions. While there are tremendous costs tied to running the promotion for Upper Deck, it is an investment that pays off when we see the smiles on collector's faces (both new and old). We appreciate everyone who helped to make the event in 2013 so special and we look forward to delivering even more exciting National Hockey Card Day events in the future.
Here are a few more fan comments shared during National Hockey Card Day in 2013:
National Hockey Card Day just so happens to land on Hockey Day In Canada. Now that's proper marketing!
There's nothing better than free hockey cards on Hockey Day!
Say what!! National Hockey Card day in my homeland? Why didn't we have this when I was a kid?
Leave a Comment