Everything You Need to Know About Upper Deck's 2013 National Hockey Card Day in Canada!
By
On Hockey Day, Upper Deck is pulling out all the stops to make Saturday, February 9, 2013 a day to remember for every puck fan in Canada. Upper Deck, in association with the company's hobby and retail partners, along with the NHL, NHLPA and Team Canada are bringing FREE hockey trading cards to fans throughout Canada while supplies last.
All Canadian fans need to in order to score their free packs is find stores near them participating in the promotion by checking the official National Hockey Card Day website. For more details on the promotion, fans should definitely check out the official press release on National Hockey Card Day in Canada as well. And fans will want to make sure they "like" the National Hockey Card Day Facebook page as we will be announcing some fun giveaways there before the event!
Upper Deck also shared ten hockey helmets signed by NHL rookies who attended the 2012 NHLPA Rookie Showcase event with key hobby shops throughout Canada who are really getting behind the promotion based on recommendations from their Authorized Upper Deck Distributor. Maybe you'll be lucky enough to visit one that is giving them away this weekend! And while collectors will definitely want to visit hobby locations to put together the entire 16-card set by getting the Gretzky/Lemieux Memorable Moments card that is ONLY available as a gift with purchase at hobby shops, there are other opportunities to participate in National Hockey Card Day.
Fans in Canada can also visit Toys "R" Us and London Drugs locations to receive one of five National Hockey Card Day blow-up cards of Sidney Crosby, Jarome Iginla, Bobby Orr, Joe Sakic and Jaden Schwartz for absolutely FREE!
Upper Deck will also be sampling National Hockey Card Day packs at three other locations where hockey fans will likely be visiting beginning this Saturday. As an official sponsor of the Hockey Hall-of-Fame in Toronto, Ontario, Upper Deck will be giving away National Hockey Card Day packs to visitors with their paid admission over the weekend while supplies last.
Upper Deck has also partnered with Bossa Productions to hand out FREE National Hockey Card Day packs at the Richmond Celebrates Hockey Day event in Western, Canada. The event is free to the public and should be a great time with an Upper Deck Trading Zone, special autograph signings with former NHL stars like Guy Lafleur, a sports market place, games, displays, giveaways, draws, and other fun contests. This is your chance to experience a great day of everything hockey under one roof, don't miss it!
Lastly, Upper Deck will also be sampling National Hockey Card Day packs to attendees at the Winnipeg Jets home game on Tuesday, February 12 against the Philadelphia Flyers. Packs will be available to the first fans in attendance while supplies last so don't show up late! Since the Jets have one of the most passionate hockey fan bases in Canada, we felt it was important to sample these packs with them!
We hope hockey fans get out and enjoy Upper Deck's National Hockey Card Day! Special thanks to all our partners (especially the hobby shops) who help make this event so special every year for hockey fans. We look forward to seeing a lot of smiles as the event takes place throughout Canada weekend! Make sure to share pictures on the Upper Deck National Hockey Card Day Facebook page and on Twitter call our @UpperDeckHockey and #NHCD!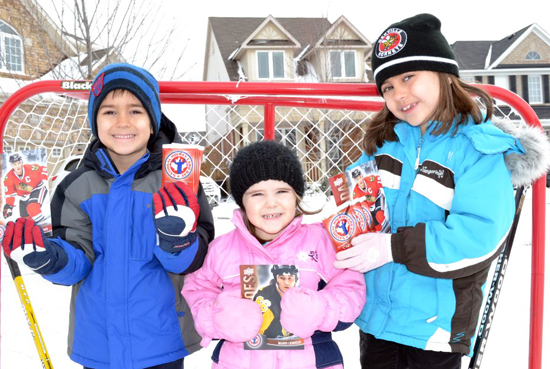 *UPDATE*
UD Shares information on short-printed autograph cards in the 2013 National Hockey Card Day set! Each of these limited autograph cards can be found randomly inserted into 2013 National Hockey Card Day packs. Each features a different shot of the player than from the base set and one player is a bit of a surprise as he does not have a base set card. Here are the three autograph cards available: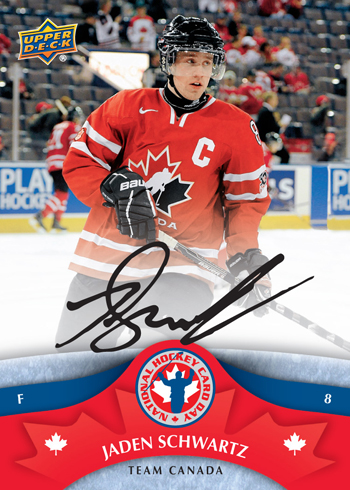 Leave a Comment