Brag Photo: Upper Deck Has a Dream Team Wish Michael Jordan a Happy 50th Birthday
By
Who signed your birthday card? Upper Deck has enjoyed a wonderful working relationship with Michael Jordan since 1991 so we wanted to create a birthday card that was special to present to MJ. Upper Deck's talented design team created a poster sized birthday card we will be sending to Michael Jordan for his 50th birthday on Sunday. The card features a variety of images of Upper Deck autographed "Letterman" cards spelling out "HAPPY BIRTHDAY MICHAEL" to the iconic basketball legend.
The players featured on the card showcase Upper Deck's impressive lineup of autograph signers like Magic Johnson, Dan Marino, Chris Paul, Colin Kaepernick, Wayne Gretzky, Larry Bird, Jerry Rice, Bobby Orr, Jerry West, Grant Hill, Tiger Woods, Troy Aikman, James Worthy, LeBron James, Julius Erving, Sidney Crosby, Hulk Hogan, Barry Sanders, Kelly Slater and Bill Russell. We thought it made sense to have all the best athletes in the world share a birthday message to the greatest athlete of all-time.
Here are some fun facts you might not know about Upper Deck and Michael Jordan's relationship from over the years:
He is Upper Deck's longest tenured spokesman and we have witnessed every signature of Michael's on our trading cards and memorabilia from 150+ signings we have done since our partnership began.
While 150+ signings might seem like a lot, over a 20+ year period it really isn't and UD limits the amount Jordan signs to keep the market from being over saturated. It is important to UD to protect the value of Jordan's signature for our collectors.
Authenticity is incredibly important to Michael which is a major reason why he partnered with Upper Deck so consumers know they are getting the real deal.
Many in the industry considered Upper Deck's owner Richard McWilliam a genius for locking MJ up to a deal before he began winning titles in Chicago. The partnership with UD began right before Michael won his first title with Chicago.
Michael Jordan's first signed trading card was produced in 1996 SPx and it is pretty rare they pop up these days.
Michael's first game-used jersey card came in Upper Deck 1997-98 Basketball (Card GJ13) and was inserted 1:55,000 packs. There was also an autographed version that year numbered to just 23 copies.
The 1999 employee card of MJ was distributed only to Upper Deck employees as a thank you for service.
Some popular modern-day Michael Jordan cards feature dual autographs of MJ with UD spokesmen like LeBron James, Tiger Woods and Wayne Gretzky in particular.
When he signed with the White Sox we moved from signed basketball memorabilia to baseballs, bats, jerseys, helmets and cleats for the Birmingham Barons.
Michael Jordan remains one of Upper Deck's most consistent sellers for signed memorabilia.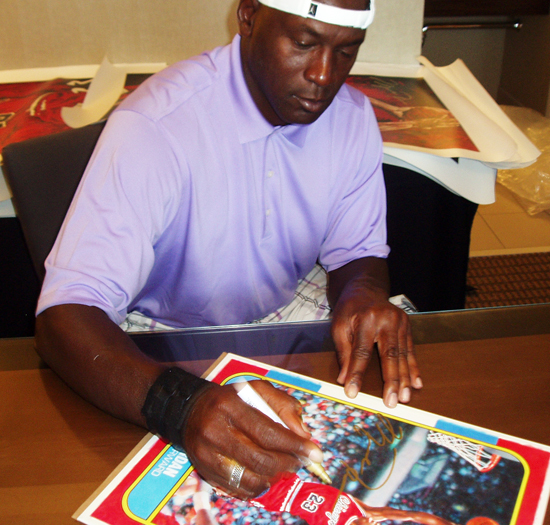 In October one of Michael's Fleer buyback cards released by Upper Deck sold for close to $30,000.
Upper Deck is very excited for the future of the company's partnership with Michael and want to wish him a very Happy Birthday! To see more of the Upper Deck Michael Jordan collectibles, click HERE.
Leave a Comment