Upper Deck Cards Appeal to this North Carolina Tar Heels Fanatic
By
At Upper Deck we enjoy spotlighting collectors as they experience our products. We especially enjoy helping collectors finish off sets they are working on. When collectors make the decision to put together a set, it is usually because the subject matter speaks to them and that is what you have with the Upper Deck North Carolina Tar Heels Basketball autograph set. More than a few UNC fans have enjoyed the product and chasing the autograph set and that has created some heightened demand for the cards in the secondary market. We'd like to profile one such collector here. His name is Scott D. and he is looking to finish off this set. Here is his story:
"I began collecting cards in 1982 when my father found his childhood baseball cards at his parents' house. My dad used the old cards to share his childhood memories as well as teach me the history of the game and I was quickly hooked. We often went to shows and card shops while I was growing up, looking for cards from our favorite teams (the Detroit Tigers for my dad and the Cincinnati Reds for me). We also enjoyed meeting current and former players and in doing so we built an autograph collection together from going to shows, games and spring training games.
"Our collecting really boomed in the late '80's, and we were amazed at the quality of the product and photography when Upper Deck came on the scene. The Upper Deck cards quickly became our family brand and we put together their sets every year. I left home for college in 1992, and our collecting slowed down as we were apart. When I graduated and had more disposable income, I slowly got back into the hobby, and it has continued to grow each year.
"While I started my collection with baseball cards, my love of all sports came into play and I began to collect the three major sports after college, as well as focusing more on collecting autograph cards, where UD again is the industry leader. My prized item is signed Michael Jordan Upper Deck Authenticated UNC jersey my amazing wife gave me for a wedding gift! My wife and I welcomed a son into our family this past June, and I greatly look forward to sharing my hobby with him as my dad did with me!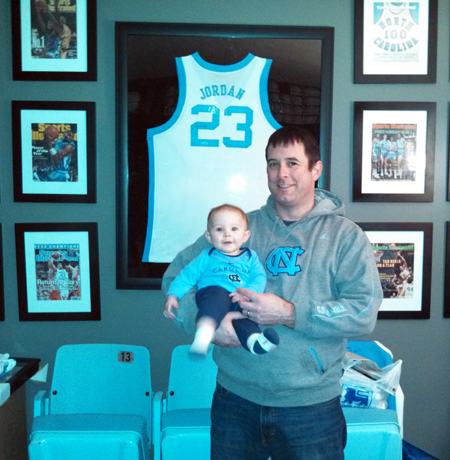 "I am a die-hard North Carolina Tar Heels fan and collector of UNC memorabilia. When I heard about Upper Deck's trading card set exclusively for the team, I was blown away! I immediately set a goal of completing the certified autograph set and have been chipping away at it since it was released. I have put together most of the set, needing only the Michael Jordan and Ty Lawson autograph cards to complete my first ever master autograph set. I want to have all 72 cards framed so I can show my son how we display something like this. If anyone can help me find these last two cards, please email me at bounty37h@aol.com. Thanks Upper Deck and thanks to anyone who can help me finish this amazing autograph set!"
Leave a Comment